The Section publishes:
The Practitioner is the official publication for the Solo and Small Firm Section.
The ePractitioner is the e-magazine of the Solo and Small Firm Section, sent regularly to member of the Section.
About The Practitioner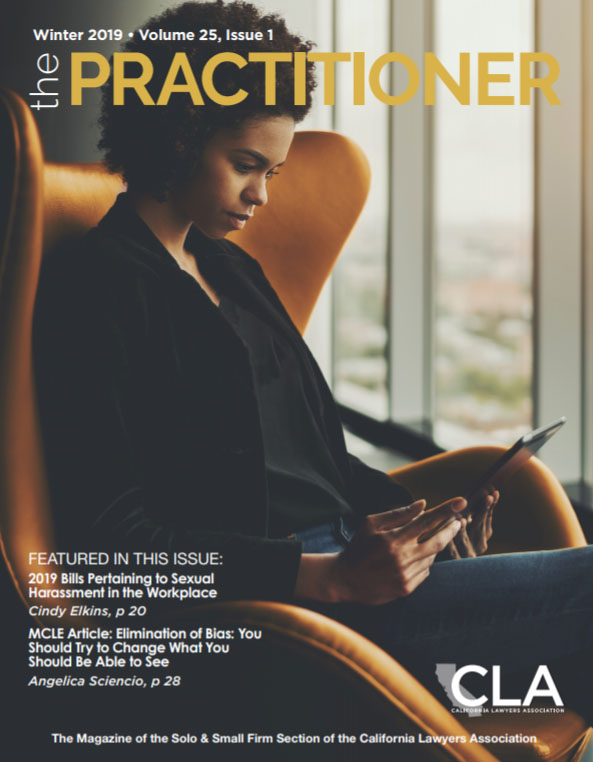 The Practitioner has plenty of new sections and features. More than ever, we encourage you to contribute! Contact Megan Lynch at megan@sublimedesignsmedia.com.
Subscription to The Practitioner is a benefit of membership in the Section. To start receiving the journal, simply join the section. You can find online articles from 2016-present here. For articles older than 2016, please contact the section. As a courtesy, we have posted the past two years of The Practitioner below.
Winter 2019,  Volume 25, Issue 1 (online version coming soon!) | pdf version
Fall 2018, Volume 24, Issue 4 | pdf version
Summer 2018, Volume 24, Issue 3 | pdf version
Spring 2018, Volume 24, Issue 2 | pdf version
Fall 2017, Volume 23, Issue 4 | pdf version
Spring 2017, Volume 23, Issue 2 | pdf version
Winter 2017, Volume 23, Issue 1 | pdf version
Summer 2016, Volume 22, Issue 3
Spring 2016, Volume 22, Issue 2