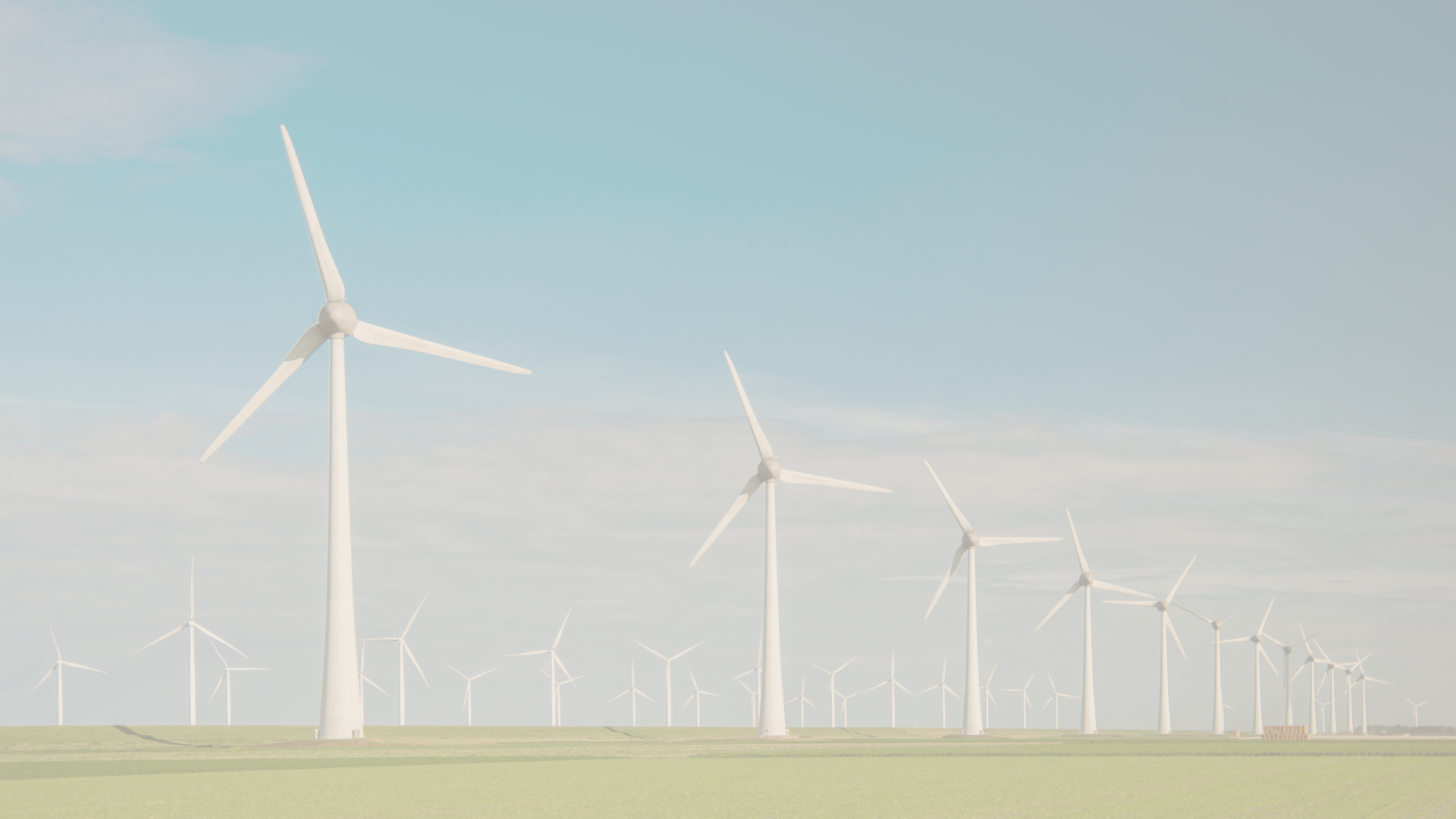 Environmental, Social and Governance (ESG)
Interested in receiving content and communications from the ESG Interest Group?
Mission
The committee's mission is to be a reliable platform for California legal practitioners seeking legal education and resources regarding the dynamic area of environmental, social, and governance (ESG) matters.
Upcoming Projects
The committee is working to develop programs, resources, and materials regarding ESG and accompanying changes in law and regulation. Our committee's nonpartisan mission is best served by receiving input, contribution, and feedback from diverse thought leaders from various backgrounds and legal perspectives. The committee is pleased to announce that we will soon have the ability to track, report, and display on our webpage ESG-related anticipated, pending, and enacted California and applicable federal legislation. The committee will also soon be recording and releasing our "ESG in 5" video series, gathering ESG perspectives from legal practitioners from across California. The committee additionally anticipates scheduling and publishing webinars and digestible articles regarding ESG matters. The committee is quite pleased with the input and contributions of our members thus far, but continually seeks interested legal students, practitioners, and experts to contribute to the committee. If you are interested, please navigate to the link at the top of our webpage.
Watch Our YouTube Playlist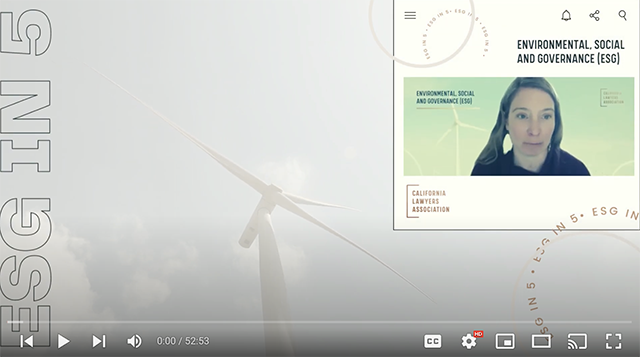 California Litigation
CALIFORNIA LEGISLATION DECLARED UNCONSTITUTIONAL
Re Females on Boards of Directors – SB 826
Re Underrepresented Communities on Boards of Directors – AB 979
CALIFORNIA PENDING LEGISLATION
Climate Corporation Accountability Act – SB 260

An act to add Section 38532 to the California Health & Safety Code, which would require all domestic (CA) and foreign (non-CA) entities with total annual revenues in excess of one billion dollars ($1,000,000,000) and who do business in California to annually and publically disclose their Scope 1, 2, and 3 greenhouse gas emissions. Introduced and passed in the California Senate. The first hearing in the California Assembly was held on August 3, 2022, was passed as amended in committee on August 11, 2022, read a second time, amendment, and order to an additional second reading on August 15, 2022, and was read a second time and ordered to a third reading on August 16, 2022. The third reading will be held on August 22, 2022.

https://leginfo.legislature.ca.gov/faces/billTextClient.xhtml?bill_id=202120220SB260
CALIFORNIA STATUTES & LEGISLATION
CLA Voluntary Eco-Pledge & Law Office Sustainability Policy
Voluntary Eco-pledge And Voluntary Law Office Sustainability Policy

The day-to-day practice of law has significant environmental impacts. The legal profession uses enormous amounts of paper, energy, water and other natural resources, and generates a vast stream of waste products. The consumption of natural resources and its associated waste stream has a substantial impact on climate change and environmental quality, and has a significant impact on the quality of life for present and future generations. Additionally, implicit in the concept of sustainability is the notion that using fewer resources such as paper and energy will lower the costs of legal services, thereby making these services more affordable and accessible to clients.

Email environmental@CAlawyers.org to participate.

The California Lawyers Association recognizes that environmental protection, climate change and related environmental and social issues are urgent problems that require action. The solution to these problems must include efforts by individuals, businesses and organizations – including the legal profession – to reduce their environmental impacts.
Environmental Disclosure Frameworks
Task Force on Climate Related Financial Disclosures ("TCFD")

The Financial Stability Board (FSB) established the TCFD for the purposes of issuing standardized climate-related financial disclosures to provide better corporate information in support of informed capital allocation. The TCFD first issued its standards in 2017 and the standards center around four thematic disclosure areas: Metrics and Targets, Risk Management, Strategy, and Governance. The interrelated core disclosure areas also include eleven other disclosure recommendations. The TCFD standards are adopted in both the adopted EU sustainability focused disclosure requirements as well as the proposed counterpart requirement from the SEC in the US.
Task Force on Nature Related Financial Disclosures ("TNFD")

The Task Force on Nature Related Financial was established in 2021, with funding or direct support from UN GC, the UN Environment Programme Finance Initiative, the UN Development Programme, and other major players in the global sustainability community. The standards being developed are set to be introduced in 2023. The TNFD disclosure standards are meant to directly build upon and supplement TCFD standards, being centered around the same four main thematic disclosure areas: Metrics and Targets, Risk Management, Strategy, and Governance. Where TNFD differs from TCFD is greater focus on ecosystems and environmental degradation, metrics without often more difficulty in quantification, as opposed to, for instance, greenhouse gas emissions.
International Financial Reporting Standards Foundation ("IFRS Foundation")

The IFRS Foundation establishes two major standard setting boards under the IFRS Foundation umbrella: (a) the International Accounting Standards Board (IASB) and (b) the International Sustainability Standards Board (ISSB).The IASB issues international accounting standards that are not generally used in the US (where public companies are generally required to use GAAP accounting), but are used throughout the international community. The ISSB was agreed upon at and formed following the UN COP 26. ISSB's mission is to consolidate various other sustainability and climate-change focused disclosure standards into a single, comprehensive international standard. The ISSB's forthcoming standards are a consolidation of the Climate Disclosure Standards Board (CDSB) standards and recently of the Value Reporting Foundation (VRF). The VRF standards were themselves the consolidation of the Sustainability Accounting Standards Board (SASB) and the International Integrated Reporting Council (IIRC) standards. The ISSB standards are currently concluding their comment period on draft standards, separated by sustainability-focused disclosures and climate change-focused disclosures, and aim to issue the final standards by the end of 2022. Both the IASB and the ISSB are jointly working on an Integrated Reporting Framework, enabling financial and sustainability disclosures as a single, integrated reporting framework.
Global Reporting Initiative ("GRI")

GRI was created in 1972 and as of 2022, is used by 72 percent of 250 of the world's largest companies and 67 percent of the 100 largest firms in 52 countries. GRI refers to itself as "the world's most widely used standards for sustainability reporting." It publishes standards and formats for mandatory, recommended, and voluntary disclosures. Such standards are meant to highlight a company's global impact and are based on materials, energy, water, biodiversity, emissions, pollution, waste, and supply chains.

https://listingcenter.nasdaq.com/assets/Board%20Diversity%20Disclosure%20Five%20Things.pdf
Carbon Disclosure Project ("CDP")

CDP was created in 2000 and since 2022 is used by over 13,000 companies and about 1,100 cities, states, and regions, as well as approximately 600 investors with over $110 trillion in assets under management. CDP "supports thousands of companies, cities, states, and regions to measure and manage their risks and opportunities on climate change, water security, and deforestation." It prioritizes on quantitative impact data and employs an independent approach to evaluate reports and assign letter grades. In 2021, over 270 companies received an A rating for climate change, forests, or water security.
Greenhouse Gas Protocol ("GHG Protocol")

The Greenhouse Gas Protocol (GHGP), a joint initiative of World Resources Institute (WRI) and the World Business Council for Sustainable Development (WBCSD), establishes comprehensive global standardized frameworks to measure and manage greenhouse gas emissions from private and public sector operations, value chains and mitigation actions. GHG Protocol supplies the world's most widely used greenhouse gas accounting standards. The Corporate Accounting and Reporting Standard provides the accounting platform for virtually every corporate GHG reporting program in the world.
Other Practitioner Resources
Certifications
Carbon Footprint Standard Certification
Carbon Trust Standard Certification
Climate, Community and Biodiversity (CCB) Standards Certification
Cradle to Cradle Certification
Environmental Product Declaration (EPD) Certification
Fairtrade (USA and International)
Forest Stewardship Council Certification
FSC Controlled Wood Certification
Global Reporting Initiative (GRI) Standards Certification
Gold Standard Foundation Certification
Green Seal Certification
Leadership in Energy and Environmental Design for Neighborhood Development (LEED-ND) Certification
Made Safe
Marine Stewardship Council (MSC) Certification
Non-GMO Project Verified
Rainforest Alliance Certification
Rainforest Alliance Sustainable Agriculture Certification
Responsible Jewellery Council (RJC) Certification
Socially Responsible Business Certification (SRB)
Sustainable Agriculture Network (SAN) Certification
Sustainable Forestry Initiative
Upcycled Food Association
USDA Organic
Vegan Certified
WaterSense
WELL
Women's Business Enterprise National Council (WBENC)
Entity-based Certifications
Product-based Certifications

WaterSense

This certification promotes water-efficient products and practices that conserve water resources and reduce water and energy bills. It covers various products, from toilets to faucets to irrigation systems. https://www.epa.gov/watersense

USDA Organic

This certification ensures organic agricultural practices that minimize environmental impact and avoid the use of synthetic fertilizers and pesticides. It also covers animal welfare and food processing. https://www.usda.gov/topics/organic
Built Environment-based Certifications
Environmental-based Certifications