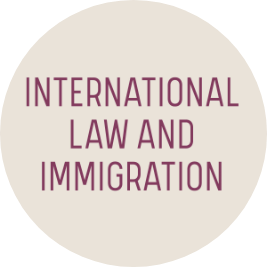 International Pro Bono Legal Assistance
Given the range of legal expertise in the membership of the ILS Section, we are enlarging the potential partnership involvement to include ILS members as potential pro bono legal assistance contributors to CLDP projects. With this announcement, we are sending out notice to ILS members of the exciting current projects for which the CLDP needs pro bono volunteers. Learn more here.
Message from the Chair
Statement Regarding the Situation in Ukraine
March 1, 2022
The International Law and Immigration Section of the California Lawyers Association strongly condemns the Russian invasion and occupation of Ukraine, an independent, sovereign State and member of the United Nations. The rule of law–not the use of force–must guide the relations between and among States in today's world and commits them to peacefully resolve their disputes. Russia's unprovoked invasion violates this global order established under the U.N. Charter prohibiting the use of force by one State against the political independence of another. Its brazen, threatened use of nuclear forces is dangerous and unwarranted under a variety of arms control treaties, and the resulting humanitarian crisis raises prospects, being investigated by the International Criminal Court, that crimes against humanity are being committed. The Section urges all member States of the United Nations to support a free and independent Ukraine.
---
Upcoming Events
International Law and Immigration
An overview of recent changes in the U.S. Export Administration Regulations and U.S. Office of Foreign Assets Control Regulations that impact customers, business operations, investments, and supply chain actors in China.
International Law and Immigration
This webinar will review non-standard methods for obtaining LPR status, including INA Section 245(i), U Visa, Military PIP, TPS and DACA. This webinar will also feature updates regarding court and government decisions effecting these options. The focus will be on those already in the United States and who might not be eligible for traditional Adjustment of Status through family.