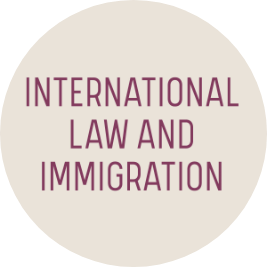 Ongoing Opportunities for Self-Study & Participatory MCLE Credit
See Our Events, Education, and Updates >>
Basics in Immigration Law
Interested in learning the basics in immigration law? Take advantage of the limited time special offer on webinars. For $99, you get access to the following webinars:
Current Major Immigration Trends Under Trump;
Immigration Law Basics in the US, Mexico and Canada – Post USMCA;
A Quick Run Around the Immigration Track – A Survey of Employment-Based Nonimmigration Visas;
Immigration Consequences of Criminal Convictions;
Student Visas – The Basics and Beyond; and
Human Trafficking 101.
You will also be able to earn 6 hours of MCLE; 5 hours in Legal Specialization in Immigration and Nationality Law; 1 hour in Legal Specialization in Criminal Law.
---
Multi-Bar Delegate Law Conference in the Catalog!
Travel with us to Prague through our programs from the Multi-Bar Delegate Law Conference last October. Panels include speakers from CLA, Czech Bar, The European Association of Bars and Law Societies, Foreign Marseille Bar and other Foreign Bars! Save 10% on the entire bundle, available as OnDemand videos or as CLEtoGo podcasts.
Online CLE for Participatory Credit
View International Law and Immigration Section programs over the internet for participatory MCLE credit. Choose from hundreds of hours of MCLE programs. To see all programs, go to our online catalog and select "International Law".
Self-Study CLE
Online articles from Section publications are available for self-study MCLE credit. Each article is worth 1 hour of self-study credit. It's easy … read an article and then take a 20 question quiz. The answers and justifications are available immediately upon submitting the quiz. You can earn up to 12.5 hours of self-study credit per reporting period. For more information, see our online catalog of articles.