Our Mission
The mission of the California Lawyers Association is….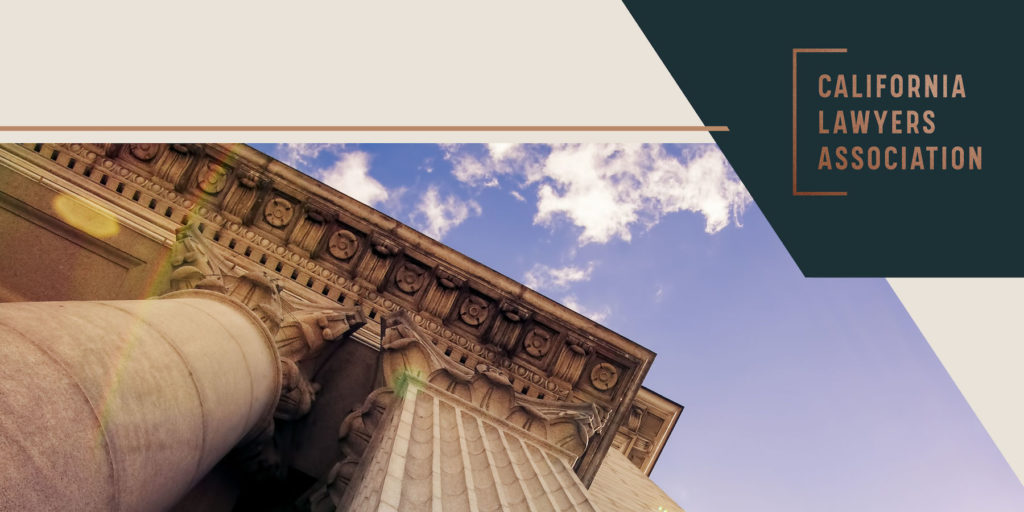 The California Lawyers Association (CLA) is a member-driven, mission-focused organization dedicated to the professional advancement of attorneys practicing in the state of California.
Established in 2018, CLA is a nonprofit, voluntary bar association serving thousands of licensed attorneys throughout California. We are the premier statewide voice for the legal community, advocating on behalf of our members before the Legislature, the Judiciary, the Executive Branch and the State Bar of California, which is the licensing and disciplinary regulator of our industry.
Our 18 Sections cover different law practice areas, including a New Lawyers Section for attorneys in their first 8 years of practice. This enables our members to focus their time and energy where it is most relevant to their interests and career stage.
We thrive at the intersection of innovation and dedication—delivering high-quality programs, events, and resources and continuously seeking new ways to expand our offerings. Through premier educational and networking opportunities, our members can maintain expertise in their fields, build contacts, and uphold the legal profession and system.
As an independent entity, we can now provide greater value to our members, including direct communication with the California Legislature and the ability to be more responsive to each member's needs. Together, we are committed to fostering excellence and fellowship throughout the California legal community.
What Are the Sections?
The Sections are voluntary groups of attorneys and affiliates who share an area of interest. The Sections help their members maintain expertise in their various fields of law, expand their professional contacts, and serve the profession, the public and the legal system.
The California Lawyers Association has 18 Sections, with low annual fees. Each Section is governed by an executive committee of appointed members.
Sections activities include:
Publishing newsletters to keep members informed of new developments;
Establishing committees through which members may actively participate;
Presenting educational seminars on timely topics throughout the year;
Originating legislation which, upon approval, is made a part of our legislative program;
Recommending positions on pending legislation on behalf of the California Lawyers Association, and;
Commenting on administrative regulations and rules of court.
What Is the New Lawyers Section?
The New Lawyers Section is a proud part of the California Lawyers Association, representing all lawyers in California who have been practicing 8 years or fewer. NLS celebrates, invigorates, connects and supports all new California lawyers.
The NLS mission is to advance practical skills, leadership and pro bono opportunities, networking, and support to meet the unique needs of California's diverse community of new lawyers. The NLS Executive Committee is made up of the officer team, at large members, and liaisons to each of the 17 other sections.
California Lawyers Association is a member-driven, mission-focused organization dedicated to the professional advancement of attorneys practicing in the state of California.
Continuing Legal Education Programs
See our CLE of Events for a list of upcoming programs sponsored by the California Lawyers Association.
Legislative Program
A number of the Sections have vigorous legislative programs wherein they monitor legislation concerning their area of law. In some cases, they propose new legislation to help the administration of justice.
Career Center
Our career center allows attorneys at all stages of their careers, across all disciplines, to easily connect with employers and other resources. And law firms can post job openings to find the perfect candidate.
Join Us
The membership year runs from January to December. Dues are not pro-rated. Non-California lawyers and law students can join as Affiliate Members. For more information visit Join Us.