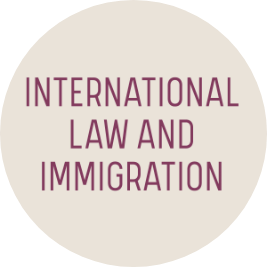 California International Law Journal
The California International Law Journal is the official publication of the International Law Section. Learn More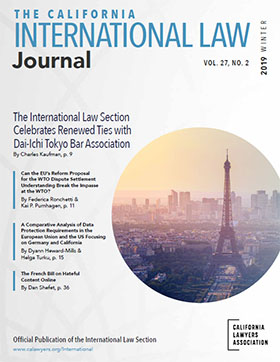 The California International Law Journal features in-depth treatment of important practice topics and forms of agreements used in international practice. To begin receiving your copy, simply join the section.
Vol. 27, No. 2, Winter 2019
Vol. 27, No. 1, Summer 2019
Vol. 26, No. 1, Winter 2018
Vol. 25, No. 1, Fall 2017
Vol. 24, No. 2, Winter 2016
Vol. 24, No. 1, Summer 2016
Vol. 23, No. 2, Winter 2015
Vol. 23, No. 1, Summer 2015
Vol. 22, No. 1, Spring 2014
For older publications, please email the web staff to receive a copy of your request.
International Law Newsletter
The ILS NEWS is sent quarterly to ILS members via e-mail. It is designed to keep members up to date about international legal developments in transnational commercial and public law, as well as Section activities.
Members and non-members alike are encouraged to submit articles (150-500 words), ideas, comments, notices, current developments and new publication announcements to the Editor-in-Chief at:
Professor Robert E. Lutz
Paul Treusch Professor Emeritus of International Legal Studies
Southwestern Law School
3050 Wilshire Blvd.
Los Angeles CA 90010
(213) 738-6758
or email Prof. Lutz at rlutz@swlaw.edu
Opinions expressed in the ILS NEWS are those of the authors and are not necessarily those of the California Lawyers Association or of the International Law and Immigration Section.
Lexology Feeds
ILS Members have access to Lexology feeds daily. It is a source of international legal updates, analysis and insights authored by national and international law firms. If you have previously unsubscribed and would like to resubscribe, please update your preferences here.
See More Under Publications