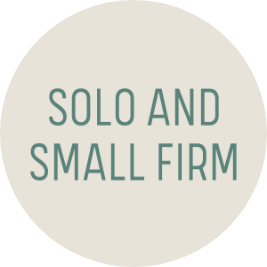 The Section identifies and provides educational opportunities specific to members (starting, managing, growing, & tech) to guide them on their path to becoming strong, competent and ethical solo and small firm business owners via webinars, in person MCLE and program vetting for CLA events.
Ongoing Opportunities for Self-Study & Participatory MCLE Credit
See Our Events, Upcoming Programs, and Updates >>
Online CLE for Participatory Credit
Choose from hundreds of hours of Solo and Small Firm Section MCLE programs. To see all programs from our catalog, go to  streaming audio and video and select "Solo and Small Firm."
Self-Study CLE
Online articles from Section publications are available for self-study MCLE credit. Each article is worth 1 hour of self-study credit. It's easy … read an article and then take a 20 question quiz. The answers and justifications are available immediately upon submitting the quiz. You can earn up to 12.5 hours of self-study credit per reporting period. For more information, see our online catalog of articles.
CLA EDUCATION
For more information on all education offered by CLA, including our free MCLE of the month, click here.