Welcome to the IP Section podcast Intangible Assets.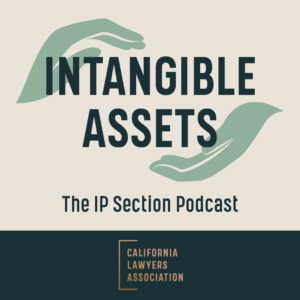 A podcast for & about the California Lawyers Association Intellectual Property Law Section
Podcast episodes are coming soon, so stay tuned.
The IP Section podcast is hosted by David Lizerbram. David is a business law strategist and the host of the podcast Products of the Mind, a #1 ranked conversation about the intersection of business + creativity. He was born in Philadelphia and raised in San Diego, California. After graduating from the University of Southern California School of Cinema-Television (now the School of Cinematic Arts), he received his J.D. from Loyola Law School in Los Angeles. David founded his law firm, David Lizerbram & Associates, in 2005, and in 2018 he became a partner in the San Diego-based law firm Sollertis, which focuses on helping business owners grow and protect their assets. David speaks regularly about legal matters, and has presented on a legal education panel at San Diego Comic-Con every year since 2008. In 2011, David was appointed by California Governor Jerry Brown to the Board of Directors of the 22nd District Agricultural Association, which is responsible for oversight of the Del Mar Fairgrounds. He served in that position until the conclusion of his term in 2015. He also served on the Board of Directors of the San Diego Music Foundation. David lives in North Park, San Diego with his wife, Mana Monzavi and their son, Miles.