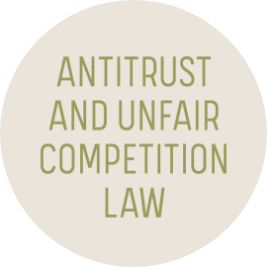 Interested in joining the Executive Committee? Get started here.
Executive Committee Officers
The Antitrust and Unfair Competition Law Section is managed by its Executive Committee. The Executive Committee is charged with overseeing the Section's current activities and developing new programs and initiatives to further the development of antitrust and competition law in California. A core component of the Executive Committee's work is to provide opportunities to develop the next generation of California antitrust and unfair competition law practitioners.
The Executive Committee is composed of a maximum of 20 members. Members are required to be active and to contribute to the Section's programs and initiatives, to participate in programs, and to attend the Section's monthly remote meetings and quarterly in-person meetings. Each member has a tenure of three years with the possibility of three renewable one-year terms. The application process to join the Executive Committee starting with the 2023-2024 term will begin in January 2023. Interested in joining the Executive Committee? Click here.
Executive Committee Members
Section Advisors
CLA Board of Representatives
Jill M. Manning
San Francisco
California Lawyers Association Staff
Section Manager
John Buelter
Sacramento
916-516-1709