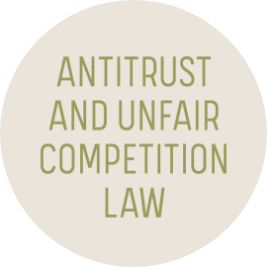 The Antitrust and Unfair Competition Law Section is managed by its Executive Committee. The Executive Committee is charged with overseeing the Section's current activities and developing new programs and initiatives to further the development of antitrust and competition law in California. A core component of the Executive Committee's work is to provide opportunities to develop the next generation of California antitrust and unfair competition law practitioners. The Executive Committee is composed of a maximum of 20 members. Members are required to be active and to contribute to the Section's programs and initiatives, to participate in programs, and to attend the Section's monthly remote meetings and quarterly in-person meetings. Each member has a tenure of three years with the possibility of three renewable one-year terms. The application process to join the Executive Committee starting with the 2023-2024 term is now open, and applications are due March 1, 2023. Interested in joining the Executive Committee? Get started here.
Executive Committee Officers
Chair
Dominique-Chatale Alepin
Nike
Beaverton, OR
Secretary and
Co-Vice Chair
Belinda Lee
Vice Chair of Treatise Committee
Latham & Watkins LLP
San Francisco
Treasurer and
Co-Vice Chair
Jonathan Levine
Co-Vice Chair of Media, Marketing and Membership
Pritzker Levine LLP
Emeryville
Immediate Past Chair
David M. Goldstein
Farmer Brownstein Jaeger Goldstein Klein & Siegel LLP
San Francisco
Executive Committee Members
Lee Brand
Chair of Membership & Engagement
Pillsbury Winthrop Shaw Pittman LLP
San Francisco
Jiamie Chen
Co-Chair of Golden State Antitrust & UCL Institute, And Antitrust Lawyer of the Year
D.E. Shaw & Co.
New York
Dana Cook-Milligan
Chair of New Lawyers Committee
Winston & Strawn LLP
San Francisco
James Dallal
Cotchett, Pitre & McCarthy, LLP
Burlingame
Jennifer Elkayam
Manhattan Beach
Caeli Higney
Gibson, Dunn & Crutcher LLP
San Francisco
Jessica Leal
U.S. Department of Justice
Washington, D.C.
Malinda Lee
California Department of Justice
Los Angeles
Shira Liu
Chair & Editor-in-Chief of Treatise
Crowell & Moring LLP
Irvine
Betsy Manifold
Editor-in-Chief of E-briefs
Wolf Haldenstein Adler Freeman & Herz LLP
San Diego
Anupama Reddy
Editor-in-Chief of Competition
Google
San Francisco
Aaron Sheanin
Co-Chair of Golden State Antitrust & UCL Institute, And Antitrust Lawyer of the Year
U.S. Department of Justice
San Francisco
Christina Tusan
UCL Committee Chair
City of Los Angeles
Los Angeles
Steven Vieux
Education Chair
Bartko Zankel Bunzel
San Francisco
Chris Wheeler
Farella Braun + Martel LLP
San Francisco
Kevin Yeh
Chair of Diversity and Inclusion Committee
United States Attorney's Office
San Francisco
CLA Board of Representatives
Jill M. Manning
Pearson Warshaw LLP
San Francisco
Section Advisors
California Lawyers Association Staff
Section Manager
Melissa Leal
Sacramento
530-588-3994