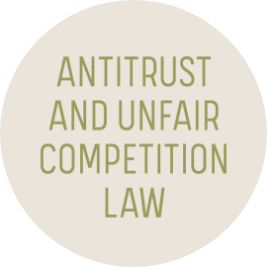 Standing Committees
The Antitrust and Unfair Competition Law Section has five standing committees dedicated to the Section's mission, which is to further the knowledge of its members about antitrust, unfair competition, and trade regulation issues under California and federal laws. These committees are charged with developing publications, programs, and events in furtherance of the Section's mission. They also are responsible for developing and bringing greater diversity to the next generation of California antitrust and unfair competition practitioners.
STANDING COMMITTEE MEMBERSHIP APPLICATION
Applications for the Standing Committees are reviewed on a rolling basis. You may apply at any time.
If you have questions, please contact Antitrust@calawyers.org.
Diversity Committee
Chair: Kevin Yeh
The Diversity Committee strives to promote diversity and inclusion in all aspects of the Section's activities through collaborations with the other Standing Committees and recommendations of policies and programs to the Section's Executive Committee and Chairs of the Section's other Standing Committees. The Committee also oversees the Section's Inclusion and Diversity Fellowship—a program that provides mentorship and career opportunities in antitrust practice for law students from groups that are underrepresented in the legal profession and, in particular, antitrust and unfair competition law.
Education Committee
Chair: Steve Vieux
The Education Committee organizes regular in-person and online programs and events throughout the year regarding antitrust and UCL issues, including Continuing Legal Education (CLE) programs, hot topics panels, career panels, and "Celebrating Women in Competition Law in California," among other programs, at low cost or no cost for Section members.
Publications Commitee
Chair: Anupama Reddy
The Publications Committee regularly publishes two publications: the periodic journal Competition and the monthly Antirust and UCL E-Briefs, News and Notes. Published twice a year, Competition is a traditional law journal containing scholarly and practice-oriented articles. Antitrust and UCL E-Briefs, News and Notes is a monthly electronic publication of brief summaries of recent decisions and regulatory developments, as well as thought pieces on current trends.
Treatise Comittee
Chair: Shira Liu

The Treatise Committee publishes yearly updates of the California State Antitrust and Unfair Competition Law treatise. This master treatise comprehensively documents and describes this area of law, which presents a broad and rich palette for practitioners and regulators. Each year, seasoned practitioners of differing perspectives are engaged to update new developments in this area of law. A team of peer reviewers also drawn from the ranks of California's leading practitioners are tasked with the review and updating of the annual updates. This treatise is published in a hard copy loose-leaf binder by Matthew Bender (LexisNexis) and online by both Matthew Bender and Westlaw.
UCL Committee
Chair: Christina Tusan
The Unfair Competition Law (UCL) Committee brings together practitioners throughout California whose practice involves litigating cases brought pursuant to Business and Professions Code sections 17200 et seq. and 17500 et seq., as well as matters involving the FTC Act and other state and federal unfair competition and consumer protection laws. The Committee develops UCL content in the Section's publications. The Committee also organizes in-person events and Continuing Legal Education (CLE) programs focusing on the UCL.
See More Under Standing Committees