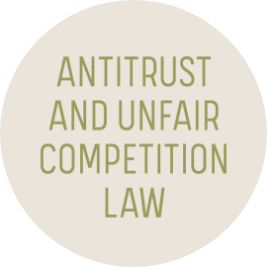 Antitrust and Unfair Competition Lawyers to Watch Award
The Antitrust and Unfair Competition Law Section is proud to launch a new award to recognize lawyers in the first eight years of their legal careers who have exhibited outstanding achievements in the practice of antitrust and unfair competition during the previous year.
Attorneys that meet the following criteria should be submitted for consideration:
Admitted to practice law in California;
In good standing with the State Bar;
Within their first 8 years of practice;
Members of the Section (Note: you can become a member as a part of the application process); and
Practicing Antitrust or Unfair Competition Law.
Eligible individuals may nominate themselves or be nominated by supervisors, colleagues, or friends.
To nominate yourself or an eligible individual for this award, please fill the following nomination form. You may also accompany the nomination with any of the following supporting documents:
Resume or biography;
One to five letters of support;
A list of reported cases, successful projects, articles, and other publications in which the nominee was involved, including references for each identified item; and
(Optional) Additional documents to further support the nomination. Any additional documents should not exceed 25 pages.
The application process for 2023 is now closed.