A Work in Progress: Remembering Liberty, Grace, and Branding
July 2023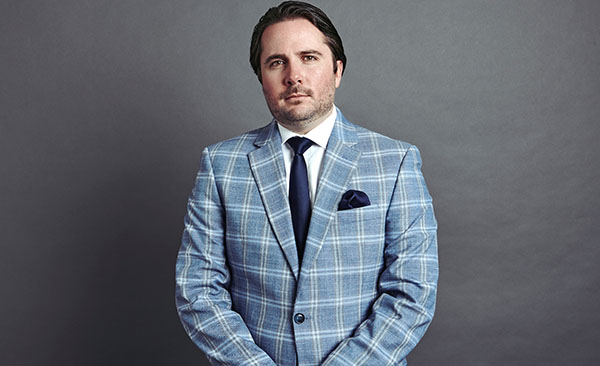 By Jeremy M. Evans 
In the legal profession and with societal norms, people are often restricted by rules, regulations, and responsibilities. Attorneys, as officers of the court, must follow the law and lead by example, particularly with our families, clients, the profession, the community, and ourselves. Attorneys must be standard bearers for good.
It is a tough burden to carry. However, in practicing law and life, we have to remember to give ourselves and others grace and patience. No one is perfect. Nothing is immediate. When something is immediate, one is often unprepared, unwilling, or the timing is incorrect.
In a month where the July 4th holiday celebration is about freedom, liberty, and honoring America's history, all attorneys can take a page from our founding documents. Independence Day (e.g., the Fourth of July) commemorates the Declaration of Independence, ratified by the Second Continental Congress on July 4, 1776, establishing the United States of America. The principle of liberty is no further evident in how careers are made. We are all a work in progress. Remember, work towards perfection to reach excellence.
Prior to law school, after watching many "Law & Order" episodes and Hollywood feature films about attorneys, I envisioned that the path to success would be through the district attorney's office. Being in court, brokering deals, handling prosecutions, and giving second chances seemed like a great career.
However, my experiences during and after law school—interning for the public defender, working for three civil litigation law firms, and serving as a graduate law clerk in the Superior Court of California—led me to a different path.
Colleagues reminded me that being an entrepreneur would be a much better path based on skills of connecting with people and the enjoyment of building things. Law school taught me how to write more concisely, and, combined with a passion for the literary arts, it made sense to get into writing and podcasting. Creating content also served as a great marketing tool. Social media was truly starting to hit its stride and provided the best distribution platform since the printing press. Virtual offices also began to catch on. This meant that building a business and law practice was much less expensive and approachable.
Deciding to open a practice was very difficult—it took time, patience, grace, and liberty. There is no immediate success moment once launching or really after. After determining that going solo was the path, it was simple to decide what to practice—entertainment, media, and sports—because those were the practice areas of passion and childhood dreams.
Going back to law school for a moment, I experienced two significant things that watered the seed of entrepreneurship. First, a law school study abroad program led me to 29 cities and 19 countries in a three-month period, which allowed me to write articles and share pictures of the experience on websites and social media. The experience showed a positive reaction that encouraged further exploration. Next, competing in a baseball arbitration competition at Tulane Law School led me to build, develop, and run the first of its kind, National Sports Law Negotiation Competition, and eventually to another development, the California Sports Lawyer® Negotiation Competition at the Rose Bowl Stadium. My early law school experiences provided the evidence and foundation to want to build and explore more.
Reading about and meeting with hundreds of attorneys prior to and after launching a practice saved a lot of headache, heartache, and overhead. It also served unknowingly as a marketing experiment as attorneys asked about the next move. It helped to establish the principles and application of geography, branding, and community in business development, career, and life decisions, which I use daily.
Knowing your brand and understanding how others receive your brand is of the utmost importance. One must be willing to ask the harder personal and business questions and accept, learn, and change from a place of failure. If being an entrepreneur is one thing, it is knowing, accepting, and embracing the challenge of uncertainty. It is also the ability to improvise, adapt, and overcome, and diversify revenue streams. It also means being, as Benjamin Franklin said, a "Jack of all trades, master of one." (Note the Franklin quote is often misquoted to none).
As attorneys, we must be willing to work for change but also accept challenges and failures gracefully. People must learn to live with mistakes and missteps and forgive themselves and others for the same.
California Lawyers Association demonstrated this principle recently in a branding seminar.
The panel moderator asked, "If you could go back and give advice to your younger self, what would it be and why? I responded that 'naiveté is often a great tool to accomplish greatness because one does not realize the difficulty of the task ahead.' I added that 'I would remind myself that great things come with grace and patience.' Time is your ally.
The branding event was entitled "Branding for Attorneys: What You Did Not Learn in Law School About Social Media, Public Relations, and Business Development." Law school is, for better or worse, not about business development and marketing. However, building a brand is essential to life and business success. Before and during law school, everyone is creating something that tells a story about themselves. In many ways, people are a collection of their choices. But again, there is grace and patience. Our experiences in law school and life outside the four-walled or virtual classroom are where much work is done.
California Lawyers Association is a place where attorneys, law students, and legal professionals can build their brand through professional development, education, networking, and leadership opportunities. Ask yourself often, what will your story say? Challenge yourself to tell the story you want to tell. If my story says anything about branding, grace, liberty, freedom, and patience, it is that everyone has the opportunity to tell their story at the California Lawyers Association through hard work and grace.
Sincerely Yours in Service,

Jeremy M. Evans
President, California Lawyers Association
Want to read past messages from President Evans? Read more, below!
---