2022 CLA Awards Recipients
Congratulations to our 2022 recipients!
Learn more about each award on the main Awards page.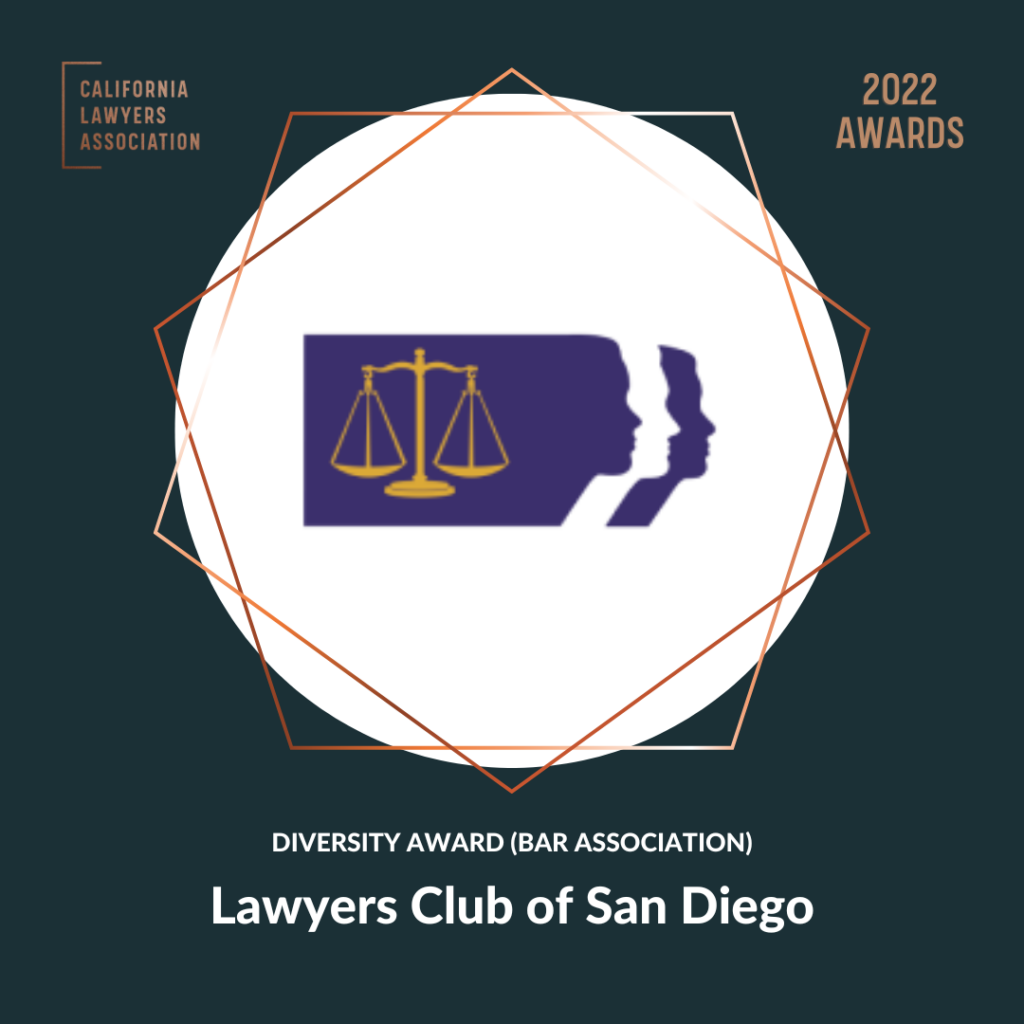 Diversity Award (Bar Association)
Lawyers Club of San Diego
click to expand biography

In the early 1970's there were few women lawyers in San Diego County. However, San Diego was the focus of the movement in California to ratify the Equal Rights Amendment, which faced opposition in the State Senate. The 24 practicing women lawyers in San Diego at that time formed a new bar association to provide a vehicle to address issues of gender discrimination in the law, in the profession, and in the community. This group challenged sexism as the norm and refused to be excluded from the bench, bar, board, or from having lunch a downtown restaurant, The Grant Grill, where the "old boys" met to do business. The restaurant's brass plaque boldly read "No Women before 3:00 p.m." In defiance, a small group of women attorneys made a reservation under a male colleague's name and pressured the restaurant to honor it.

Founded in 1972, Lawyers Club of San Diego's mission is to advance the status of women in the law and society. Lawyers Club is the largest specialty bar association in San Diego with members of all genders, including attorneys at public agencies, law firm managing, and equity partners, retired and active federal and state judges, current and former U.S. Attorneys, current and former San Diego District Attorneys, San Diego Public Defenders, Federal Defenders of San Diego, as well as law firm associates, law students and others in the San Diego community who share our mission. We are a proud affiliate of the National Conference of Women's Bar Associations, the National Association of Women Lawyers, and California Women Lawyers.

The name "Lawyers Club of San Diego" was selected to indicate this is not a club exclusive to women but is open to all who are committed to fair treatment under the law regardless of sex. The name was the brainchild of Prof. C. Hugh Friedman, who later became President of the San Diego County Bar Association. In July 1972, Judith McConnell, Sharron Voorhees, Christine Pate, Lynn Schenk and Louise De Carl Malugen were elected as directors of the association. Our membership continues to grow each year, illustrating the value it provides to its members to advance the mission.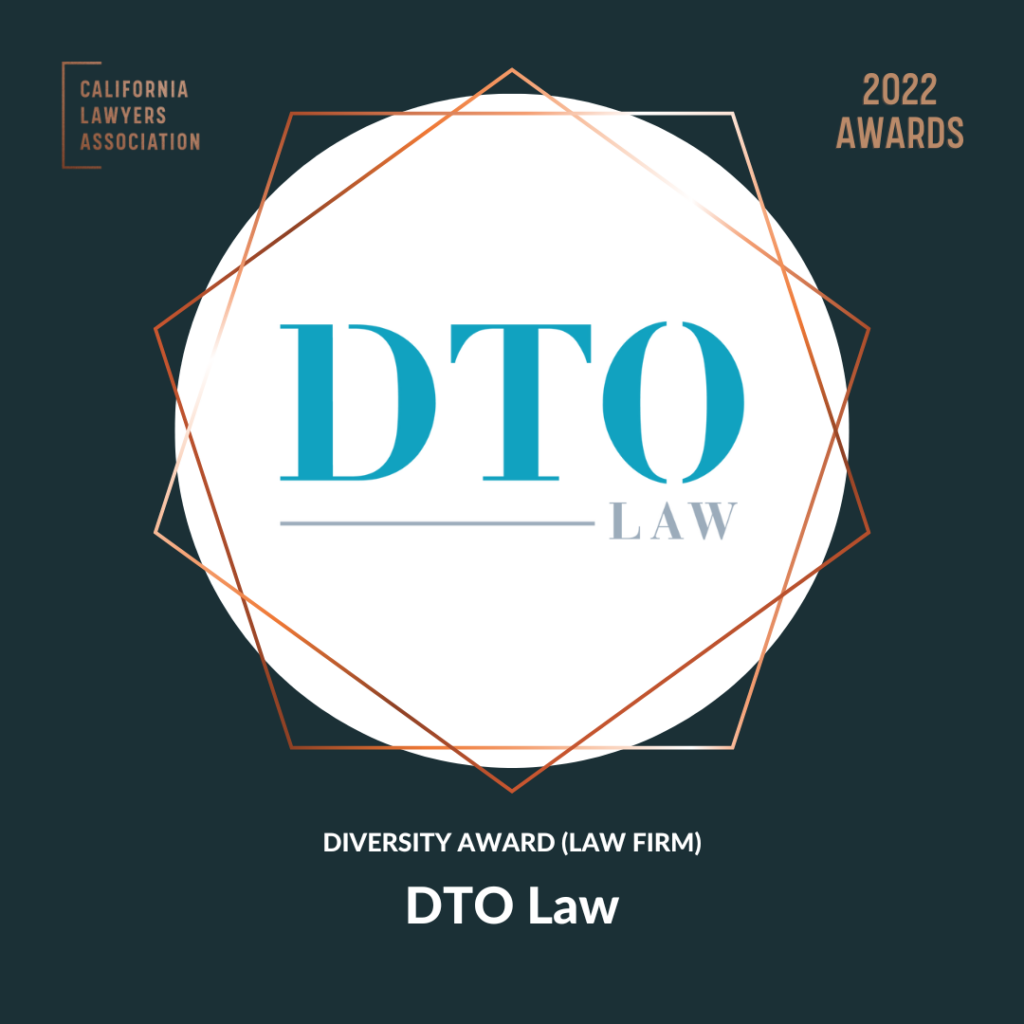 Diversity Award (Law Firm)
DTO Law
click to expand biography

Founded in 2019, DTO Law is an elite boutique firm with offices in Los Angeles, Silicon Valley, and New York. Our litigators, all of whom hail from elite law schools, including Harvard, Stanford, Penn, and NYU, and commenced their careers at elite BigLaw firms, handle complex commercial litigation, including the defense of class actions and all facets of intellectual property litigation.


We are Driven To Outperform in every single matter because we know great success is not born of half-measures. Success requires unparalleled, unflinching, compulsive commitment to both the mission and the principle of excellence. It is because of that commitment DTO has garnered recognition and earned coveted awards such as: "Best Law Firms" U.S. News & World Report, "Top Boutiques" Los Angeles and San Francisco Daily Journal, "Recommended Firm" Benchmark Litigation, and "Outstanding Firm for Diversity and Inclusion" Chambers and Partners.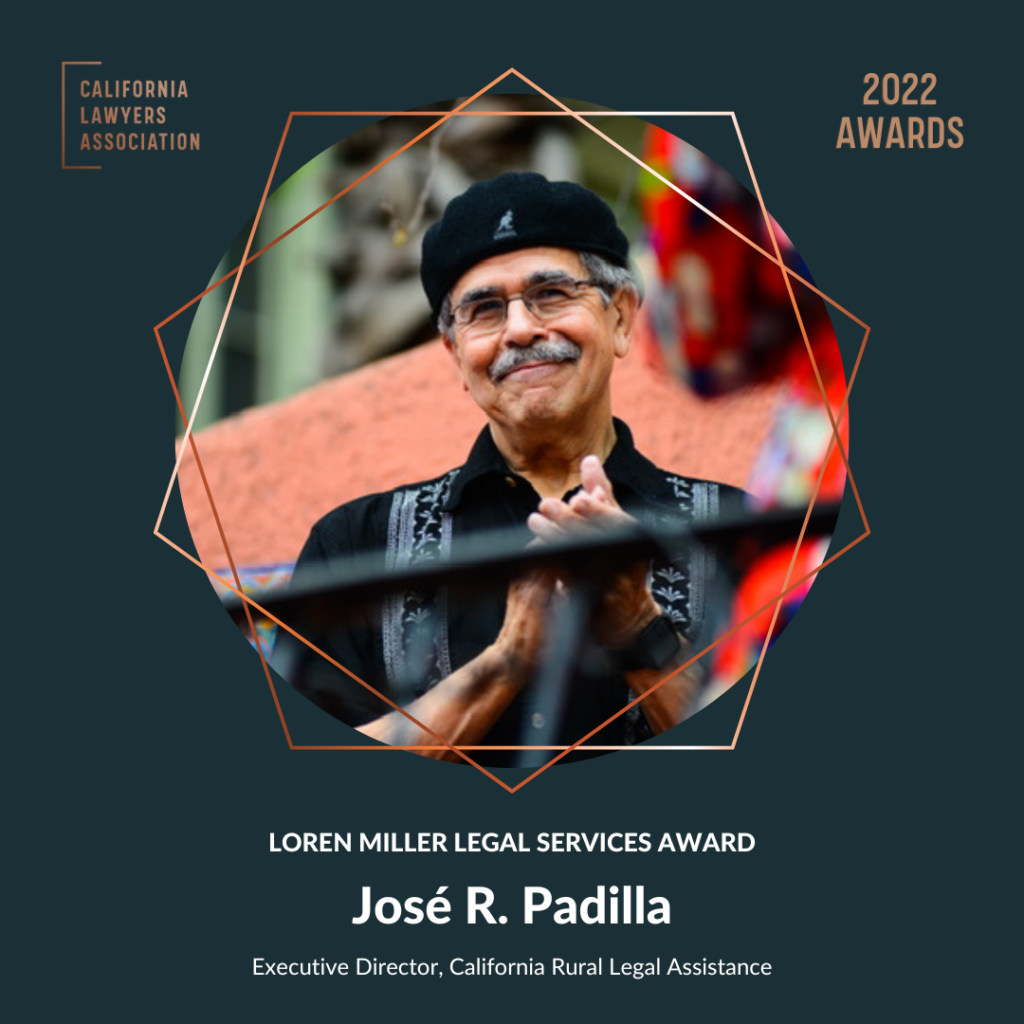 Loren Miller Legal Services Award
José R. Padilla
click to expand biography

José R. Padilla was born and raised in the Imperial Valley, of parents who came from farmworker families. He attended Stanford University in the early 1970s when many Latino students felt the social obligation to give something back to the communities that raised them. This central principle of giving back to his community through public service has guided José professionally and personally. José received his BA from Stanford in 1974. Deciding that he could best serve his community through legal advocacy, José attended Berkeley School of Law, U.C. Berkeley.

After graduating in 1978, he started what has become a 44-year legal career with California Rural Legal Assistance (CRLA) Inc., advocating for the rights of California's low-income, farm workers and rural poverty communities.

■ CRLA FIELD OFFICE ATTORNEY. José spent his first 6 years with CRLA as a staff attorney and later as Directing Attorney of CRLA's Imperial Valley, El Centro office. His work focused on immigration, civil rights, and education law. José became legal advisor to California's Migrant Education Parent Advisory Council and he codrafted AB 1382, California's Migrant Education law that continues to address the unique educational needs of the State's migrant children. As a COMMUNITY LAWYER he also helped to form a low-income credit union, a bilingual community radio station (Radio Sin Fronteras), and an immigration center that assisted Central American refugees.

■ CRLA State Director: 38 Years. In 1984 José was selected to serve as the Executive Director of CRLA. He oversees the administration of what is considered one of the premier and most respected Legal Services programs in the country. CRLA has 16 offices which serve the rural poor in some 24 California counties. With an operating budget of $18 million, CRLA employs 182 staff, including 55 attorneys and 45 community workers. Through the Agricultural Worker Program and other farmworker advocacy, CRLA cases focus on H2A advocacy, worker health and safety, wage theft, migrant education and sexual harassment. Annually, CRLA assists more than 40,000 rural poor with legal services.

■ As Director, José has worked to ensure that the rural poor are represented in the legislative arena by a partnership with the CRLA FOUNDATION. CRLA has also taken a leadership role to outreach new burgeoning rural communities, creating the Indigenous Farm Worker Project, to address the need of the indigenous migrant workers from southern Mexico. Most importantly, during José's tenure, CRLA has continued to pursue impact litigation and develop special projects of critical importance to farmworker women, and LGBT communities.

■ José testified before Pres. Clinton's Commission on Race, the U.S. Commission on Civil Rights and various legislative bodies addressing issues of voting and language rights. He serves on the Board of Race Research Action Council and is a former Chairperson of the National Legal Aid & Defender Association (NLADA).

■ Some of José's HONORS and AWARDS include:

■ In 2000, Jose was selected to the Stanford Alumni Multicultural Hall of Fame.

■ In 2003, he was presented with the Ohtli Award from the Mexican Government for his services to Mexican citizens in the United States.

■ In 2004, Jose testified before Congress in defense of CRLA's controversial advocacy against the California Dairy Industry.

■ In 2005, he received an Honorary Doctorate in Humane Letters from Chapman University.

■ In 2015, the California Latino Legislative Caucus selected Jose as a Latino Spirit Honoree.

■ In 2021 Jose was presented the Chavez Legacy Award from the National Chavez Center.

■ José has been married for 42 years to Deborah Escobedo, attorney with the Lawyers' Committee for Civil Rights, in San Francisco.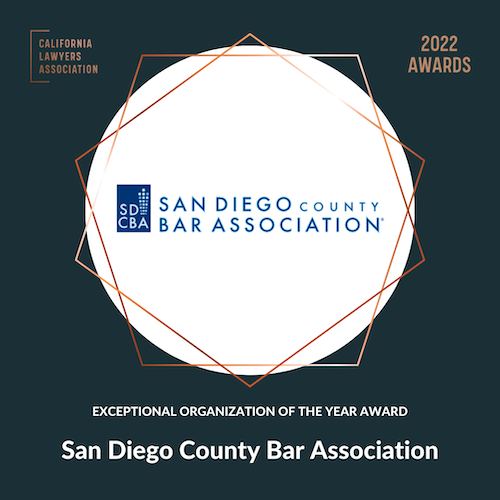 Exceptional Organization of the Year Award
San Diego County Bar Association
click to expand biography

The San Diego County Bar Association (SDCBA) is the largest and longest-running bar association serving the entire San Diego legal community. Our mission is to connect lawyers and support their success and fulfillment. Lawyers, judges, and all legal professionals can take advantage of our wide variety of programs, services, events, and member benefits to help grow and thrive in their legal careers. Membership provides connection to all SDCBA members in our 26 practice area listervs, beneficial networking functions, fulfilling leadership opportunities, continuing education, fun social events, LOTS of free and highly discounted services that can add up to thousands of dollars in savings, and myriad ways to expand one's legal practice as well as give back to the community. Members can also grow their client base by joining panels in our Lawyer Referral and Information Service, now serving both San Diego and Imperial counties.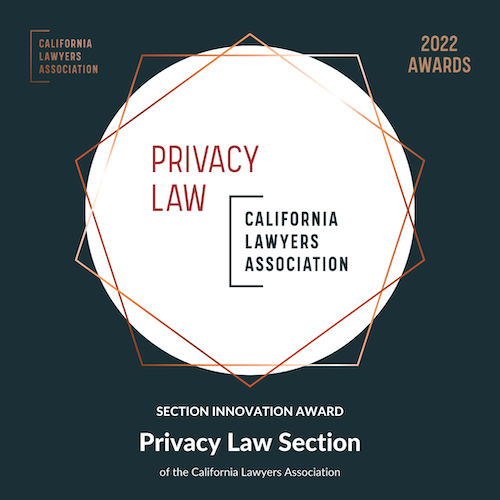 Sectional Innovation Award
Privacy Law Section of the California Lawyers Association
click to expand biography

Some highlights from the Privacy Law Section of the California Lawyers Association this past year:

Created working group comprised of several members to comment upon proposed regulations to implement amendments to the California Consumer Privacy Act
Hosted "fireside chat" introducing the Chair of California's new privacy agency, the California Privacy Protection Agency, and hosted several subsequent discussions with her.
Recognized by California Attorney General's office as a conduit to address California privacy attorneys about, among other things, the AG office's interpretation of the California Consumer Privacy Act. The Section hosted several "fireside chats" with key enforcement officials from the AG's office and engaged in a dialogue about common issues in drafting policies to comply with CCPA
Developed 5-part webinar series with internationally-known privacy think tank (Future of Privacy Forum) to provide a lawyer-friendly explanation of technologies regulated by California's data privacy law
Submitted substantive comments on several privacy bills, including this session's Age Appropriate Design Code Act.
Responded to requests from CLA to comment upon ABA proposals on encryption and other privacy- and cyber-security issues
Publish monthly e-News
Created "California Privacy Leaders" video interview series, which appears on YouTube
Created inaugural privacy lawyer mentorship program with Santa Clara University Law School
Hosted several virtual membership happy hours
Partnered with well-known privacy and cybersecurity organizations to deliver webinars on topical privacy issues
Produced several MCLE events, ranging from CCPA basics for new privacy lawyers to a discussion about cutting edge privacy issues with NFTs and Web 3.0
Drafted a treatise on CCPA ("A Lawyer's Guide to CCPA") that section will be self-publishing
Hosted a fireside chat with the General Counsel of the Interactive Advertising Bureau, one of the leading ad tech industry organizations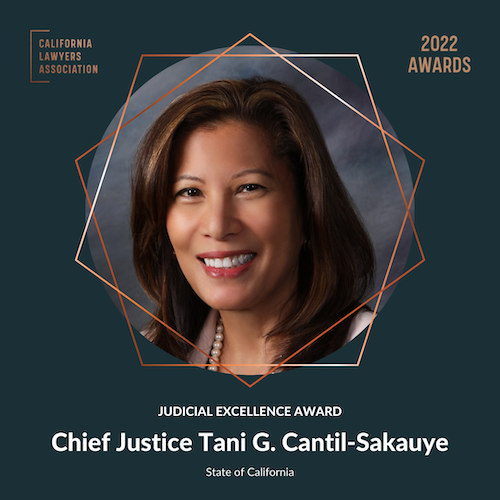 Judicial Excellence Award
Chief Justice Tani G. Cantil-Sakauye
click to expand biography

Chief Justice Tani Gorre Cantil-Sakauye is the 28th chief justice of the State of California. She was sworn into office on January 3, 2011, and is the first Asian-Filipina American and the second woman to serve as the state's chief justice.

After former Governor Arnold Schwarzenegger nominated her as Chief Justice on July 22, 2010, the California State Bar Judicial Nominees Evaluation Commission rated her as exceptionally well qualified for the position. At a public hearing on August 25, 2010, she was unanimously confirmed by the Commission on Judicial Appointments, and in a general election on November 2, 2010, an overwhelming majority of voters elected her to that position.

Chief Justice Cantil-Sakauye chairs the Judicial Council of California, the administrative policymaking body of state courts, and the Commission on Judicial Appointments. For more information read about her recent outreach activities and civics initiatives.

She has served for more than 20 years on California appellate and trial courts, and has been appointed or elevated to higher office by three governors. In 1990, Governor George Deukmejian appointed her to the Sacramento Municipal Court and in 1997, Governor Pete Wilson elevated her to the Superior Court of Sacramento County. On the superior court, she presided over both criminal and civil assignments. In 1997, she established and presided over the first court in Sacramento dedicated solely to domestic violence issues. In addition, then-Judge Cantil-Sakauye chaired the court's criminal law committee and was a member of the presiding judge's task force on domestic violence and the Home Court committee. In 2005, Governor Schwarzenegger nominated her to the Court of Appeal, Third Appellate District.

Chief Justice Ronald M. George appointed her to the Judicial Council of California in September 2008. She has also served as chair of the council's Advisory Committee on Financial Accountability and Efficiency for the Judicial Branch, a member of the Domestic Violence Practice and Procedure Task Force and chaired its Best Practices Domestic Violence subcommittee, vice-chair of the Executive and Planning Committee, vice-chair of the Rules and Projects Committee, co-chair of the Judicial Recruitment and Retention Working Group, and as a member of the Commission for Impartial Courts Implementation Committee.

The Chief Justice was a Special Master, selected by the Supreme Court of California to hear disciplinary proceedings before the Commission on Judicial Performance. She was president of the Anthony M. Kennedy American Inn of Court, an organization dedicated to promoting civility, ethics, and professionalism in the practice of law. And was a member of the national Conference of Chief Justices Board of Directors.

Born in 1959 in Sacramento, Chief Justice Cantil-Sakauye attended C. K. McClatchy High School (1977) and Sacramento City College (1978) before receiving her BA from the University of California, Davis, graduating with honors in 1980. After taking a year off to visit her ancestral homeland, the Philippines, the Chief Justice entered the UC Davis, Martin Luther King, Jr., School of Law in 1981. After receiving her JD in 1984, she worked as a deputy district attorney for the Sacramento County District Attorney's Office, where she prosecuted a variety of criminal offenses. From 1988 to 1990, she served on the senior staff of Governor Deukmejian in two capacities: first as deputy legal affairs secretary and later as a deputy legislative secretary.

Chief Justice Cantil-Sakauye is a former board member of several nonprofit organizations and has been active in numerous professional community organizations, including membership in the California Judges Association, the National Asian Pacific American Bar Association, and the Sacramento Asian Bar Association, and received the Filipina of the Year Award. She is currently a member of the Board of Directors for the Conference of Chief Justices, The American Law Institute, the Board of Visitors for UC Davis, an Advisory Board member of the Sacramento Federal Judicial Library and Learning Center Foundation, an honorary member of the Foundation for Democracy and Justice, a private nonprofit organization devoted to civics education, and is actively engaged in a civic learning initiative Your Constitution: The Power of Democracy.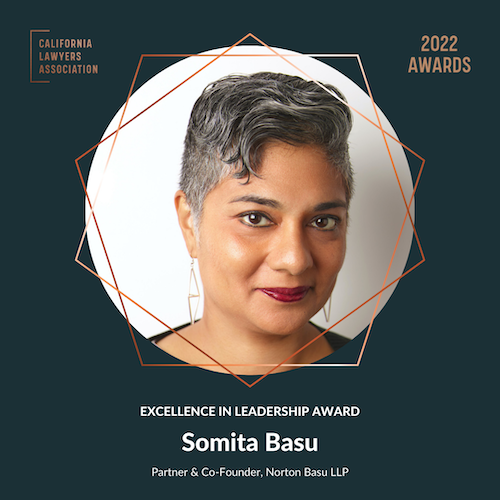 Excellence in Leadership Award
Somita Basu
click to expand biography

A proud graduate of Concord Law School and a practicing attorney licensed to practice in California, Somita grew up in Nebraska before moving in her awkward teen years to Maryland. After graduating from college in New Jersey with a degree in mathematics, Somita went to work at Prudential Life Insurance Company, providing her with a foundation in financial services that serve her well as an estate planning and probate attorney. Somita had a long career in other Fortune 500 companies, working with institutions such as IBM, Pricewaterhouse Coopers, and HSBC in locations such as New Jersey, Mumbai, and Singapore.

Somita serves as the Chair for the Solo and Small Firm Section of the California Lawyers Association and was the past Co-Chair of the Diversity Outreach Committee of the CLA. Somita gives back to the community through her role as a Chair of the Board of Directors of the legal non-profit, Justice At Last, the Bay Area's only legal organization exclusively serving survivors of human trafficking.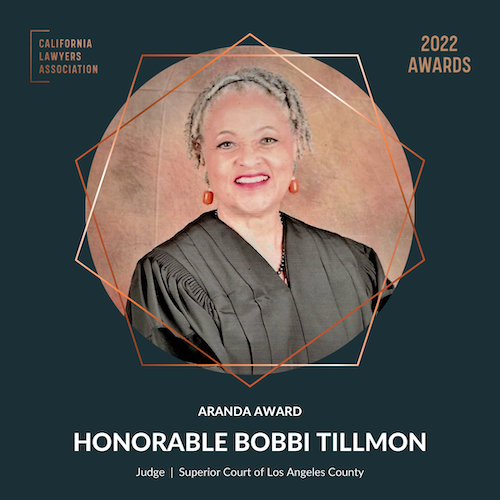 Aranda Award
Honorable Bobbi Tillmon
click to expand biography

Judge Tillmon received her Bachelor of Arts degree and her Juris Doctor from the University of Southern California. After 15 years of private practice, she was elected in 1994 as a Los Angeles County Superior Court Commissioner where she served for 12 years. In 2006 she was elected, then appointed by Governor Schwarzenegger as a Los Angeles County Superior Court Judge. She has presided over a Family Law Court, a Homeless Community Court, Criminal and Civil Courts. Judge Tillmon has served as a Teen Court Judge through the nationally acclaimed Los Angeles County Superior Court program.

Judge Tillmon has participated as a panelist and lecturer in numerous continuing legal and judicial education programs including the National Business Institute (NBI) and the National Institute of Trial Advocacy (NITA) programs. She has participated on many state and national task forces, committees and community education programs. She is active in the California Judges Association serving on the Judicial Fairness Coalition Committee. She is active, and a life member of the: National Bar Association NBA) (and a member of its Judicial Council); California Association of Black Lawyers (CABL) (and a life member of its Judicial Council)); John M. Langston Bar Association; Black Women Lawyers of Los Angeles, Inc.; and the Association of African American California Judicial Officers, Inc. (AAACJO). Judge Tillmon was a founding member and the first President of AAACJO. Judge Tillmon is a founding member of LAJPAC for Los Angeles judges.

Judge Tillmon has served on the Los Angeles County Superior Court's Executive Committee, the Diversity Committee and was Chair of the Access and Fairness Committee. She is a member of the Court's Outreach Committee for its Judicial Mentor Program. Judge Tillmon is a former member of the California Courts' Judicial Council Advisory Committee on Providing Access and Fairness and is a former member of the State Bar's Council on Access and Fairness. Currently, she is a member of the Governor Gavin Newsom's Judicial Selection Advisory Committee.

Her civic contributions have been recognized by the Sojourn Center for Battered Women and Their Children and the Black Women Lawyers Association of Los Angeles Foundation with their Community Service Awards. From the California Association of Black Lawyers, she received their Judicial Excellence Award, the President's Award, and in 2019, received the Bernard S. Jefferson, Judge of the Year Award. She has received the Cooper-Sandoz Alumni of the Year Award from the Association of Black Law Alumni of the University of Southern California and the Alumnus of the Year Award from the Black Law Students Association of U.S.C. She has served as a judge for the award-winning Loyola Law School Young Scholars program for high school students. In 2014, Judge Tillmon was inducted into the John M. Langston Bar Association's Hall of Fame. She has received a President's Award from the National Bar Association as well as the Chair's Award from the Judicial Council Chair. Judge Tillmon received the Raymond Pace Alexander Award at the 2020 National Bar Association Judicial Council Thurgood Marshall Program. In 2021, she was recognized as a "Living Legend" by Region IX of the National Bar Association and was inducted into the NBA's Fred D. Gray Hall of Fame.

Judge Tillmon is the Supervising Judge of the West District where she is currently assigned to the Santa Monica Courthouse hearing civil trials.

Judge Tillmon is married and has two adult children, a Deputy District Attorney, and an investment banker. Judge Tillmon enjoys traveling, photography and making jewelry.
Jack Berman Award of Achievement
Deena Shah
click to expand biography

Ms. Shah is an associate attorney at the Keker, Van Nest & Peters LLP ("KVP") representing clients in all facets of commercial litigation, including intellectual property, legal malpractice, and contract disputes.

In the face of significant professional risk, Ms. Shah has dedicated the last five years to advocating for reforms in one of our nation's oldest, most revered institutions and the cornerstone of our democracy, the federal judicial system. Shortly into Deeva's clerkship at the U.S. District Court for the Central District of California, two female colleagues shared with her that they had experienced sexual harassment on the job.

Their stories moved Ms. Shah to co-found Law Clerks for Workplace Accountability, an organization whose mission is to ensure that the federal judiciary provides a safe workplace environment, free of harassment, for all employees. She has spoken at panels all over the country on these issues and is regarded as a thought leader in the space. In February 2020, Ms. Shah testified to the House Judiciary Committee about the conditions in the federal courts that make harassment possible, and explained why the existing mechanisms are not adequate to prevent or remedy misconduct that occurs.

Ms. Shah earned her J.D. from the University of Michigan Law School and B.A. in political and social thought from the University of Virginia. Ms. Shah is a first-generation college student originally from Virginia Beach, Virginia. Ms. Shah stated that she was humbled and honored to receive NLS' 2022 award. Ms. Shah believes that "aside from bringing attention to reform efforts in the federal judicial system, the Jack Berman Award highlights to the importance of diversity in the judiciary and in our profession."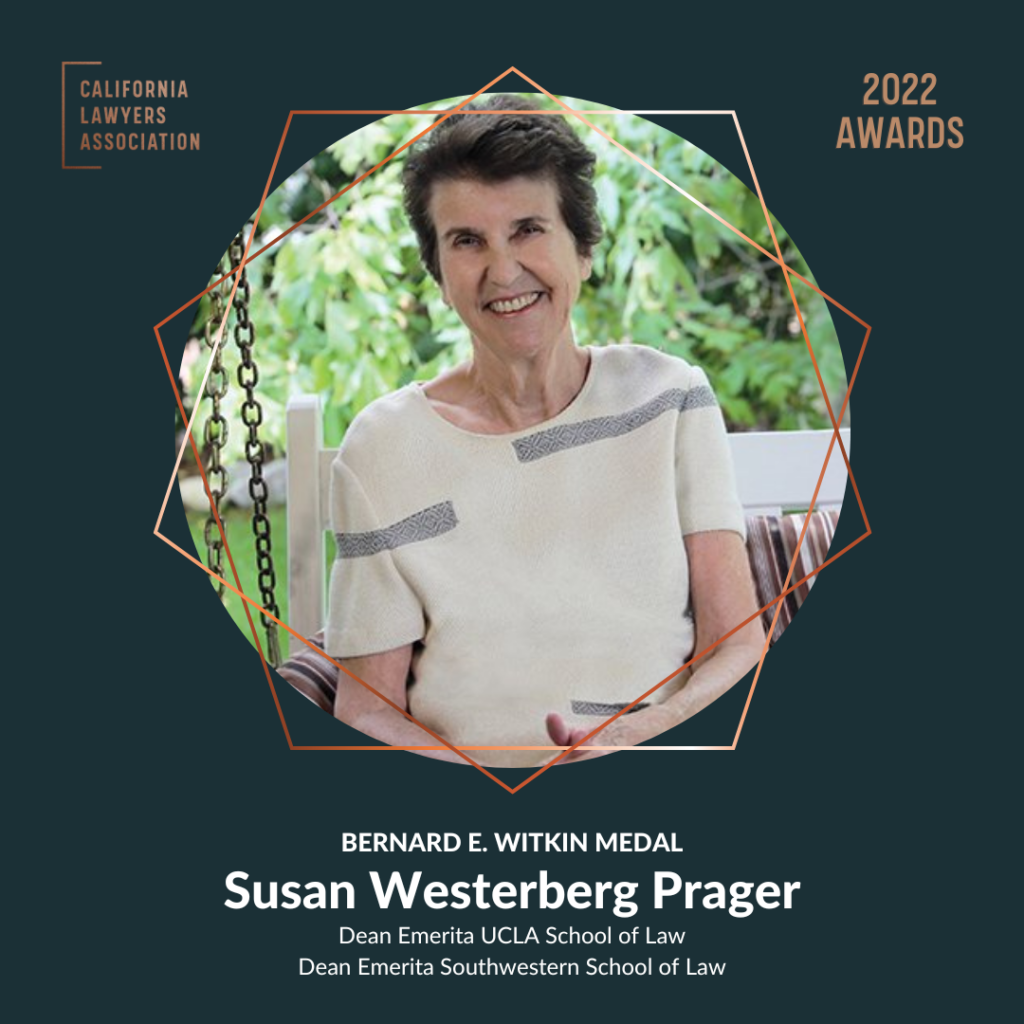 Bernard E. Witkin Medal
Susan Westerberg Prager
click to expand biography

Susan Westerberg Prager is an American legal scholar and administrator. Prager served as the 11th Dean and President of Southwestern Law School for eight years from 2013 to 2021, and was the first woman in the history of the law school to serve in the post.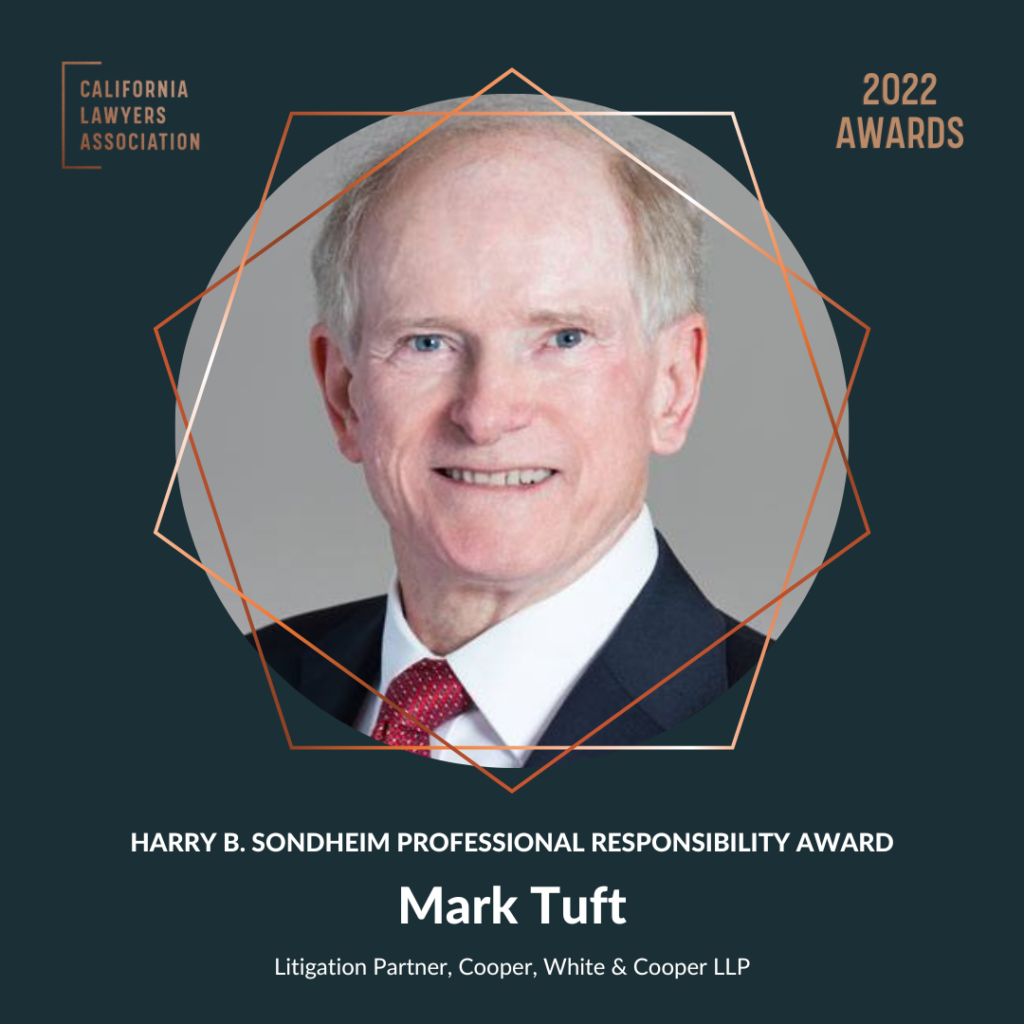 Harry B. Sondheim Professional Responsibility Award
Mark Tuft
click to expand biography

Mark L. Tuft is a Certified Legal Malpractice Specialist (California State Bar Board of Legal Specialization) and a litigation partner with Cooper, White & Cooper LLP. He serves as outside counsel to lawyers, law firms, and public and private organizations on the law governing lawyers, including professional responsibility, professional liability, law firm mergers and dissolutions, attorney sanctions, and State Bar admission and discipline. He also acts as an expert witness and consultant in these matters. His practice includes legal malpractice, media law and related first amendment litigation. He also serves as an arbitrator and mediator in lawyer-client and law firm disputes. Mr. Tuft has served on several California State Bar Commissions on revisions to the Rules of Professional Conduct and the State Bar's Task Force on Access Through Innovation of Legal Services. He is a former Chair and special advisor to the California State Bar Committee on Professional Responsibility and Conduct and served on State Bar task forces on multidisciplinary practice and amendments to the rules of professional conduct. Mr. Tuft has taught professional responsibility as an adjunct professor at the University of San Francisco School of Law and has lectured on legal ethics at U.C. Berkeley School of Law and Hastings School of Law. He served on the Board of Directors of the Bar Association of San Francisco and formerly chaired its ethics committee. Mr. Tuft is a member of the ABA Center on Professional Responsibility and currently chairs its editorial board. He is a past president of the Association of Professional Responsibility Lawyers and a member of the American Law Institute. Mr. Tuft is a frequent lecturer and writer on professional responsibility issues and has received several teaching awards. Mr. Tuft is coauthor of The Rutter Group California Practice Guide: Professional Responsibility.
Section Awards