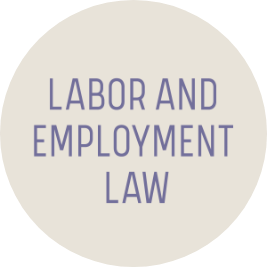 The Labor and Employment Law Section has several subcommittees. If you are interested in joining or learning more, contact the Section. The subcommittees are:
Annual Conference
Organizes the Annual Conference, which is tied to the Public Sector or Wage and Hour Conferences in alternating years. Chair: Monica Guizar
Diversity
Reviews and grants scholarships to conferences. Chair: Jinny Kim.
Education/Webinars
Organizes monthly educational webinars. Identifies, collects, and forwarding s proposals for any non-section CLA programs. Chair: Beth Mora, Vice-chair: Janet Cory Sommer.
eNews
Sends out monthly eNews emails to section members. Chair: Erich Shiners.
Grants
Reviews and makes recommendations for our one-yearly grants program. Chair: Laboni Hoq.
Law Review
Six issues of the Law Review published each year. Edits columns and articles; reviews and solicits article submissions. Editor: Barbara Kate Repa.
Marketing
Chair: Ireneo Reus.
Mediation Conference
Organizes our Mediation Conference. Chair: Steve Pearl.
Mentorship Program
For employment attorneys ready to be engaged in the law profession, the mentorship program is a great opportunity to broaden your network and develop meaningful professional relationships. Chair: Janine Braxton.
New Employment Practitioners Conference
Organizes our New Employment Practitioners Conferences. Held in two locations every year. One in Northern California and One in Southern California. Chair: Maribel Hernandez.
Outreach
Serving the community by educating workers and small business owners without access to legal representation about their rights and obligations under state and federal labor and employment laws. Chair: Christy Kwon.

Publications
Edit and oversee our California Public Sector Labor Relations and California Public Sector Employment Law books. Co-Chair: Ari Krantz. Co-Chair: Erich Shiners.
Public Sector Conference
Chair: Janet Cory Sommers.
Vice-Chair: Stephanie Joseph.
Sponsorships
Chair: Anne Giese.
Wage and Hour Conference
Organizes the Wage and Hour Conference, which takes place in Los Angeles each July. Chair: Adrianne De Castro. Vice-Chair: Tim Williams.
Your Legal Rights
Organizes Your Legal Rights radio show. Chair: Thomas Lenz.