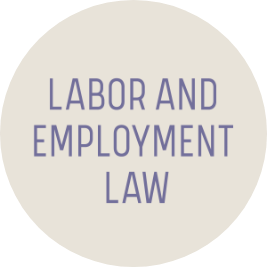 The Labor and Employment Law Section furthers the knowledge of its members in labor law and employment issues by providing a forum for California's labor lawyers and non-lawyers with an interest in labor relations and employment issues.
The mission of the Labor & Employment Law Section is to provide diverse educational opportunities and perspectives regarding labor and employment issues to our section members, to the bar, and to the general public.
The Section provides educational opportunities throughout the year, including opportunities for online participatory MCLE credit and self-study MCLE credit.
The Labor and Employment Law Section is a State Bar of California approved MCLE provider.
Publications
Committees / Areas of Interest
The Executive Committee oversees:
Programs
Education
Public Sector Program
Publications
Legislation
Membership
Law School Writing Competition
Section Internet
MCLE Articles
Delegates and Liaisons to Other State Bar Committees/Activities
Subcommittees
The Labor and Employment Law Section has several subcommittees. Learn more about them and how you can get involved by clicking here. The subcommittees are:
Annual Conference
Collaborative Law
Diversity
Education/Webinars
eNews
Grants
Law Review
Mediation Conference
New Lawyers Conference
Outreach
Publications
Public Sector Conference
Wage and Hour Conference
Your Legal Rights
For information on joining the section, see join a section.
Contact Us
Labor & Employment Law Section
California Lawyers Association
400 Capitol Mall, Suite 650
Sacramento, CA 95814
LaborLaw@calawyers.org