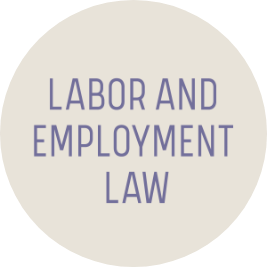 The California Lawyers Association's Labor and Employment Law Section is excited to invite you to join our mentorship program! For employment attorneys ready to be engaged in the law profession, the mentorship program is a great opportunity to broaden your network and develop meaningful professional relationships. Below please find the details relating to the program.
---
Benefits of the Mentorship Program
The Mentorship Program is for new attorneys to:
Learn more about the field of Labor and Employment Law
Gain an experienced practitioner's perspective on navigating the legal profession.
Expand your network within the legal profession.
Develop a meaningful professional relationship over a specified period of time.
Have a successful transition to the practice of employment law.
The program benefits Mentors by allowing them to:
Contribute to the professional development of new attorneys.
Identify potential new hires for your law office or organization.
Give something back to the profession.
Criteria
We are seeking New Lawyer Section members, Labor and Employment section members and/or law students who meet the following criteria:
Mentee of 8 or fewer years practicing employment law or a law student
Mentor of 9 or more years practicing employment law in good standing
Provided a completed application
Be willing to commit to the mentorship program for 1 year
Guidelines
Mentors and mentees are matched based on geographic proximity, area of practice (employment, traditional labor), whom you represent (employers, employees, neutral), and other criteria
Mentors and mentees should connect at least four times per year
During first meeting, the mentor and mentee should discuss your goals and reasons for participating in the program
Mentor and mentee should complete two activities from the list below each year
Activities
Participating in the activities listed below (in person or virtually as safety permits) will further the development of the mentorship relationship.
Meet (lunch, coffee break, etc.) in-person or via video-conference
Attend a local professional event together
Introduce Mentee to a judge or other experienced practitioner
Invite Mentee to observe court motion, hearing, trial, etc. (possibly via video-conference if remote participation is available)
Participate in a CLA networking event
Read and discuss a case or article on developments in areas of shared legal practice (e.g. from the Section's eNews bulletin or the Law Review)