Labor and Employment Rights: There's an App for That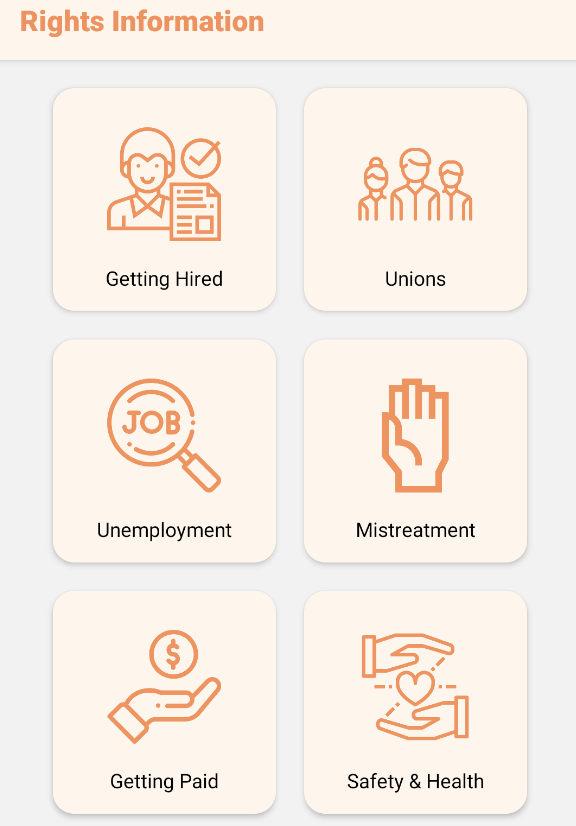 October 2023
California Lawyers Association's Labor and Employment Law Section helped develop a free Workers App for Google and Apple devices to educate the public on their rights. How did they make it happen? We asked them to share their story.  
By Thomas Lenz
In approximately 2016, I was preparing to transition from Vice-Chair to Chair of the Executive Committee of the Labor and Employment Law Section. At that time, the Sections were still a part of the State Bar of California. A transition to the California Lawyers Association (CLA) was yet to occur but was on the horizon.
I talked with members of the Executive Committee about the role and what would be expected of me as a Chair. Past Chair Phil Horowitz suggested that I have a couple of goals and make those known to members of the ExCom before I became Chair. Certainly, one of those goals became to make the transition from State Bar to CLA a smooth one for our Section without diminishing members or services. Another goal was to provide a resource for the public on labor and employment law, something I envisioned as a brochure, available in print or by download from a Section webpage. I announced these goals to the ExCom and pursued them as I became Chair.
A lawyer on the ExCom, Joseph Ortiz, volunteered to work with colleagues at his firm and me on outlines of key topics. As lawyer Ortiz became Judge Ortiz and departed the ExCom for new responsibilities, many members of the ExCom over the years authored and expanded on content ranging from basic wage and hour to harassment and discrimination, as well as rights under labor laws.
I finished my term as Chair, and this brochure remained a work in progress, which our ExCom discussed at each meeting. ExCom member Christy Kwon from the National Labor Relations Board in the Bay Area contributed an idea that would transform this project. She knew of an opportunity for CLA to develop a workplace law app. Instead of being a brochure, our product could be on our phones and mobile devices, available at the touch of a screen.
Christy's former NLRB colleague Carmen Leon and Ruth Silver-Taube, a clinical law professor at Santa Clara University, worked with computer science students at Stanford University who shared enthusiasm for an app that could easily provide workers with information about workplace rights. After those Stanford students developed the app, many Section members worked together to refine content to provide basic information about workplace rights and responsibilities. The app was put through many test runs to ensure the information read well and was easily accessible. After years of hard work, it was made available to the public through the Apple and Google app stores.
Christy worked closely with the ExCom's Outreach Committee, reviewing progress, budgeting, and when the app would be ready for launch. After much effort by many people, the app launched in the summer of 2022.
Special thanks to Phil Horowitz, Joseph Ortiz, Christy Kwon, Jinny Kim, Katherine Thomson, Monica Guizar, Maribel Hernandez, Daphne Bishop, Carmen Leon, Ruth Silver-Taube, Stanford University students, and anyone else from the ExCom or elsewhere who assisted in the evolution of the project—from the spark of an idea about a brochure to the launch of an app available for download—wherever you happen to be.
The Labor and Employment Law Section ExCom is proud to provide this resource for the public. As the law continues to change, the ExCom will continue to update this resource in the hope that it answers questions for working people, small businesses, and others curious to understand the rules of the workplace.
I can genuinely say that this was a team effort and became something even in my role as Officer and Chair of the Section I did not envision. It was the collaboration of all that blossomed into the resource it is and hopefully will continue to be.
You can access the free Workers App for Apple and Google devices.
Thomas Lenz is a partner in the Pasadena law firm of Atkinson, Andelson, Loya, Ruud & Romo law firm and an adjunct lecturer at the University of Southern California Gould School of Law. He is a past Chair and current Advisor to the Executive Committee of CLA's Labor and Employment Law Section and the 2024 Chair for CLA's Civics Engagement and Outreach Committee.
---