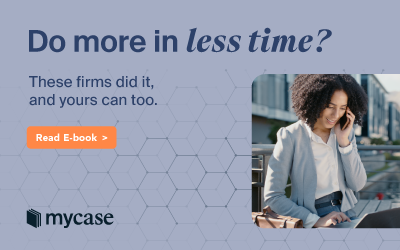 As the legal landscape evolves, attorneys are embracing technology to automate workflows, boost profitability, and gain a competitive edge. In this article, we explore the top legal tech features that can help your firm get a leg up on the competition.
Online Payments:
The MyCase Legal Industry Report revealed that 73% of surveyed legal professionals faced challenges when it came to collecting payments. Interestingly, firms that utilized online payments reported collection rates nearly 10% higher than those who didn't.
"With LawPay, I can create an itemized invoice transmitted electronically to the client." – Mark Brengelman, Mark R. Brengelman Law PLLC
Lead and Client Intake Automation:
Leveraging technology for lead management allows prospects to fill out embedded forms on your website that trigger workflows. This automation can save you time and ensure that each lead is responded to in a timely manner.
"With MyCase eSignature, we cut client intake time in half—maybe more." – Kim Leval of Sorenson Law
Document Management:
Efficient document management is crucial for law firms to ensure team-wide access to up-to-date documents securely. Legal document management software enables centralized document storage, real-time collaboration, and controlled access.
"MyCase really has changed everything for us. It streamlines every single process that we have in our office." – Molly Bagshaw, Hochglaube & DeBorde P.C.
Time Tracking:
In the MyCase Industry Report, 61% of respondents reported they struggled to capture billable time. Time-tracking software simplifies this process, allowing you to set timers and receive reminders to log every billable minute accurately.
"Our staff loves the MyCase timers that allow them to switch back and forth between cases in real-time." – Kim Leval, Sorenson Law
Client Portal and Text Messaging:
Enhancing client communication is crucial for a better client experience and freeing up more time for billable tasks. Client portals and text messaging tools in case management software make it easy.
"Having everything we reference in one place is a helpful thing." – Chelsea Wansley of Easterling Family Law
Experience firsthand how these features can transform your firm with a free 10-day trial of MyCase.
---