ESG-in-Law Series Features Experts on Eradicating Modern Slavery, Conducting ESG Due Diligence
October 2023
By Patrick Miller
California Lawyers Association's Environmental, Social and Governance Interest Group released two new episodes of our ESG-in-Law video series. The episodes featured conversations with Jane Obbagy and Matt Friedman.
Matt Friedman is the CEO of the MeKong Club, a nonprofit helping multinationals eradicate modern slavery. He is an experienced expert in this space and provides valuable insight on these important issues.
With Matt, we talked about the challenges of working with such an intractable problem as modern slavery, which reveals some of the ugliest aspects of humanity. He has worked with victims who've experienced some of the most deplorable conditions, yet he maintains his focus on continuing his efforts.
He's helped many companies implement best practices in responsible procurement and is a tireless advocate for victims of modern slavery.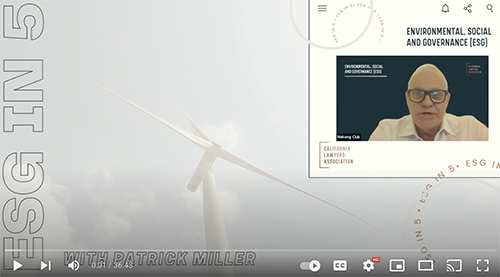 You can find the conversation with Matt here.
Jane Obbagy is an expert consultant on ESG assessment and implementation for businesses. She manages Obbagy Consulting.
We discussed Jane's work helping companies assess their social impact performance and implement ESG best practices. We discussed her experience conducting ESG due diligence on potential projects and remediating issues when they arise. 
One key takeaway was a practical tip: those responsible for training employees on their rights are often a preferable, trusted outlet for stakeholders to lodge grievances.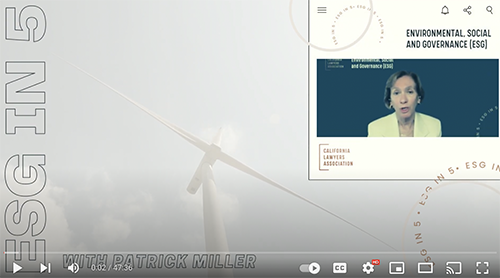 You can find the conversation with Jane here.
Patrick Miller is a member of CLA's ESG Interest Group and the Founding Attorney at Impact Advocates APC, a law firm based in Los Angeles that focuses on commercial litigation & international arbitration, as well as ESG advisory services such as implementing responsible supply chain frameworks.
---
Related Content