2023 CLA Awards Recipients
Congratulations to our 2023 recipients!
Learn more about each award on the main Awards page.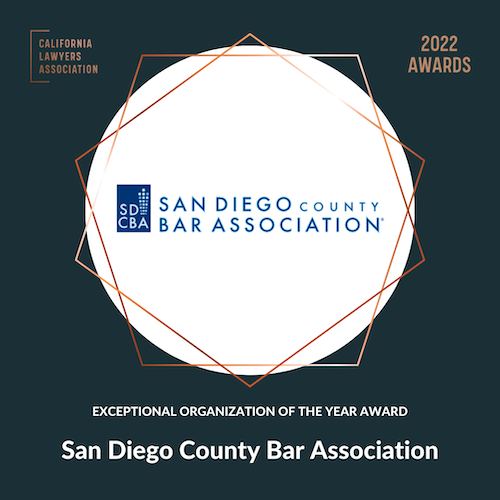 Aranda Award
Judge Mark A. Juhas
click to expand biography

Judge Mark A. Juhas just finished an extended term as Chair of the California Commission on Access to Justice, where he has served since 2012, working to reorganize the State Bar and California Lawyers Association. From his appointment to the bench in September 2002 to today, Judge Juhas has worked tirelessly to improve delivery of services and access to justice in family court, especially for low- and moderate-income litigants. In his very first assignment, he convened an informal working group to examine and improve delivery of family law services, by collaborating with court and self-help center staff, child custody mediators, and the local bar. He expanded the scope of this work as a member and Chair (2010-2016), of the Los Angeles Superior Court Access and Fairness Committee. Since 2011, he has served on the Los Angeles County Law Library Board of Trustees, creating educational programs to assist self-represented litigants. He serves on the Adjunct Faculty at Southwestern Law School, teaching family law and community property. As a Judge on the Los Angeles Superior Court, he teaches local and statewide judicial education programs on all family law subjects, including primary assignment orientation and domestic/gun violence prevention. He teaches effective case management to judges, with the goal of ensuring access to justice, especially for self-represented litigants. He has presented at the National Self-Help Conference (Harvard, 2007 and Baltimore, 2008). Recently, he was selected for the American Bar Association's Standing Committee on Legal Aid and Indigent Defense. Most of Judge Juhas' work has been at the state level. He has served as faculty at several Self-Represented Litigant Conferences, presented by the Judicial Council Center for Families, Children, and the Courts. He served on the Judicial Council Task Force on Self-Represented Litigants, from 2010 to 2014. That Task Force is now combined with the Judicial Council Providing Access and Fairness Committee, and he remains a liaison member of that Committee to this day. Another way of improving litigants' access to the court is through increasing use of limited scope representation by attorneys in family and civil matters. Judge Juhas has been a proponent of this process since its inception. He was one of the sources for an article in the June 2018 issue of Los Angeles Lawyer, in which the lead story "A Bridge Together," promoted limited scope representation. Judge Juhas advocates for the continued growth of limited scope representation at law schools and at bar association presentations. As a Member of the Elkins Task Force and the Elkins Implementation Task Force, from 2008 to 2014, Judge Juhas worked to recommend and implement improvements in family law procedures, through changes to statutes and court rules. He helped create the Essentials program, to educate and promote the practice of family law to attorneys statewide. He continued this important, practical work as a member, and then as Co-Chair, of the Judicial Council Family and Juvenile Advisory Committee, developing rules and forms to assist litigants in navigating the court system.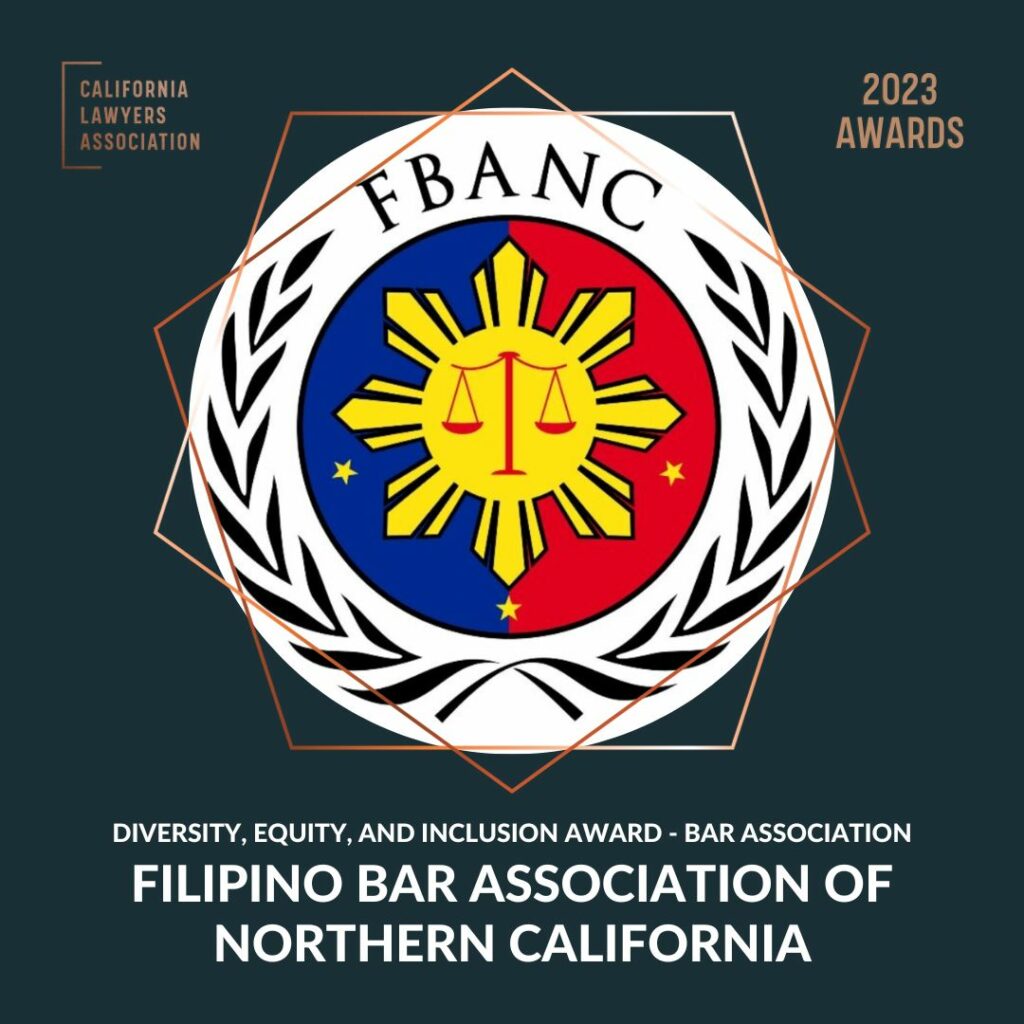 DEI (Bar Association)
Filipino Bar Association of Northern California
click to expand biography

Over four decades, FBANC has fostered a strong network of Filipino/a/x-American attorneys and law students, changing the complexion of the legal field and providing a voice for, and advocating on behalf of, Filipino and Filipino/a/x-American interests in various forums. Year after year, FBANC successfully plans and executes its established programming to promote diversity in the bar association and support the broader legal community through premier professional development MCLEs, impactful pro bono legal clinics, attorney-law student mentorship pairings, and networking and social mixers. Despite the challenges presented by COVID and the post-pandemic world, FBANC emerged stronger and more resolute in its mission and programming. Highlights from the past year include elevating FBANC's commitment to diversifying the bench and the next generation of leaders:

FBANC's active Judiciary Committee evaluates candidates for judicial positions who seek FBANC's endorsement for appointments and elections. The Committee strives to promote qualified candidates and greater diversity in the federal and state judiciaries. Since its inception, the Judiciary Committee has successfully supported the appointment of several "First Filipino American" judges in Northern California: the Hon. Benjamin T. Reyes II in Contra Costa County, the Hon. Audra Ibarra in Santa Clara County, the Hon. Jerry Bustos Vinluan III in Santa Cruz County, the Hon. Renee C. Reyna in San Mateo County and the Hon. Raymonn DeJesus in Placer County. This past year, FBANC supported the appointment of the Hon. Pelayo Llamas, Jr. in Alameda County and Hon. Ian Rivamonte, the second Filipino-American judge in Monterey County.

FBANC sustained and strengthened its mentorship program and organized an impactful in person through its nationally-recognized Komunidad (Community) Conference that centered around mental health, financial planning, and effective networking. This Conference is the first conference of its kind in the country. Designed to empower Filipino and Filipino/a/x-American law students, over 60 law students and lawyer volunteers across the Bay Area gathered together for Komunidad's fourth year.

FBANC also launched the Bayanihan Stipend to further support law students experiencing financial hardship. This month, FBANC celebrated the start of its 43rd term as an Asian Pacific American (APA) legal organization. The installation ceremony included the induction of FBANC's officers and awarding the FBANC Foundation scholarships in the amount of $36,500 to future lawyers. FBANC also remains committed to serving the broader legal community. This year, FBANC expanded upon its longstanding legal clinics and pro bono services to underserved individuals, local small businesses/entrepreneurs, and others by hosting a legal clinic on estate planning that was catered specifically to LGBTQ+ and AAPI community members. FBANC also bolstered strategic partnerships with non-profit legal providers, community-based organizations, and other similar professional organizations by hosting a community outreach event centered on coalition building and reflection. For example, FBANC organized an event celebrating the "California Is in the Heart" exhibit at the State Capitol in collaboration with the Sacramento Filipino American Lawyers Association. FBANC also assisted with the planning of San Francisco's Filipino American History Month Celebration and marched at the Pistahan Parade.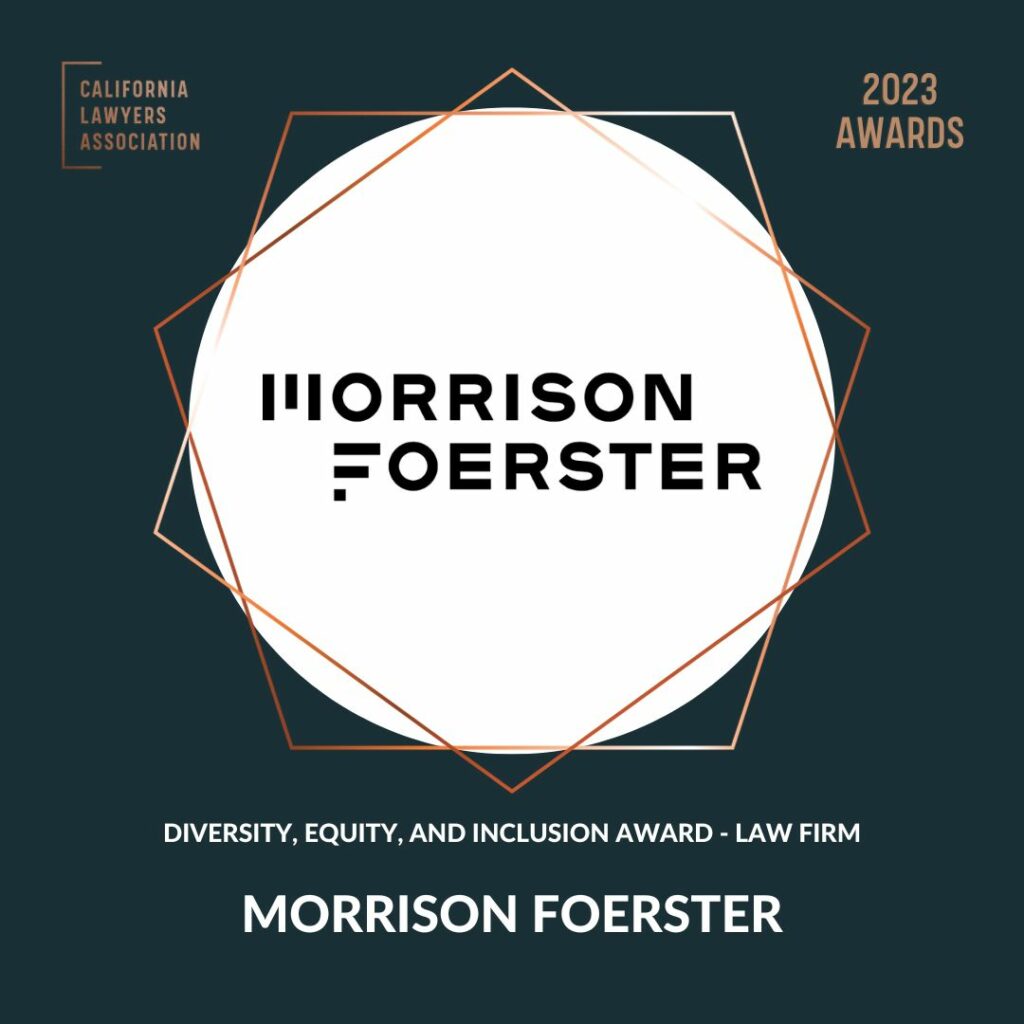 DEI (Law Firm)
Morrison Foerster (San Francisco)
click to expand biography

For more than forty years, Morrison Foerster ("MoFo") has remained committed to furthering diversity, equity, and inclusion (DEI) in the communities where we work and live and to fostering a firm culture that respects, embraces, and celebrates our differences as strengths.

We are proud to be the first major law firm to have elected an openly gay chair in 2001 and one of the first AmLaw 50 firms to elect a diverse firm chair of Asian descent in October 2022. Over the past year, we've enhanced and implemented new programs to deepen the pipeline of diverse talent and strengthen attorney development, retention, and engagement at the firm.

With respect to inclusive recruitment, in 2022, MoFo expanded the Wetmore Fellowship program—a program that supports the career advancement of historically underrepresented groups in the legal industry—to add an independent 2L program that will welcome six new 2L associates this summer. We also continued our partnerships with Diversity Lab's OnRamp Fellowship Program and Legal Innovators and welcomed one woman and two diverse associates through these programs. OnRamp helps experienced women lawyers return to "Big Law" after a hiatus, and Legal Innovators connects talented underrepresented lawyers early in their careers with corporate legal departments and top law firms for a two-year apprenticeship program.

This year, the firm enhanced the professional development support offered under MoFo Navigate—an umbrella initiative that houses the firm's mentorship and sponsorship initiatives—to include an Asian American Pacific Islander (AAPI) Mentoring Program (AMP). The AMP was created to support the unique mentoring needs of our AAPI attorneys. It includes virtual, hybrid, and in person programs to supplement shared learning and development. The AMP is a counterpart to the firm's Diversity Mentoring Program, which was designed to support Black and Latinx associates.

To promote greater workplace inclusion, MoFo launched the Allies Network to bring together lawyers and staff committed to taking action. This network participates in DEI programming, specialized training for mentors to diverse associates, and DEI recruiting and retention efforts, and reaches out to others who have not historically been involved. MoFo lawyers can earn up to 50 hours of billable credit by participating in DEI-related activities and all new hires and attorneys undergo unconscious bias training.

To expand our diversity, equity, inclusion, and accessibility efforts, in October 2022, MoFo formally began celebrating National Disability Employment Awareness Month. As part of this celebration, the firm's Chief Diversity and Inclusion Officer led a discussion with David Cross—chair of the firm's Antitrust Litigation practice—about his personal experience navigating the legal industry as an attorney with a disability. The firm also hosted speaker Haley Moss, an attorney and autism advocate, who discussed neurodiversity awareness.

This year, the firm enhanced our partnership with Keep Company and opened it up to all parents and caregivers. Keep Company is a coaching program specifically designed for the legal industry that provides participants with resources to navigate work and family responsibilities. Attorneys attend coaching sessions facilitated by an expert coach bi weekly for three months.
DEI (Other)
California Law Pathways to Law School, Ruthe C. Ashley and Thuy Tie Nguyen
click to expand biography

This organization and its founding member/organizers Ruthe C. Ashley and Thuy Tie Nguyen, have been working diligently to bring legal education to the underrepresented student population in order to diversify the legal profession. The goal is to start early in the student's education and assist them with that goal and make them see that they can do it regardless of background. Their mission as stated is "The legal profession in America, and specifically in California, fails to reflect the state's diversity in all areas of the population. It is our belief that this lack of diversity negatively impacts the administration of justice and the principle of "equal access under the law."

Lawyers who do not reflect the people they serve in gender, ethnicity, race, LGBTQ, disability and age lowers public trust and confidence in the courts and justice system, endangers fairness, and opens doors to bias (both implicit and explicit). It is our responsibility and opportunity as members of the legal profession to build a profession that looks like California to ensure a justice system where all are equal under the law. California Leadership-Access-Workforce (Cal LAW) was established in 2015 under the leadership of the State Bar of California's Council on Access and Fairness (COAF) and with support from the Law School Admission Council (LSAC) to provide a clear educational pipeline for diverse students from high schools, community colleges, and four-year institutions into law schools or law-related careers. In support of this goal, Cal LAW provides the foundational structure that connects, communicates, collaborates, and coordinates the programs essential to the educational pipeline for the students we serve". As a member of this team of legal professionals, I can attest to the dedication these nominees possess to our students and the profession. Both Ruthe c. Ashley and Thuy Tie Nguyen spearheaded this movement.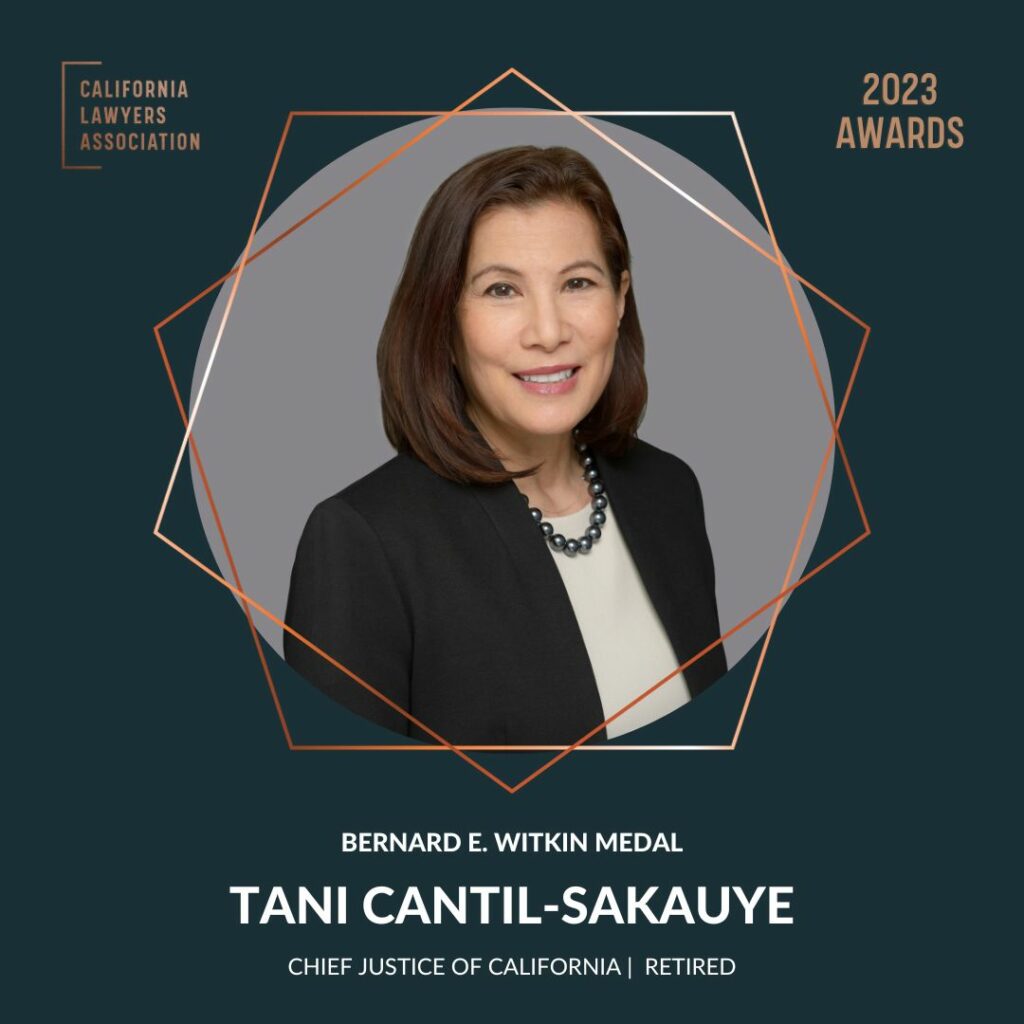 Bernard E. Witkin Medal
Chief Justice Tani G. Cantil-Sakauye (ret.)
click to expand biography

Tani Cantil-Sakauye has been a truly historic figure in California Law and would be a fitting and worthy recipient for the Bernard E. Witkin Medal.

Cantil-Sakauye was the 28th chief justice of the State of California and was the first Asian-Filipina American and the second woman to do so, serving in that role from 2011 until her retirement last year. She was rated "exceptionally well qualified," at her appointment, was unanimously confirmed, and won her retention election with an overwhelming majority of voters.

Before that, she served as a municipal court and superior court judge, and a court of appeals justice. While on the superior court, she established and presided over the first court in Sacramento dedicated solely to domestic violence issues. She continued her work on domestic violence issues as chair of a subcommittee on domestic violence best practices on the Judicial Council.

The daughter of farmworkers, Cantil-Sakauye's first interaction with the justice system was when her family faced eviction from their home. Her time as Chief Justice has been marked by her focus on equal, fair, and accessible justice, and her deep personal interest and involvement in civics education. Her court has also been characterized by a high level of collegiality and consensus, resulting in an unusually high number of unanimous opinions, which is a testament to her leadership on the court. That leadership also successfully steered California courts through the impact of the massive budget cuts early in her tenure and the massive disruption of the pandemic of the past few years.

She has been the recipient of the Women's Human Rights Award for Law, Convention on the Elimination of All Forms of Discrimination Against Women (CEDAW); the Margaret Brent Women Lawyers of Achievement Award, American Bar Association; and the Trailblazer's Award, National Asian Pacific American Bar Association.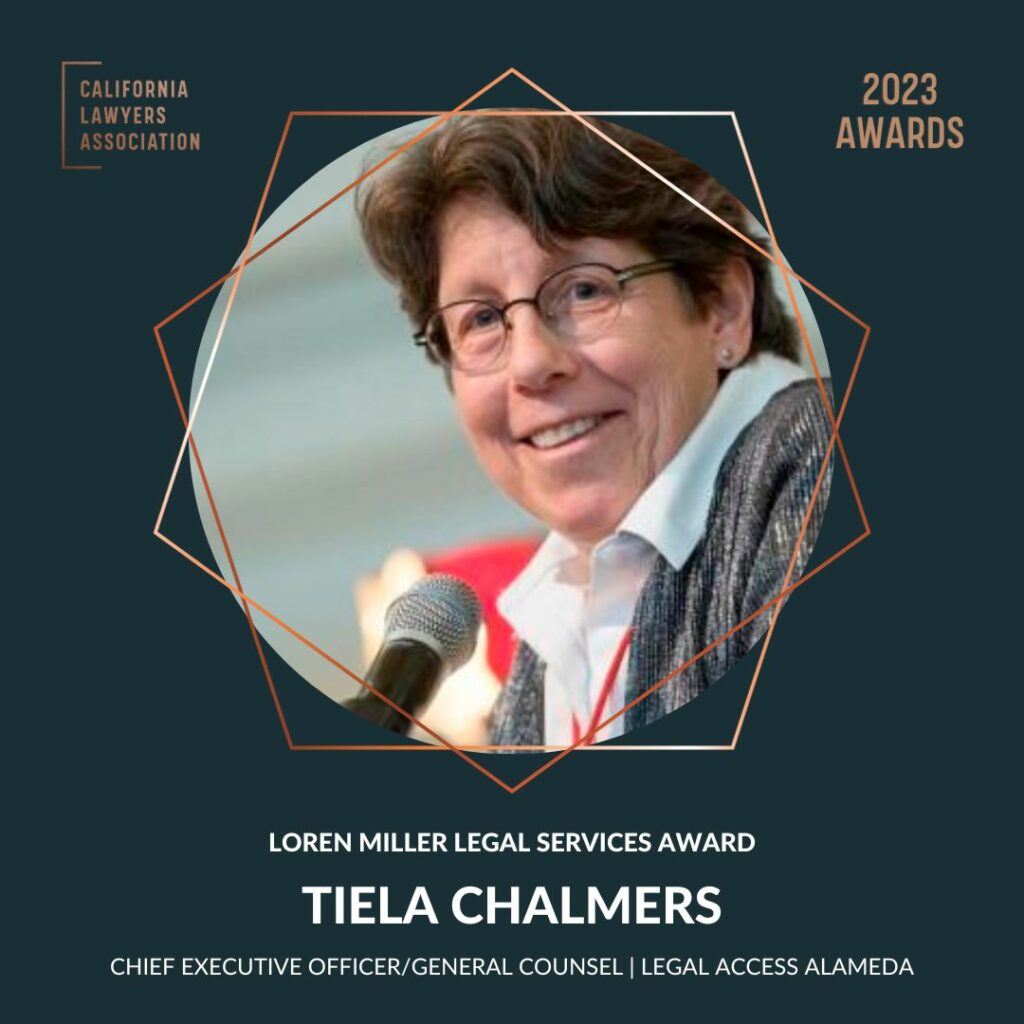 Loren Miller Legal Services Award
Tiela Chalmers, Chief Executive Officer and General Counsel of the Alameda County Bar Association and Legal Access Alameda
click to expand biography

Tiela Chalmers has been a leader in the fields of free legal services for low income communities for over 20 years. After working for years in a downtown law firm, she moved to the Bar Association of San Francisco's Volunteer Legal Services Program, where she worked for 15 years, ultimately as its Executive Director. In 2011, Tiela left VLSP and became a consultant, working with legal aid programs, law firms, other non-profits, and national organizations focusing on legal services for low-income communities. In 2014, she was named as the Chief Executive Officer of the Alameda County Bar Association (ACBA) and Legal Access Alameda (LAA), where she is working on several projects, including building a Legal Incubator to address the needs of modest means clients. Tiela has been presenting the Poverty Workshop (through Practising Law Institute, "PLI") to law firms, schools, social workers, medical professionals and government offices for 12+ years, and is particularly passionate about working with those groups to increase awareness of poverty issues, and facilitate discussions about ways that individuals and organizations can make changes in how they respond to poverty. Tiela has worked with the California Lawyers Association to myth-bust misconceptions that often prevent attorneys from engaging with pro bono work (e.g., the ethical rules and conflicts checks). We hosted free virtual educational programs and circulated a variety of articles about access to justice topics, many of which brought attention to low-hanging opportunities for practitioners to engage with low bono and pro bono programs.

Speaking of low-hanging opportunities, Tiela worked with CLA, CLF, and the ABA to launch Free Legal Answers California during the COVID-19 pandemic in collaboration with ACBA and LAA. This free virtual legal advice clinic was piloted in Northern California in 2020 to address legal issues for low-income Californians pertaining to the pandemic. Due to the raging wildfires, California Free Legal Answers (CAFLA) quickly began to address questions about natural disasters as well. Thanks to the continued support from CLA/CLF and Tiela's determination, CAFLA continues to thrive and now serves the entire state. Free Legal Answers is an ABA program that operates in many states across the U.S. The California program is unique in that all answers provided to clients are reviewed by a practitioner with at least ten years of experience or who has a specialization designation. Tiela was an advocate for the clients that would be served by CAFLA in that she insisted on implementing this unique review process to ensure we would not risk causing harm (e.g., providing incorrect or insufficient legal advice). While the review process has its complications, it also proved to create more opportunities to engage with pro bono work, for example law students could participate and have their professors serve as their reviewers and newer lawyers or lawyers interested in exploring a new area of law have a safety net and received productive feedback from their reviewing attorney. In my work with bar associations across the state, I have yet to meet someone as dedicated to delivering access to justice to those who need it most as Tiela Chalmers.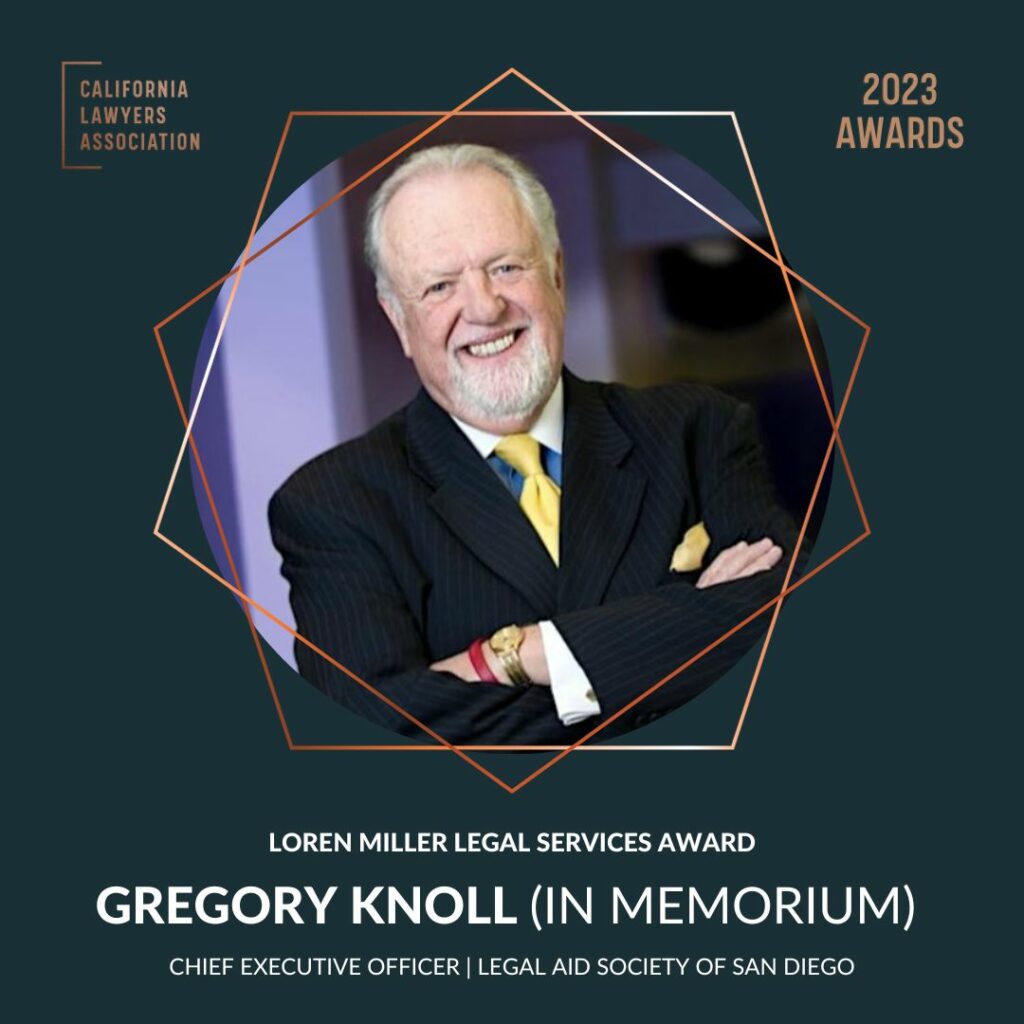 Loren Miller Legal Services Award
Gregory Knoll, Chief Executive Officer, Legal Aid Society of San Diego
click to expand biography

Gregory E. Knoll will retire in October 2023 after an exemplary career as the CEO of San Diego County's largest provider of free civil legal services, the Legal Aid Society of San Diego (LASSD). I have known Greg for over 20 years and have worked on many issues relating to justice for San Diegans and Californians.

Greg has dedicated his life to fighting for access to justice for our most vulnerable and marginalized communities. Under Greg's leadership for the past fifty years, LASSD's impact has grown significantly by offering free legal services to low-income individuals. They assist approximately 14,000 San Diegans per year. As CEO, Greg partners with policy makers at all levels of government, government agencies, and nonprofit organizations. His life's work addresses the root causes of inequality and injustice with an eye toward sustainable systemic change.

A few of Greg's most notable achievements are:

• In 1974, LASSD's budget was $700,000 with a small group of attorneys. Today, LASSD operates with a budget of $25M, a staff of 220 members, including 90 full-time attorneys, and hosts 200 volunteers annually.

• In 1999, LASSD founded the Consumer Center for Health Education and Advocacy (CCHEA) to empower physical and mental health consumers. Greg has been instrumental in leading CCHEA, improving San Diego patients' experience in the public healthcare system. Today, LASSD offers more healthcare access advocacy than any other federally funded legal aid program in the country.

• Greg is one of the founders of the Health Consumer Alliance (HCA). This coalition of 10 California legal aid programs also includes the Western Center on Law and Poverty, the National Health Law Program and Justice in Aging. HCA partners provide health consumer advocacy services statewide. They translate lessons learned from individual cases into systemic advocacy that impacts millions each year.

• Since its inception, Greg has served as the Chair or Co-Chair of the Joint Professional and Consumer Advocacy (JPCA) Committee for the San Diego County Geographic Managed Care Medi-Cal Program known as "Healthy San Diego."

• Greg's numerous awards include the: NAACP's Loren Miller Attorney of the Year Award, San Diego County's Martin Luther King, Jr. Drum Major for Justice Award, San Diego Barrio Station's Cesar E. Chavez Social Justice Award, San Diego Law Library's Bernard E. Witkin Award o San Diego County Bar Association's Outstanding Attorney of the Year Award.

• In 2022, Greg became the first-ever legal aid director appointed to the California State Bar Board of Trustees. Greg began his journey at Newark Legal Services as a legal intern, which exposed him to the harsh realities of systemic racism and discrimination. Witnessing the impact of these issues on his clients further fueled his desire to dedicate his life's work to addressing them.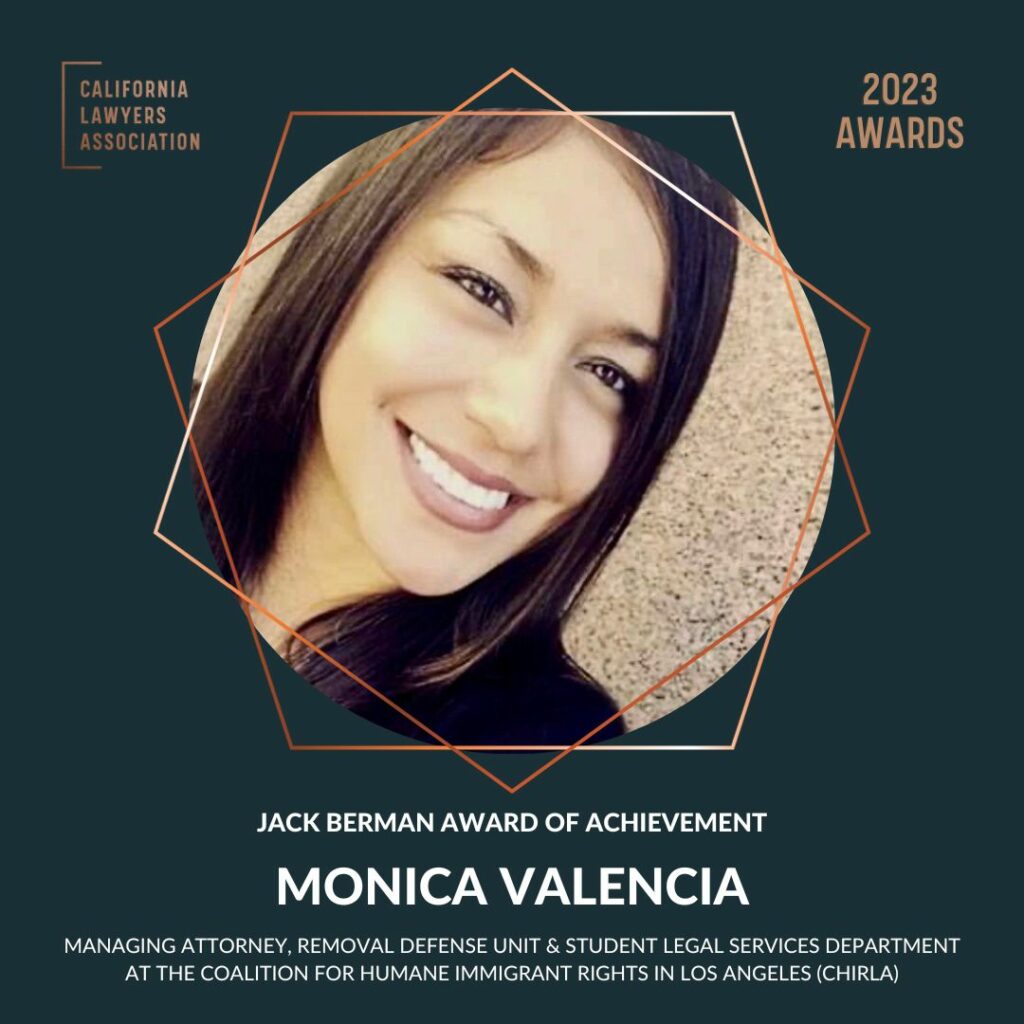 Jack Berman Award of Achievement
Monica Valencia
click to expand biography

Monica Valencia is a lawyer, clinical professor, non-profit director, activist and artist. She is from Echo Park in Los Angeles, California and grew up in an undocumented immigrant family, and later – a mixed-status family. Born to immigrant parents from Mexico, Monica very much grew up in an immigrant household as a first-generation Latina. As such, Spanish is her native language. Monica believes that her language and her culture are both important to her identity, but also to the ways in which she navigates her spaces in society. She is the first in her family to attend college, graduate, and receive higher education.

Monica enlisted in the U.S. Air Force after high school and received station assignments in the U.S., South Korea and Germany. She excelled in the military receiving numerous awards and spent six years in service of her country, traveling through Europe, Asia, and the U.S. Monica also graduated from the Pitsenbarger Airman Leadership School in Germany at Spangdahlem Air Base. Monica returned home to California with an honorable discharge at the rank of Staff Sergeant.

After the military, Monica graduated Magna Cum Laude with a B.A. in Sociology and a minor in Human Rights from the University of Southern California (USC) in Los Angeles, where she excelled academically and received numerous awards, scholarships and fellowships. As a McNair Scholar and Mellon Mays Fellow, she was able to design, conduct, & complete an Honors Thesis under the instruction of Dr. Pierrette Hondagneu-Sotelo and Dr. Jody Agius Vallejo. Monica spent a year and a half in the field conducting ethnographic research based on participant observation and in-depth interviews in an indigenous community in Oxnard, California. Monica successfully presented her research findings at numerous sociological conferences around the nation and coined the term "transnational prejudice." Monica graduated from USC having received one of the highest honors; the Order of the Laurel and the Palm, among other honors that celebrated her academic abilities.

Monica went on to study law and received her Juris Doctorate (J.D.) degree at the University of San Francisco School of Law. While at USF Law, she gained practical skills by interning and externing at various organizations including the Immigration Center for Women & Children, Justice Now, and the Immigration & Deportation Defense Clinic at USF Law. Monica taught Street Law to high school students in the Mission District of San Francisco, CA, and competed on the Asylum Moot Court Team at USF Law. She was also one of ten students selected to participate in the Keta Taylor Colby Death Penalty Project and was assigned to the Capitol Defenders Office in Jackson, Mississippi. Monica also volunteered at the U.S./Mexico border to assist asylum seekers with legal intakes and Know-Your-Rights presentations. As a result of her dedication to the profession of law, she has been awarded several awards including the San Francisco Trial Lawyers Association Fellowship, the Equal Justice Works Public Interest Law Award, and the OneJustice Pro Bono Publico Gold Award two years in a row. Monica graduated from law school having received a public interest law certificate with high honors. At her graduation, Monica was also the recipient of the 2017 "Pursuit of Justice" award; which is awarded to one student from the graduating class.

While in law school, Monica founded the Dreamer Fund in 2016, a non-profit in San Francisco, California, in hopes of giving back to undocumented law students and her immigrant community. She is currently the co-executive director of the Dreamer Fund and she uses the Rebellious Lawyering model to work collectively and learn from the undocumented and immigrant communities to create social change and education equity. Monica was trained under the "Rebellious Lawyering" model by her mentor and professor, Bill Ong Hing, both as a law student and a Post-Bar Fellow at the Immigration & Deportation Defense Clinic at USF Law. She continued her training with Prof. Bill Ong Hing, Esq. and Prof. Jacqueline Brown Scott, Esq. at the clinic for three years.

Monica considers herself a Rebellious Lawyer, rather than a traditional lawyer, a term coined by Prof. Gerald Lopez, Esq. from UCLA. Not only does she practice law as a Rebellious Lawyer and teaches her staff to practice under this model, but she also teaches her law students under this model at Golden Gate University. Monica is the Immigration Clinic Co-Director and adjunct professor at Golden Gate University School of Law in San Francisco, California.

​

Today, Monica is also the Managing Attorney for the Removal Defense Unit & Student Legal Services Department at the Coalition for Humane Immigrant Rights in Los Angeles (CHIRLA) in Los Angeles, California. Monica manages two distinct legal services teams that provide effective and intentional legal services to college students in both Southern and Northern California at the community college and Cal State University levels. As a defender, she also provides superb legal services to asylum seekers who are fleeing systemic persecution and violence around the world – with a focus on LGBTQ persecution and violence against women.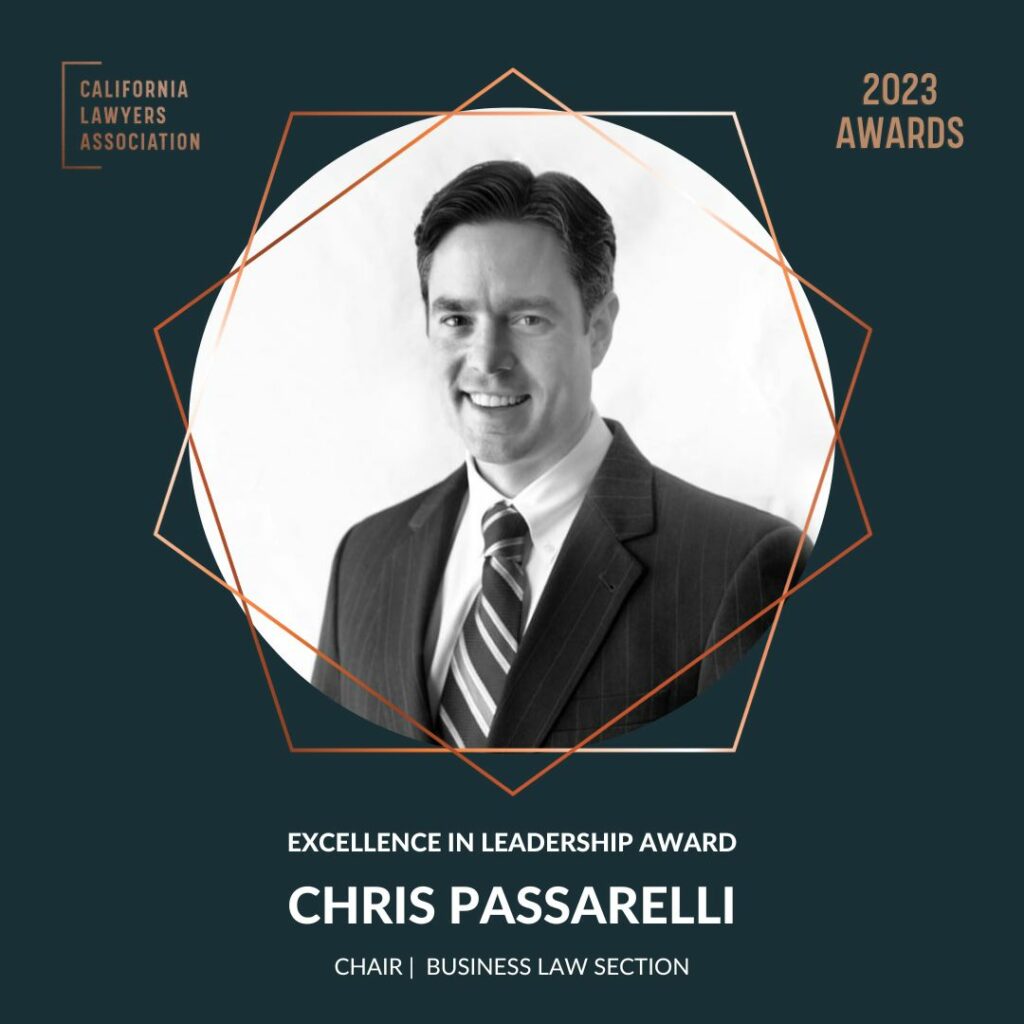 CLA Excellence in Leadership Award
Chris Passarelli, Chair of the Business Law Section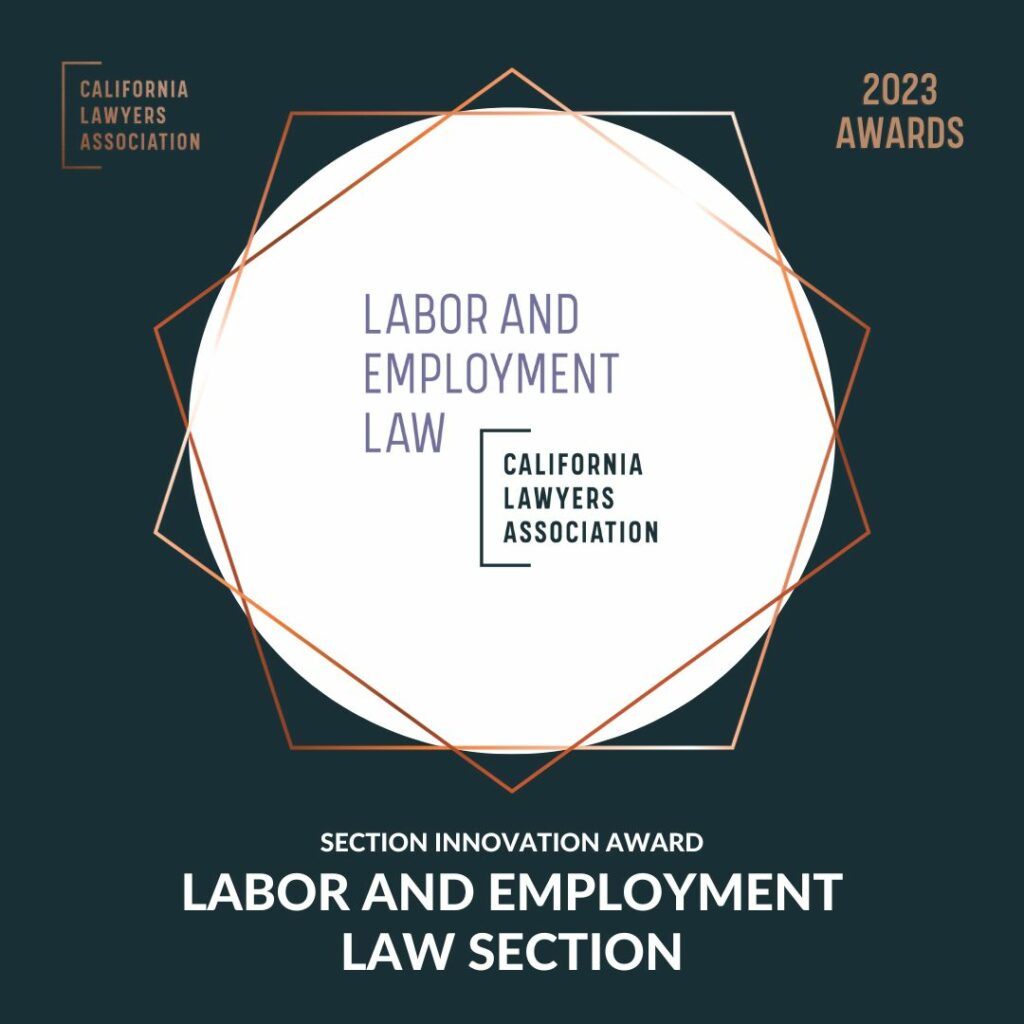 CLA Section Innovation Award
CLA Labor and Employment Law Section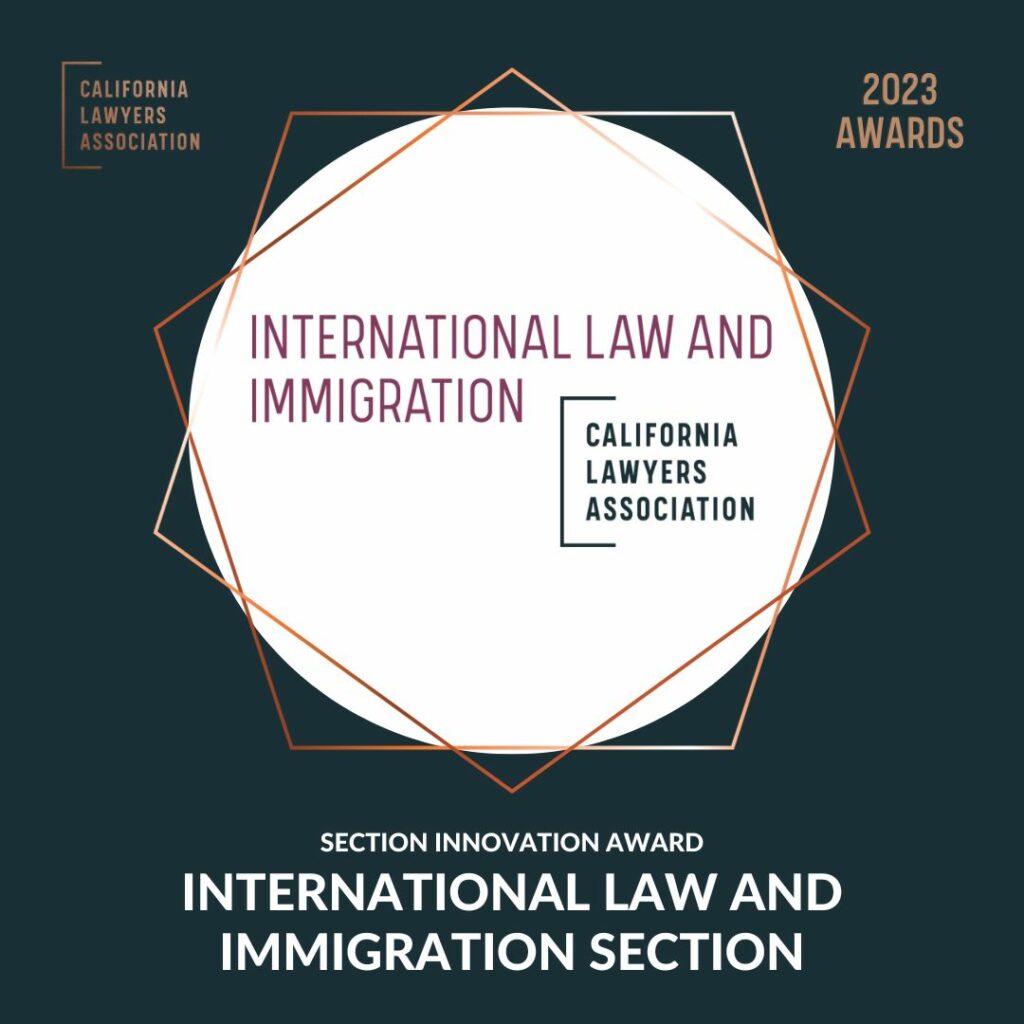 CLA Section Innovation Award
CLA International Law and Immigration Section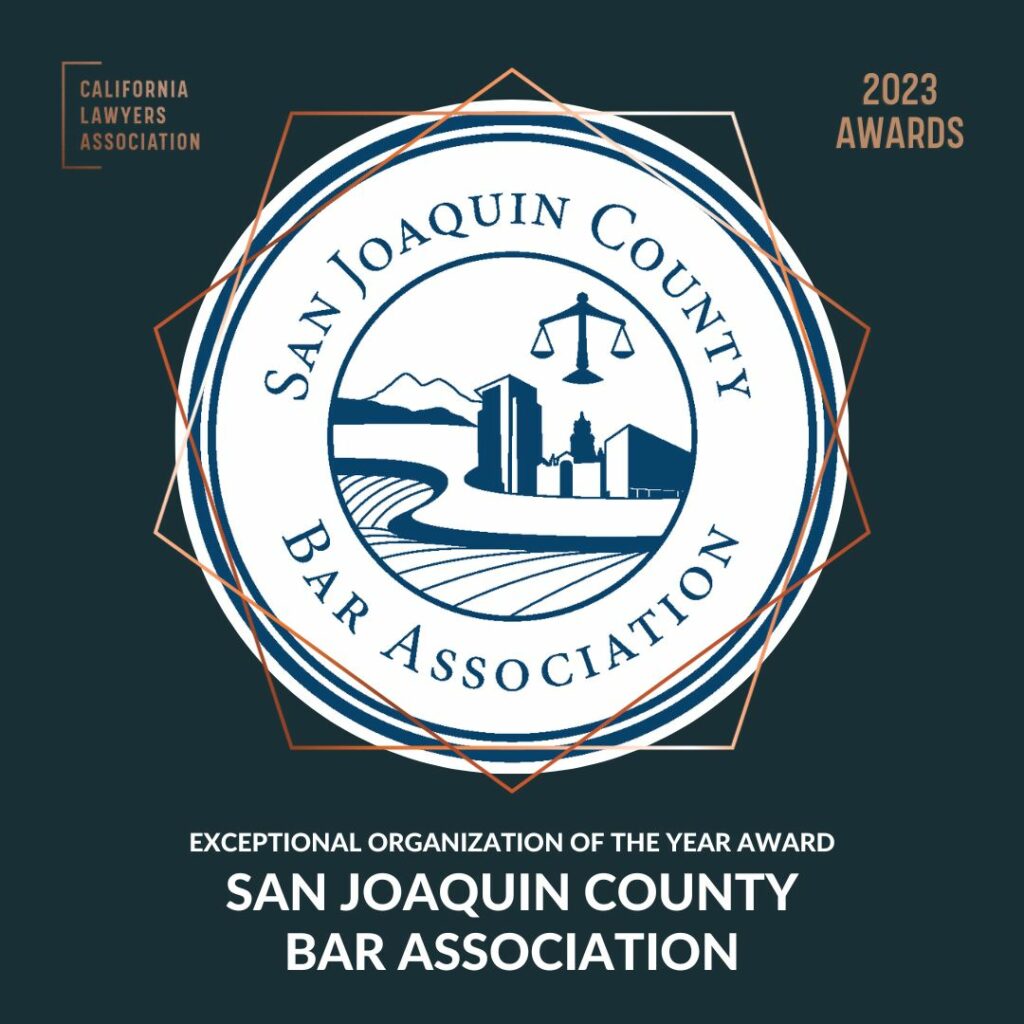 Exceptional Organization of the Year Award
San Joaquin County Bar Association
Section Awards