2019 CLA Award Recipients
Congratulations to our 2019 recipients! Learn more about each award on the main Awards page.
Aranda Access to Justice Award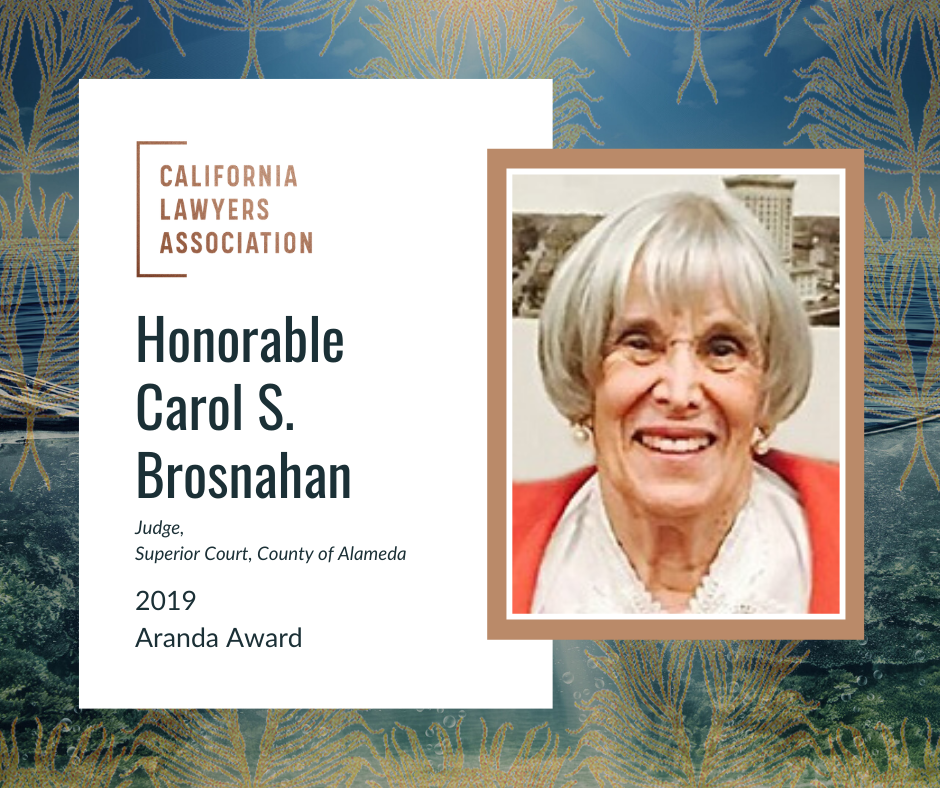 Honorable Carol S. Brosnahan
Click to expand biography

Judge Carol S. Brosnahan is celebrating her 40th year on the Alameda County bench, where she operates the county's behavioral health court and is held in the highest regard by her peers, colleagues, and former classmates, including Ruth Bader Ginsburg, who sent a congratulatory note to Brosnahan this past April. She has been referred to as a "grass-roots" judge, who renders fair rulings with integrity, and without bias based upon socio-economic status or any other non-relevant factors.
---
Excellence in Civics Engagement Award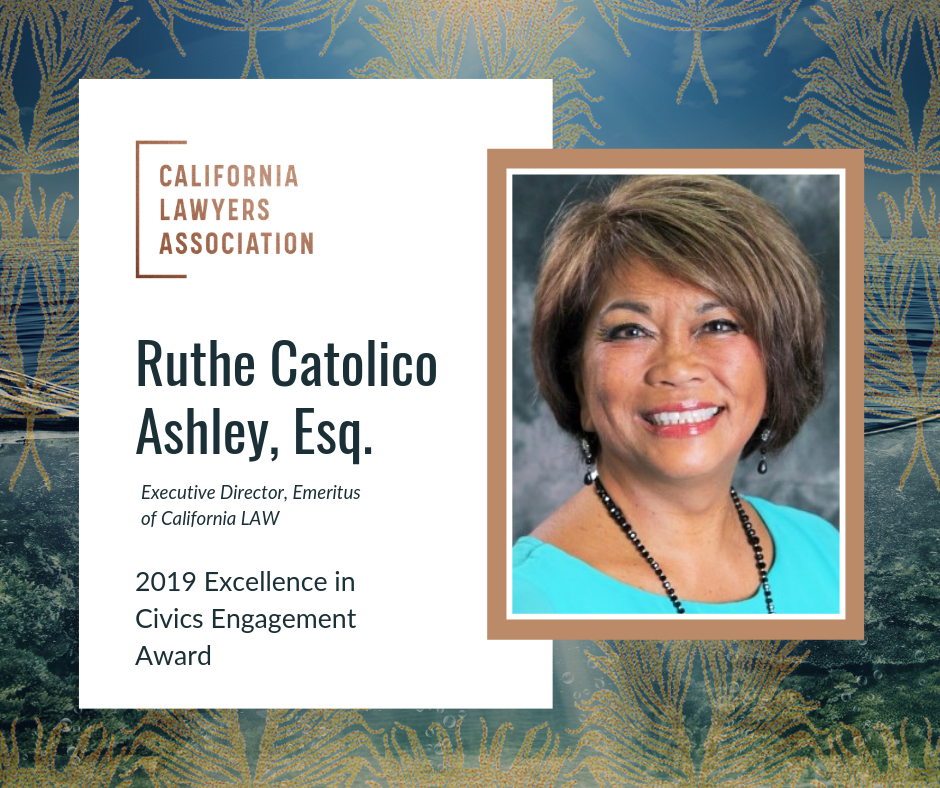 Ruthe Catolico Ashley, Esq. Click to expand biography

Ruthe Catolico Ashley, Executive Director Emeritus of California LAW, created this organization to support the California Law Pathway with a mission to diversify California's legal profession through the educational pipeline. California LAW supports the 22 high school law academies, 27 community colleges, 8 undergraduate institutions and law schools creating a 10-year diversity pipeline from 9th grade to the end of law school.

Ashley is considered the Diversity Pipeline Guru for the legal profession in California. As a member of the State Bar of California's Board of Governors, she chaired the Diversity Pipeline Task Force in 2007, which jump-started the pipeline work in this state. Ashley founded and created the Council on Access and Fairness with the State Bar of California – now a leader in legal diversity across the nation. She was also the first President/CEO of California ALL, and the first Executive Director of California LAW, two non-profit organizations with a mission to diversify the legal profession through the educational pipeline.

Ashley's first career was as a nurse and nursing professor. She became a lawyer at the age of 40 and was a litigator for 15 years before returning to her alma mater as the Assistant Dean for Career Services. She was the first Division Chief Diversity Officer for CalPERS. Ashley is past president of the Asian Bar of Sacramento, National Asian Pacific American Bar Association, and Legal Services of Northern California. She was a member of the American Bar Association's Board of Governors and chaired the Public Service and Diversity Committee of the BOG. She led the restructuring of the Goal III Diversity entities. She also chaired the Women of Color Committee for the Commission on Women and the chaired the Council on Racial and Ethnic Diversity in the Educational Pipeline. As the current chair of the ABA's Public Education Committee, she has the privilege of working on national civics education projects, Law Day, Silver Gavel Awards, the National Civics and Law Academy and other projects for teachers and students.

Ashley worked with the California Legislature in inserting diversity and inclusion language in the State Bar's 2018 Fee Bill. Now retired, she devotes her time to diversity in the legal profession and world travel. Three grandchildren make life rich and active.
Excellence in Diversity Award (Bar Association)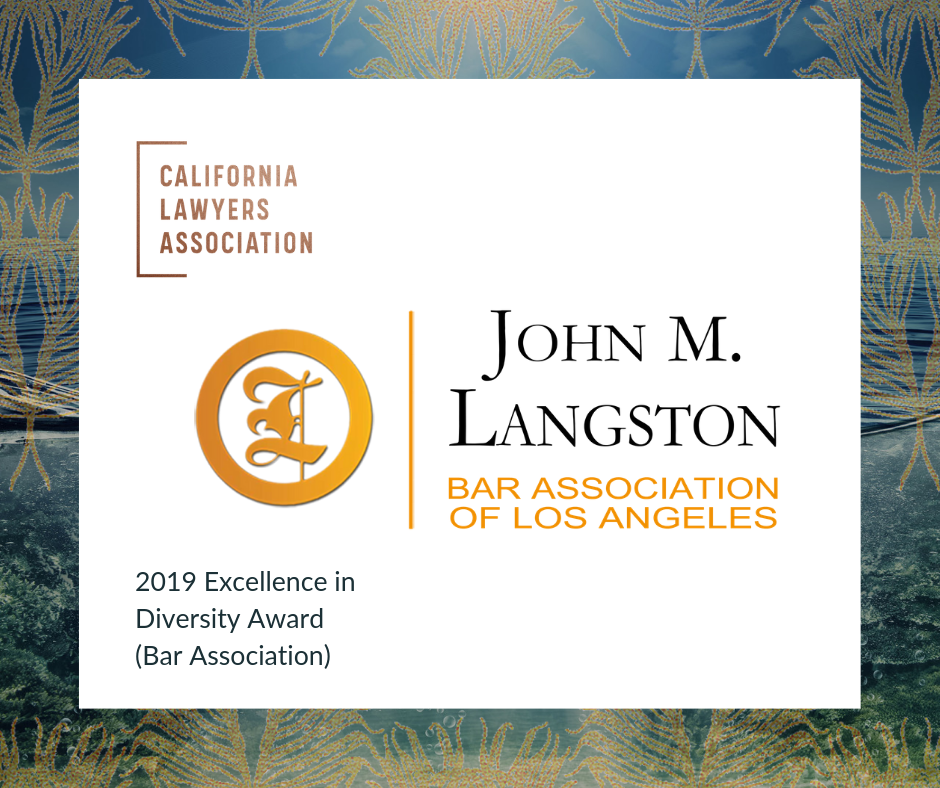 John M. Langston Bar Association of Los Angeles
Click to expand biography

The Langston Bar is the oldest minority bar association in California, currently serving the interests of African-American judges, attorneys, law students, and legal professionals in the greater Los Angeles area. Its mission is "[t]o empower leadership, advance the professional development of its membership, and promote the administration of justice in the Black community and the community at large."

In order to achieve this mission each year, Langston offers many programs and activities, including MCLE courses, networking mixers, professional development events, mentoring programs for law students and young lawyers, free bar exam tutorials, and community outreach activities. Most notably, Langston awards thousands of dollars in scholarships each year at its Installation Gala. Langston's theme for this year is "Langston is Family – Looking Back, Looking Forward, Looking Out." As a family, Langston graciously accepts this award. And as a family, we will honor our mission and the criteria for this award by continuing to "look back" to acknowledge our history, "look forward" to better ourselves as legal professionals, and "look out" to serve the diverse community we represent. Please visit www.langstonbar.org to learn more about our organization.
Excellence in Diversity Award (Law Firm)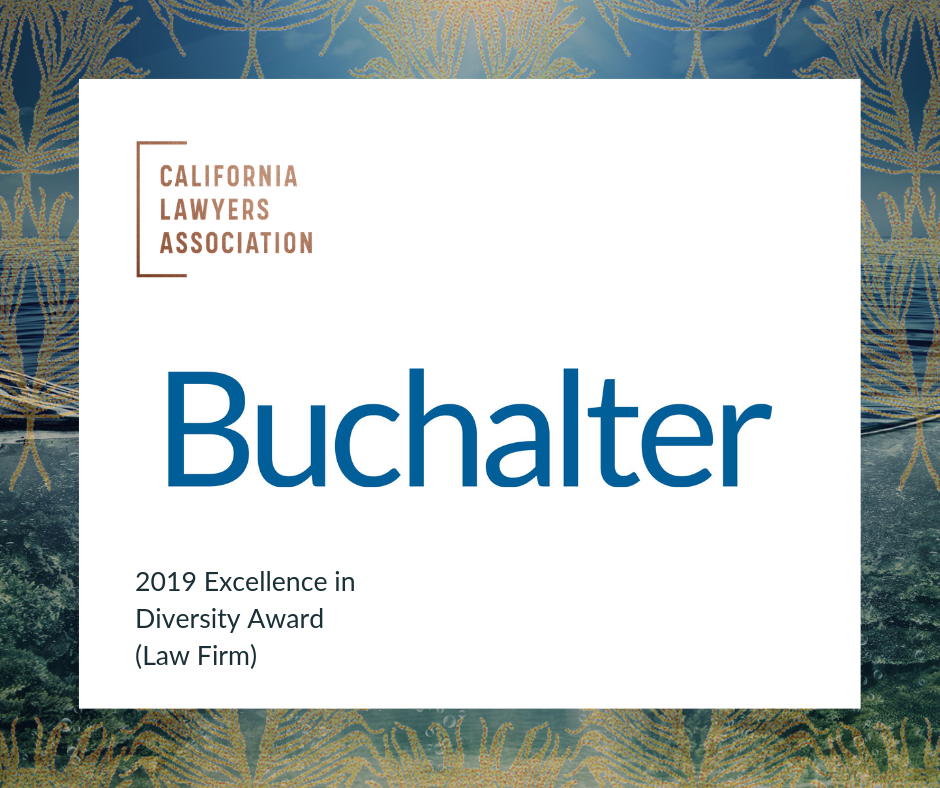 Buchalter, APC
Click to expand biography

Buchalter is a full-service business law firm that has been teaming with clients for eight decades, providing legal counsel at all stages of their growth and evolution, and helping them meet the many legal challenges and decisions they face. Our clients are engaged in a diverse global economy governed by complex laws and regulations, and they trust us as advisers and business partners because we are involved in their world. They rely on our forward-thinking to help them resolve problems before they arise. Buchalter is committed to reflecting and enhancing the rich diversity of the clients and communities in which we practice. The firm's diversity of attorneys and staff provides clients with a greater array of creative talent and alternative thinking, benefiting all.
Excellence in Diversity Award (Organization)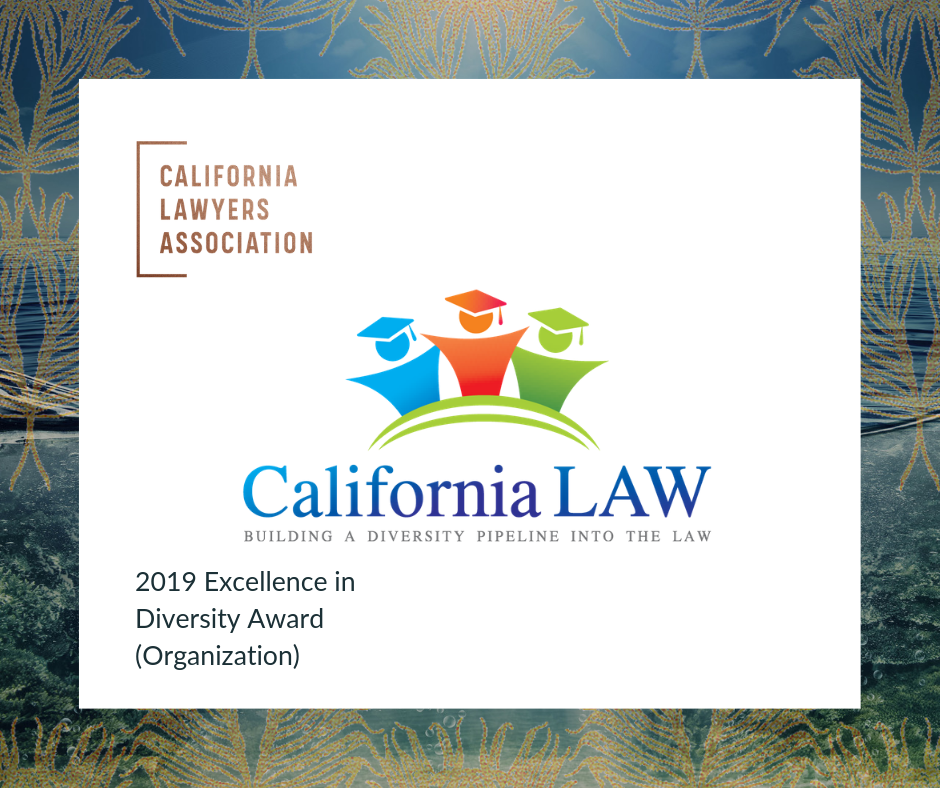 California LAW
Click to expand biography

California LAW (Leadership Access Workforce), a non-profit organization, supports the California LAW Pathway with a mission to establish a pipeline of diverse students from high school, community colleges, four-year institutions and law schools into law or law-related careers. The Pathway includes 22 high school law academies, 27 community colleges, 9 undergraduate and law school institutions with approximately 5000 students/per year moving through the pipeline. Starting its first high school classes in 2011, the inaugural classes are now graduating, and some are in law school. California LAW's vision is a diverse legal profession that reflects the people of the State of California.
Legislator of the Year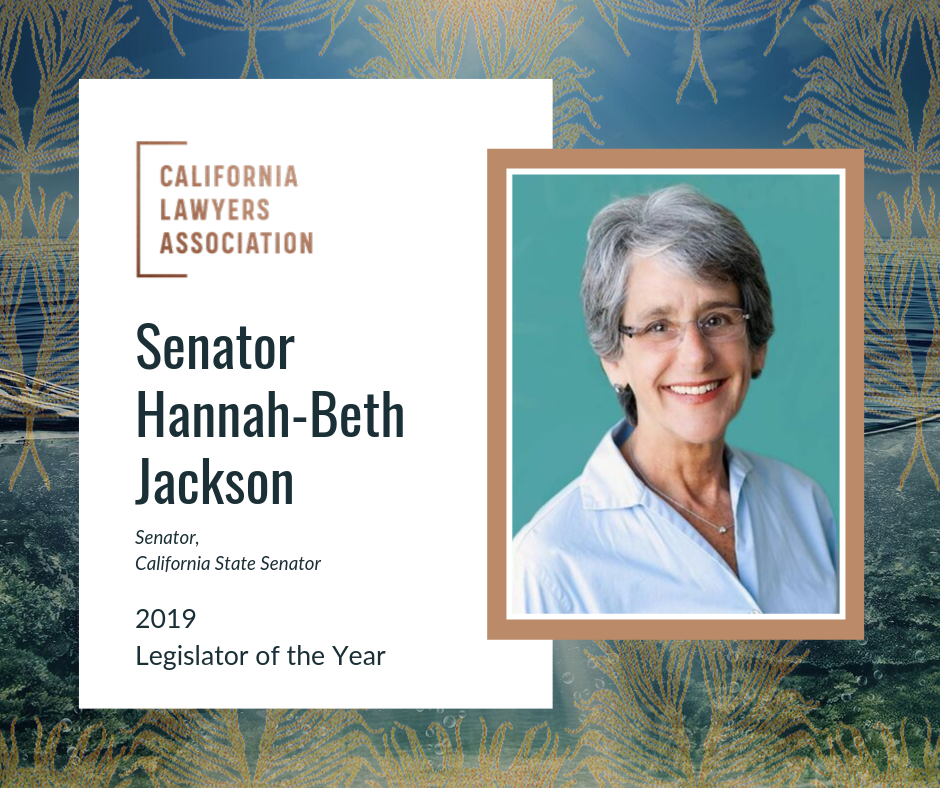 Senator Hannah-Beth Jackson
Click to expand biography

Hannah-Beth Jackson is a former prosecutor and practicing attorney, educator, and small business owner. She was elected to the California State Senate in 2012 to represent the 19th Senate District, which includes all of Santa Barbara County and western Ventura County.

A graduate of Scripps College in Claremont, California with a joint major in government and sociology, she received her law degree from Boston University Law School before returning to California to work as a deputy district attorney for Santa Barbara County. Eventually, she became the managing partner for the Law Offices of Eskin and Jackson, with offices in Ventura and Santa Barbara.

From 1998 to 2004, she represented the 35th Assembly District in the State Assembly.

Hannah-Beth has also co-founded two non-profit organizations, served as the first policy-maker in residence at UC Santa Barbara, and served as adjunct professor at Antioch University.

In the Senate, she is chair of the Senate Judiciary Committee and serves as a member of the Senate Committee on Natural Resources and Water, the Senate Human Services Committee, the Senate Labor and Industrial Relations Committee and the Senate Public Safety Committee. She is a past chair of the California Legislative Women's Caucus.

During her time in the Legislature, Hannah-Beth has become known as an effective advocate for protecting the rights and privacy of Californians, protecting the environment, advancing legislation to reduce gun violence, supporting access to justice for all Californians, championing equality for women, advocating for commuter rail, improving access to early childhood education, and supporting veterans and veterans treatment courts, among other issues. She is the author of Senate Bill 358, the California Fair Pay Act, landmark legislation to strengthen California's equal pay law, and was named by Huffington Post as one of 11 women around the country "blazing new trails" in American politics.

Hannah-Beth has received Legislator of the Year awards from a wide range of organizations and is the recipient of the prestigious California Women Lawyer's Fay Stender Award, given annually to an attorney committed to affecting positive change with "zest, humanity (and) personal courage" who serves as a role model for women. An advocate for justice for women, children, and victims of crime for more than three decades, she helped establish the Santa Barbara Shelter Services for Women (now known as Domestic Violence Solutions) and Women Against Gun Violence. She is also a founding member and past president of the Santa Barbara Women's Political Committee.

Hannah-Beth is married to retired Superior Court Judge George Eskin. She has a daughter, two stepchildren and six grandchildren. She and her family have resided in the district for more than 35 years.
Legislator of the Year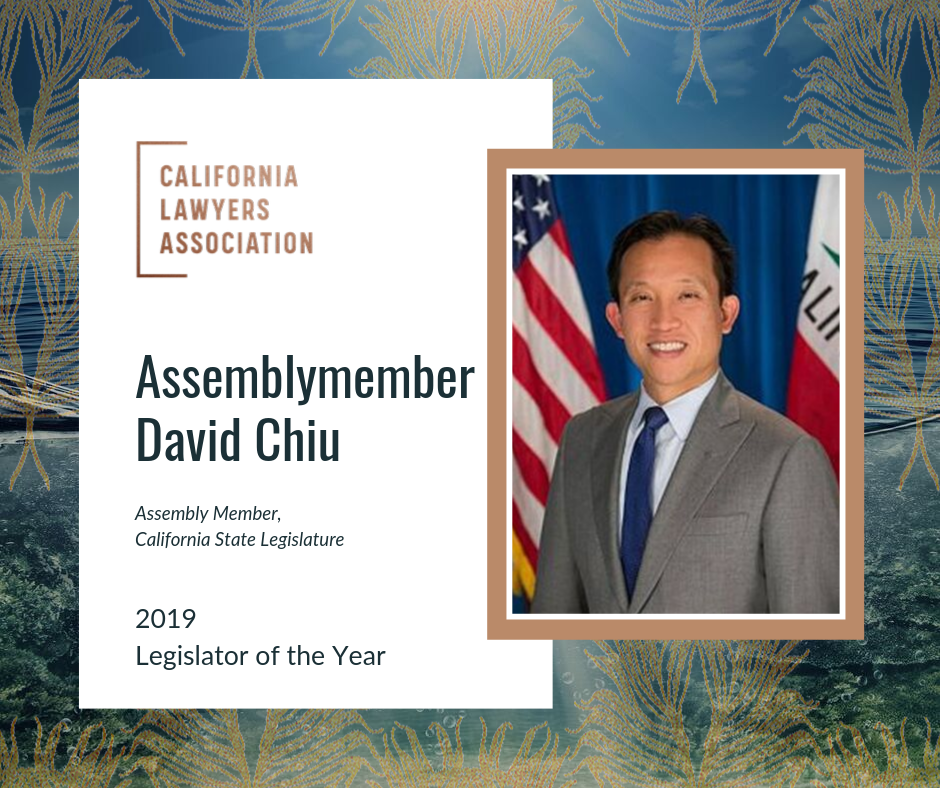 Assemblymember David Chiu
Click to expand biography

As a member of the California State Legislature, David Chiu represents the 17th Assembly District, which encompasses eastern San Francisco. He was first elected in 2014 and re-elected in 2016 and 2018. During David's first year, he served as Assistant Speaker pro Tempore; since 2016, he has served as Chair of the Assembly Housing & Community Development Committee. He also sits on the following legislative committees: Budget; Business and Professions; Judiciary; Arts, Entertainment, Sports, Tourism, and Internet Media. He also serves as Chair of the California Asian Pacific Islander Legislative Caucus.

During his first four years in the Assembly, David has authored 48 bills that were signed into law by the Governor. Among other efforts, the bills addressed the state's housing crisis, protected tenants, assisted LGBT families, upheld a woman's right to choose, promoted sustainable transportation options, and facilitated voting by young people.

Before joining the State Assembly, David Chiu served as President of the San Francisco Board of Supervisors for six years. With a reputation as a consensus maker, Chiu was the first Board President in San Francisco history elected by fellow Supervisors to three consecutive terms, and the first Asian American to hold the post. Chiu was first elected Supervisor in 2008 and then re-elected in 2012 to represent San Francisco's northeast neighborhoods of District 3, which includes the city's major tourism, retail, downtown and wharf areas. As Supervisor, David Chiu authored 110 ordinances across a wide range of policy areas, including affordable housing, job creation, public safety, healthcare, the environment, transportation, civil rights, language access, ethics and technology.

The son of immigrant parents, David Chiu grew up in Boston and received his undergraduate, law and master's in public policy degrees from Harvard University. In the mid-1990s, Chiu served as Democratic Counsel to the U.S. Senate Constitution Subcommittee. After moving to San Francisco in 1996, David Chiu served as a criminal prosecutor at the San Francisco District Attorney's Office and as a civil rights attorney with the Lawyers' Committee for Civil Rights. Chiu was also a founder of the public affairs technology company Grassroots Enterprise, where he served as Chief Operating Officer.

Before running for office, David Chiu was a hands-on leader in San Francisco. He served as a Small Business Commissioner, president of the Asian American Bar Association of the Greater Bay Area, board chair of the Youth Leadership Institute, Lower Polk Neighbors and the Chinatown Community Development Center, and board member of Partners Ending Domestic Abuse and Chinese for Affirmative Action. Chiu was elected three times to the leadership of the San Francisco Democratic Party. He has been named a Young Global Leader by the World Economic Forum, an American Memorial Marshall Fellow, and one of the "Best Attorneys under 40" by the National Asian Pacific American Bar Association.

David Chiu is married to Candace Chen. A third generation San Franciscan, Candace is a public interest lawyer who manages a refugee foster care youth program. Their son Lucas was born in February 2016.
Loren Miller Legal Services Award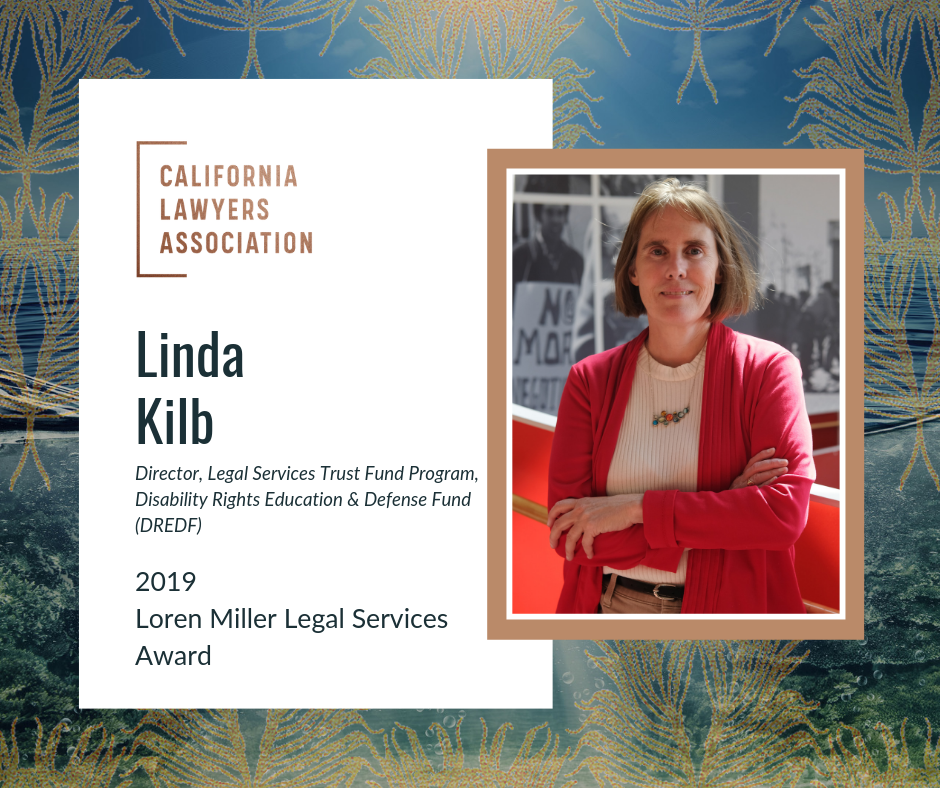 Linda Kilb
Click to expand biography

For over 30 years, Linda D. Kilb has been an attorney with the Disability Rights Education & Defense Fund (DREDF), based in Berkeley, California. Founded in 1979 by a unique alliance of people with disabilities and parents of children with disabilities, DREDF is a national nonprofit law and policy center dedicated to protecting and advancing the civil rights of people with disabilities.

Ms. Kilb represents plaintiffs and amici in litigation brought under a range of federal and California disability rights laws in federal and state courts; participates in policy development, administrative and legislative education efforts; and provides training and advice to attorneys, advocates, and people with disabilities.

Since the 1990s, Ms. Kilb has been the Director of DREDF's California Legal Services Trust Fund Support Center Program. She is active in policy, legislative and litigation work to preserve and enforce California's expansive civil rights protections. This includes involvement in the Prudence K. Poppink Act of 2000 (AB 2222), and appellant counsel representation in Colmenares v. Braemar Country Club, Inc. (Feb. 20, 2003) 29 Cal. 4th 1019. She co-authored an amicus brief in White v. Square, Inc. No. S249248 (Aug. 12, 2019), confirming broad standing as to state law claims involving websites.

From 2003-2008, Ms. Kilb served on the board of the Legal Aid Association of California (LAAC), which is the unified voice of legal services in California. She had an adjunct faculty appointment at U.C. Berkeley School of Law from 1999-2008, where she co-taught a Disability Rights Law seminar course. In 1999, she received a Harvard Law School Wasserstein Public Interest Fellowship, awarded to experienced public interest attorneys with demonstrated interest in and ability to mentor law students seeking social justice careers.

Ms. Kilb received her undergraduate degree summa cum laude, Phi Beta Kappa in political science from the University of California at Berkeley in 1985. She was graduated with honors from the Harvard Law School in 1988.
Harry B. Sondheim Professional Responsibility Award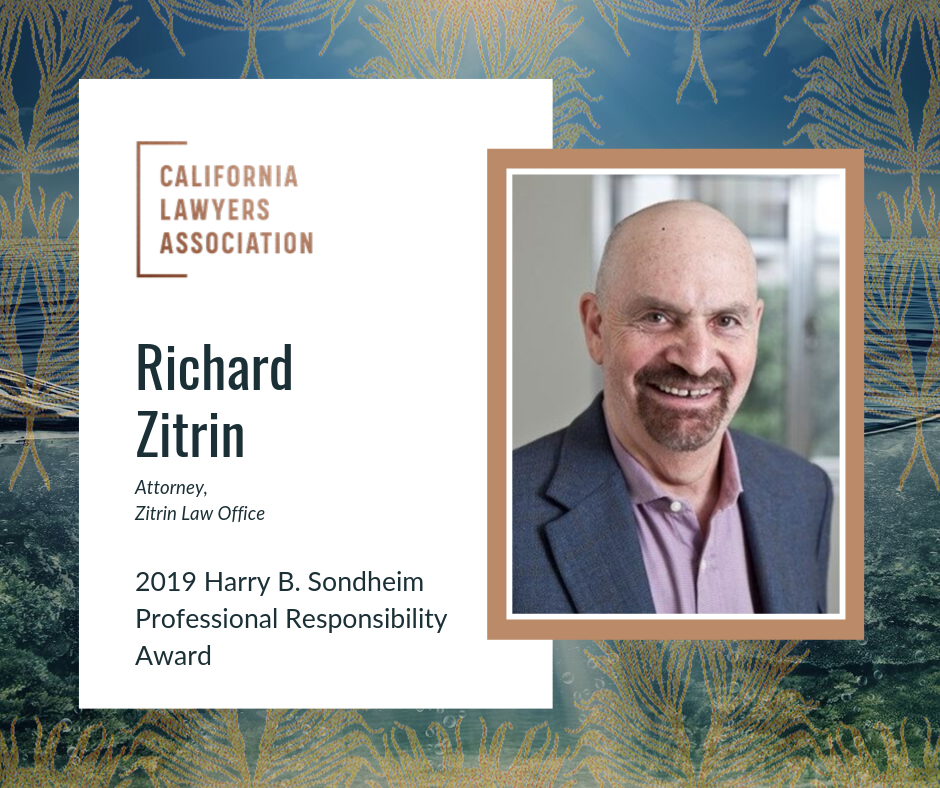 Richard Zitrin

Harry B. Sondheim Professional Responsibility Award will be awarded in Spring 2020 at the Ethics Symposium (location TBD)

Click to expand biography

Richard Zitrin is principal of San Francisco's Zitrin Law Office and recently retired as a Lecturer at UC Hastings College of Law. As a trial lawyer in private practice, he tried over 50 cases to verdict, from murder to products liability to legal malpractice. As a professor, he focused his teaching, writing, and advocacy on legal ethics. He is lead author of three books – a law school text now in its 5th edition, a rules compendium focusied on California and ABA ethics rules comparisons, and a well-received "trade" book for the general public, The Moral Compass of the American Lawyer.

He served as Chair of the State Bar's ethics committee (COPRAC) in 1994-5, during which COPRAC published more ethics opinions than in any year before or since. He has also served on various State Bar task forces and committees. He has written numerous pieces of legislation for California legislators, including:

A bill that added the §6068(e)(2) exception to confidentiality to the State Bar Act.
A bill regulating lawyer referral services, embodied originally in State Bar Act §6155, and the Bar's Minimum Standards implementing that law;
Two bills defining the duties of in-house government attorneys who must blow the whistle (twice passed by the legislature but vetoed by two governors);
Most recently, in 2016, modification of CCP §1002, and, in 2018, the creation of §1001, both of which prohibit secrecy in sexual assault and misconduct cases.

Due to concerns over the direction of the first rules revision commission established by the state Supreme Court, Zitrin organized law professors who shared his concerns that the proposed rules were too lawyer-protective. He was principal author of a letter to the Court, signed by 55 California law professors who taught legal ethics, that strongly criticized that commission's work product. That work product was eventually rejected by the Court in 2014, and the commission disbanded. In 2016, in another letter again signed by 55 professors, Zitrin commended the new commission's work as "significantly more client-and public-protective."

Zitrin has received several awards for his commitment to diversify the profession, and for pro bono work, including the ABA's Pro Bono Publico Award in 2006. His "financial retirement" is spent working on and teaching diversity, writing two books for the general public, and most importantly to him, working on legislation to prevent litigation secrecy.
Bernard E. Witkin Medal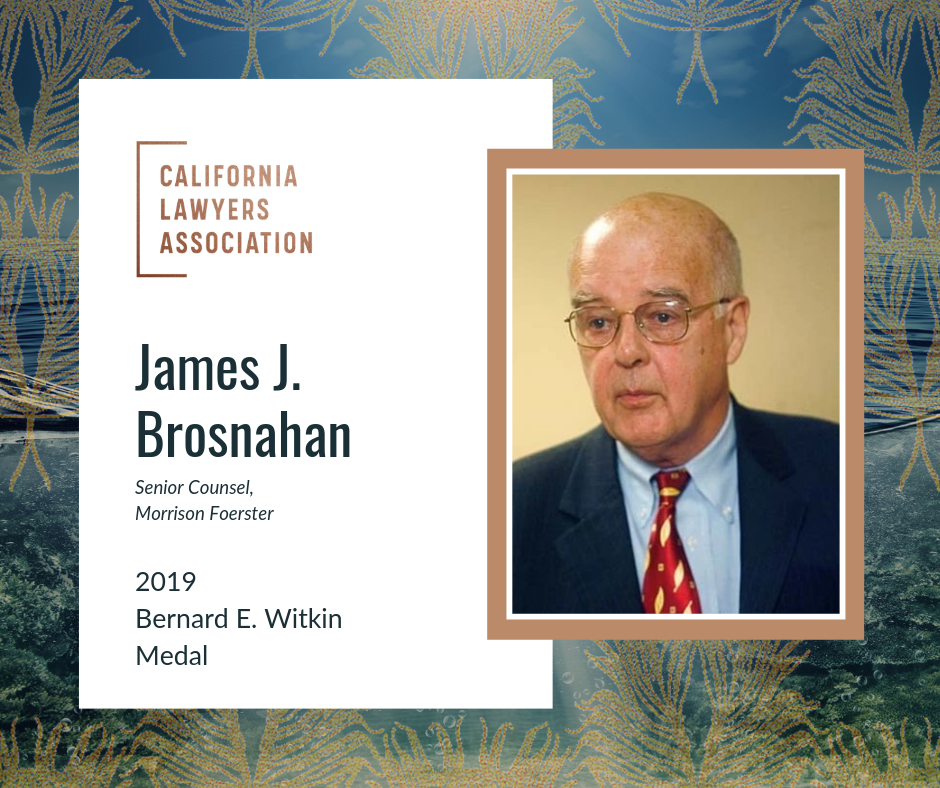 James J. Brosnahan
Click to expand biography

James J. Brosnahan is Senior of Counsel at Morrison & Foerster LLP. He regularly undertook complex cases that were about to go to trial. He has tried, to conclusion, 150 civil and criminal cases. His cases have ranged from anti-trust to wire fraud and from patent litigation to white collar crime and murder. A "lion of the trial bar," Mr. Brosnahan is one of the most respected and recognized trial lawyers in the United States. He represented the former President of the Board of Education in San Francisco in a case charging murder for hire. Mr. Brosnahan has been named among the top 30 trial lawyers in the United States, according to the Legal 500 US 2013. Mr. Brosnahan has almost 60 years of expertise in both civil and criminal trial work. Mr. Brosnahan was the Deputy Special Counsel assigned to prosecute Caspar Weinberger, the former Secretary of Defense.

In 1996, he was inducted into the State Bar of California's "Trial Lawyers Hall of Fame" and was awarded the Samuel E. Gates Award by the American College of Trial Lawyers in 2000. In 2012, he was recognized as a Lifetime Achiever by The American Lawyer for outstanding professional success and a devotion to public service. Other professional recognitions include American Bar Association's John H. Pickering Award (2019), American Board of Trial Advocates' Donald E. Bailey Civility and Professionalism Award (2018), top 10 in Northern California Super Lawyers since its launch in 2004, listed by Chambers USA for White-Collar Crime/Government Investigations (2005-2018), and the San Francisco Lawyers' Club honored Mr. Brosnahan with its inaugural "Legend of the Law" award. He has been recommended as a leading lawyer by Chambers USA every year since its launch. He was also ranked in the Best Lawyers in America for the past 34 years.

Mr. Brosnahan is a past president of the Bar Association of San Francisco, whose Volunteer Legal Service Program he founded. He also serves as Master Advocate on the faculty of the National Institute for Trial Advocacy.

He presently teaches a Persuasion course at Berkeley Law School.
Bernard E. Witkin Medal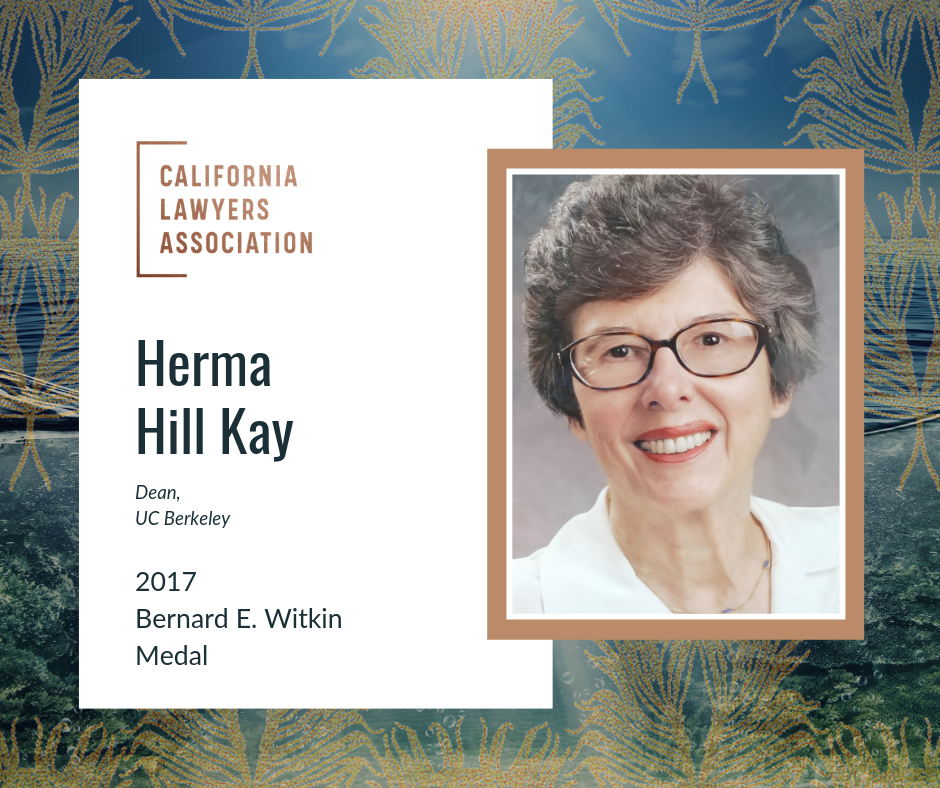 Herma Hill Kay
Click to expand biography

Herma Hill Kay (August 18, 1934 – June 10, 2017) was the Barbara Nachtrieb Armstrong Professor of Law at UC Berkeley School of Law (Boalt Hall). She joined the faculty at Boalt Hall in 1960 and remained on faculty until her death in 2017. From 1992 to 2000 she served as dean of Boalt Hall. Her legal specializations were in family law and conflict of laws.

Kay was born in Orangeburg, South Carolina in 1934 to a third-grade teacher mother, Herma Lee Crawford, and an Army chaplain father, Charles Esdorn Hill. She studied English at Southern Methodist University and graduated magna cum laude in 1956. At SMU, she was inducted into Phi Beta Kappa. She then attended law school at the University of Chicago, graduating third in her class in 1959. After law school, she clerked for one year for Justice Roger Traynor of the California Supreme Court.

In 1966, Kay served on the California Governor's Commission on the Family, which proposed that California adopt a no-fault regime for divorce. The state of California adopted a law based on that recommendation, the first of its kind in the United States, in 1970. Along with Robert Levy, she was co-reporter of the committee that prepared the Uniform Marriage and Divorce Act.

In 1985, Kay was elected to the Council of the American Law Institute. Kay was president of the Association of American Law Schools in 1989 and secretary of the American Bar Association Section on Legal Education and Admissions to the Bar from 1999 to 2001. She received 1992 Margaret Brent Award to Women Lawyers of Distinction and the 2003 Boalt Hall Alumni Association Faculty Lifetime Achievement Award.

Kay has also been recognized for her teaching, receiving the UC Berkeley Distinguished Teaching Award, in 1962, and the Society of American Law Teachers Teaching Award.

In 1999, the Boalt Hall Women's Association created a fellowship in Kay's name to support students pursuing "public interest work benefiting women."

At the 2015 Association of America Law Schools (AALS) Annual Meeting, she was presented the Ruth Bader Ginsburg Lifetime Achievement Award by Justice Ginsburg herself. She was also the recipient of the AALS Triennial Award for Lifetime Service to Legal Education and to the Law.

Kay died on June 10, 2017, at the age of 82.
Excellence in Civics Engagement Judicial Award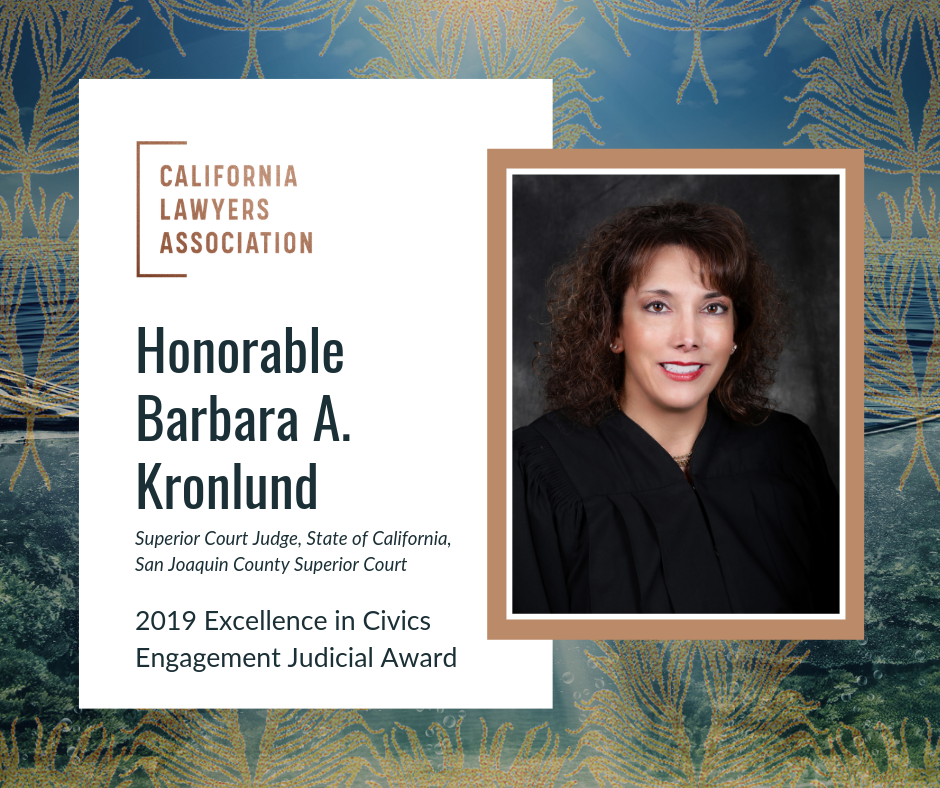 Honorable Barbara A. Kronlund
Click to expand biography

On bench in San Joaquin County over 23 years. Previously Supervisor with San Joaquin County's District Attorney's Office, Child Abuse & Sexual Assault Unit.

Court Commissioner, then Judge, including Presiding Judge of Juvenile Court and Supervising Civil Judge.

Criminal, Juvenile Delinquency, and now Direct Civil 9 years.

Served on numerous Judicial Council, Center for Judicial Education & Research, and California Judges Association (CJA) Committees and positions.

11 years on CJA's Judicial Ethics Committee, including Chair.

Founded San Joaquin County's Homeless Court in 2006; Founded Judge Consuelo M. Callahan Inn of Court in 2006; Founded San Joaquin County's Homeless Veterans Stand Down, 2007; Founded San Joaquin County's Veterans Treatment Court, 2015; Founded "Just the Girls" Migrant Camp outreach program, 2019; Resurrected discontinued First Impressions 5th Grade Civics Education Program, 2011; Resurrected defunct San Joaquin County Women's Lawyer Section, 1990's

Since August 2018, Co-chair of CJA's Judicial Fairness Coalition, (JFC), diverse group of over 50 judges, attorneys, Bar Associations and Legal organizations and professors who support judicial independence and assist judges facing baseless recalls and baseless attacks. Education of the voting public as to the importance of fair and impartial courts, the rule of law, and judicial independence is paramount to JFC's mission.
Jack Berman Award of Achievement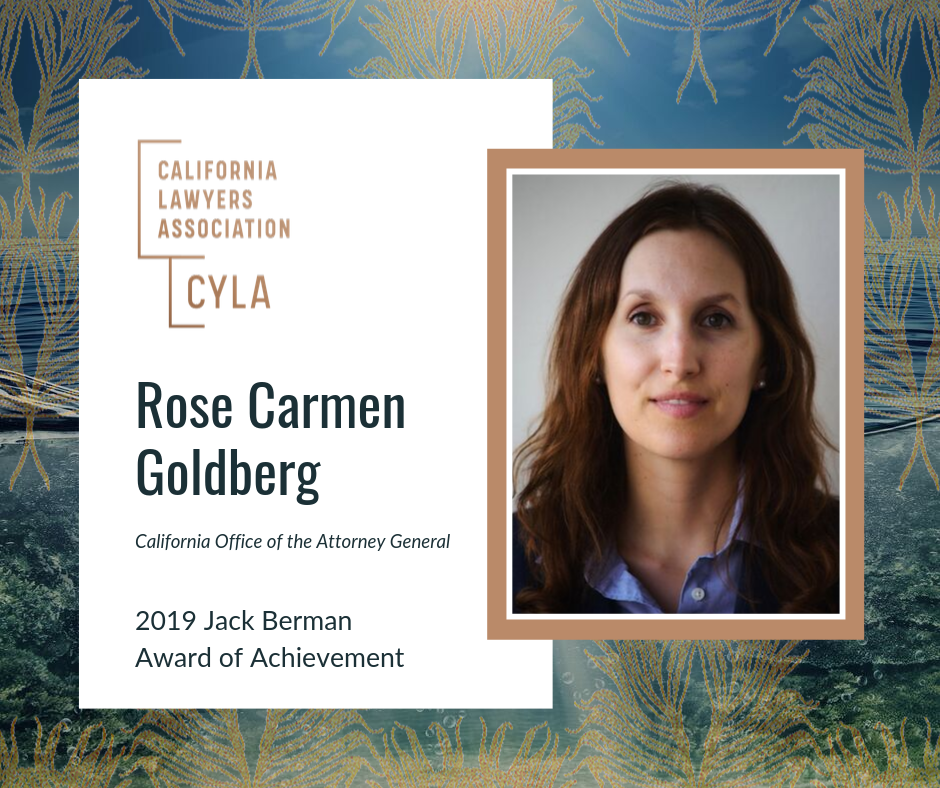 Rose Carmen Goldberg
Click to expand biography

Rose Carmen Goldberg founded a Medical-Legal Partnership for homeless and low-income veterans at the Oakland Vet Center. The partnership integrates legal services and mental health treatment. It is the first legal partnership at a Department of Veterans Affairs Vet Center in the country. The partnership serves veterans who were kicked out of the military with an other-than-honorable discharge consequent to combat PTSD or sexual assault. Rose launched the partnership as a Skadden Fellow and continued to grow it as a Supervising Staff Attorney at Swords to Plowshares, a veterans rights organization in San Francisco.

Currently Rose works to protect the consumer rights of service members and veterans as a Deputy Attorney General in the Office of the California Attorney General. Rose is also a Lecturer at Berkeley Law School, where she is teaching a course on how lawyers and doctors can collaborate to better serve vulnerable populations. She is the Vice Chair of the California Lawyers Association Litigation Section's Veterans and Military Affairs Committee. Rose has written on veterans issues in the Wall Street Journal, Washington Post, Slate, and Harvard Law & Policy Review.

Rose clerked for the Honorable Theodore A. McKee, Chief Judge of the U.S. Court of Appeals for the Third Circuit. Her work background includes several years of health policy at the U.S. Department of Health and Human Services, where she was nominated to serve on the Health Reform Evaluation Committee. She also worked for the U.S. Senate Judiciary Committee and at the White House on Native American affairs.

Rose has a J.D. from Yale Law School, where she advocated for reform of the Department of Veterans Affairs' evidentiary standards for military sexual trauma claims as a member of the Veterans Legal Services Clinic. Prior to law school, Rose graduated from Columbia University with a Masters in Public Policy and Administration. She received her B.A. from St. John's College's "great books" program in New Mexico.
Section Awards