Interview with Magistrate Judge Patricia A. Donahue
Patricia A. Donahue was appointed as a Magistrate Judge by the United States Court for the Central District of California in May 2020. Before her appointment as a Magistrate Judge, Judge Donahue served with distinction as an Assistant United States Attorney since 1991. As an Assistant United States Attorney, she served in a number of significant roles, including Deputy Chief of the Major Crimes Section, Chief of the General Crimes Section, Chief of the Organized Crime and Terrorism Section (and its successor the Violent and Organized Crime Section), Chief of the National Security Division, Special Counsel to the U.S. Attorney on Violent Crime, and Chief of Trials, Integrity, and Professionalism. In recognition of her deep commitment to justice, she received, among other awards, The Attorney General's Distinguished Service Award (2009) and the International Achievement Award for Extraordinary Performance of Duties and Achievement of Special Accomplishments that Enhance the Mission of Immigration and Custom's Enforcement (2010).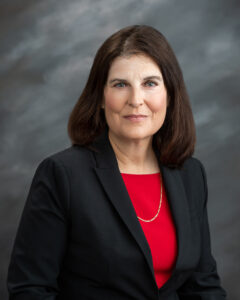 For a number of years, Judge Donahue served on the Board of Governors of the Women Lawyers Association of Los Angeles (WLALA), where she served as chair of the Scholarship Selection and Communications Committees and as co-chair of the Criminal Justice and Law Student Mentoring Committees.
Judge Donahue received her undergraduate degree from Stanford University and a Juris Doctor from the University of California, Los Angeles.
In this interview, Judge Donahue shares her experience transitioning from advocate to neutral, her advice for litigants who appear before her, her views on what makes a successful advocate, and the importance of professionalism and civility in the federal courts. This interview has been edited for brevity and clarity.
You had a distinguished career at the U.S. Attorney's Office before joining the bench, serving in various leadership positions and different sections and divisions. What made you decide to become a judge?
At the U.S. Attorney's Office, I had the opportunity to work on many different kinds of cases and serve in various positions. I enjoyed learning about the different areas of the law, and I found working with victims particularly fulfilling. In my final position at the U.S. Attorney's Office [as the Chief of Trials, Integrity, & Professionalism] I analyzed cases and issues from different perspectives, including that of a neutral arbiter, and realized that I enjoyed it. I was looking for a new challenge, and the magistrate judge position has provided a wonderful opportunity to serve the public and the court.
How have you found the transition from advocate to neutral?
I think I am growing into the role of a neutral. I am fortunate to have great role models, having appeared before the judges in this district for many years. I try very hard to analyze both parties' positions critically, to reach what I think is the correct result based on the law, and to explain my reasoning as clearly as possible. I have also transitioned to handling primarily civil matters. I try to do a deep dive into the facts and the law, and I ask the attorneys lots of questions.
What advice do you have for practitioners appearing before you in court (in both civil and criminal matters)? Any specific advice for oral argument? For written submissions?
In May of 2020 I was sworn in, so the majority of my judicial experience in hearings has been talking with lawyers in boxes on the screen. Attorneys appearing via Zoom should keep in mind that they are still in federal court and their behavior and appearance should reflect that. Of course, the same advice applies to in-person and remote court appearances: Be prepared. I think it's a good idea to prepare a short list of the points you want to convey to the court – the most important things you want the judge to remember about your position. Then during the hearing set aside the list and listen closely to opposing counsel and to the judge. Sometimes attorneys are so focused on their own notes that they do not really hear what opposing counsel is saying. Listen to what the other side is arguing and respond to those points, incorporating the items on your list.
Before a hearing I read all of the parties' submissions. I ask questions and follow-up questions at argument. I appreciate it when an attorney is prepared and has the answers, or admits that they don't have the answer now but can provide it later.
For written submissions, my advice will come as no surprise: Please be concise. If an argument can be made in 10 pages, make it in 10 pages, not 25. Good writing, which has been edited and is succinct, will help my terrific law clerks and will help me rule more quickly.
More generally, do you have any thoughts on what makes a lawyer a good or successful advocate? And are there things you didn't realize as an advocate that you now see as a judge?
I think successful advocates have detailed knowledge of the facts underlying the disputed issues, concisely explain the applicable law, and argue their position with some passion. Good advocates also meet and confer and engage with opposing counsel. In civil discovery disputes, litigants often start with numerous points of disagreement, but when they talk to each other on the phone or via Zoom, it turns out they only have two real disputes.
Successful advocates also know the applicable local rules and the judge's individual procedures and schedules. My procedures page includes details about discovery hearings and informal discovery conferences in civil cases. The procedures and schedules are there to help attorneys focus the issues so the judge can rule most efficiently, not to impose unnecessary hurdles.
Are there occasions where you would issue tentative rulings?
As an advocate, I appreciated a tentative ruling because it helped me focus my argument. Although I don't issue tentative rulings, I do issue a short minute order setting a hearing and specifying issues that I would like the parties to address. I do this when I have not decided how to rule and have questions based on the parties' submissions.
In 2019, then-Chief Judge Phillips warned of a crisis in the Central District given the large of number of judicial vacancies. There are still several vacancies. What can attorneys in the CDCA do to help the Court?
My understanding is that through several bar associations, attorneys are advocating to have the vacancies filled and conveying the reasons why the residents of this district need a fully staffed federal judiciary. Attorneys who litigate in this district can help the Court by making their written and oral presentations concise.
The Central District maintains Civility and Professionalism Guidelines for all attorneys appearing before the Court, as well as for judges. Can you speak a little about the importance of civility and professionalism in our courts?
Civility and professionalism among attorneys and between the bench and the bar are essential to the successful operation of the Court and the administration of justice.  I have seen uncivil behavior by attorneys towards opposing counsel in discovery disputes in civil cases (which Magistrate Judges handle).  Obstinate discovery tactics and verbal attacks on opposing counsel are not in keeping with the Guidelines, are not persuasive, and reflect poorly on the lawyer making the attack.  The Guidelines also call for counsel to advise their clients that civility and courtesy are expected and are not a sign of weakness.  I strongly encourage attorneys to go to the court website and familiarize themselves with the Guidelines.[1] 
Interviewer Information: Judge Donahue was interviewed by Eddie A. Jauregui and Allison Westfahl Kong. Mr. Jauregui is a partner at Holland & Knight. His practice focuses on internal corporate investigations, corporate compliance and training, government enforcement, white collar criminal defense and complex business disputes. Ms. Westfahl Kong is a federal prosecutor in Los Angeles, California. Any views expressed herein do not reflect the position of Holland & Knight, the U.S. Attorney's Office, or the U.S. Department of Justice.
---
[1] The Guidelines may be found here: https://www.cacd.uscourts.gov/attorneys/admissions/civility-and-professionalism-guidelines
---