Interview With Mack Jenkins
Mack Jenkins is an Assistant United States Attorney (AUSA) and Chief of the Public Corruption and Civil Rights Section at the U.S. Attorney's Office in Los Angeles. Mack is a graduate of Yale Law School and joined the U.S. Attorney's Office in 2008. He prosecutes and supervises the prosecution of some of the most impactful and sensitive matters in the Department of Justice. These cases include corrupt public officials at all levels, fraud against the justice system, civil rights violations by federal and local law enforcement, hate crimes and violence against peaceful protestors, election integrity, FARA violations, kleptocracy, and FCPA matters. He and his team recently secured across-the-board convictions in the obstruction trial against then sitting U.S. Congressmember Jeff Fortenberry and obtained guilty verdicts in a bribery trial against a prominent DTLA developer and his company as part of the racketeering corruption investigation into Jose Huizar and LA City Hall. Mack has twice received a California Lawyer of the Year Award and been named a Top 100 Lawyer by the Daily Journal and one of Los Angeles's Most Influential by the Los Angeles Business Journal.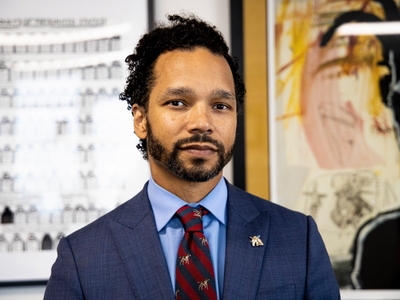 Please discuss your early career and your decision to become and Assistant United States Attorney.
When I was in law school, the paramount focus by our professors and classmates was envisioning ways to use our law degrees to serve the public good. Private practice and financial wealth were not idealized as the ultimate sign of success. When I first learned what federal prosecutors did and how they could impact public safety and the country's trust in its foundational institutions on such a high level, it transformed that idealistic but amorphous goal of why many people say they go law school – "to make a difference" – into something tangible. Accordingly, while at Gibson Dunn, I sought out those who had been AUSAs and who knew AUSAs in order to absorb as much I could about the mission and how to best prepare myself to join it.
What were important pieces of advice that you received early on in your career as a federal attorney that helped you become more successful in federal advocacy?
Don't be afraid to fail. Don't be afraid of big challenges because those are the matters that can have the most meaningful impact. Go to court as often as you can and watch as many court proceedings as you can. Learn and appreciate the professional function of all members of the court system – federal defenders, retained attorneys, judges, court staff, U.S. Marshals, etc. Always remember to treat federal court as a sanctified place where justice is sought and justice is done; and when it's your turn to advocate in federal court, you must be the steward of that justice.
Please discuss your transition to public corruption and civil rights prosecutions and what you have found to be rewarding about your practice.
Prosecuting public corruption and civil rights cases has unequivocally been the highlight of my professional career. To believe in a mission so deeply and for it to be your central professional mandate and to do it with colleagues, agents, and staff who share this mission make this work singularly rewarding and inspiring. Unlike many types of criminal prosecutions, investigating powerful politicians or billionaire defendants often means facing defendants and defense attorneys who can out-resource the government. In addition, they can attempt to leverage the media and their influential connections, along with their army of lawyers and staff, to make the government the underdog and attempt to put the government on the defensive. This power disparity is motivating in that our jobs as public corruption prosecutors is to ensure those who have been granted great power and/or wealth by the public do not betray and abuse that power.
Prosecuting civil rights cases in 2022 is a particularly urgent calling where attacks on individuals and their rights are increasing in various forms, by various entities, and with increasing violence and brazenness. To be at the forefront of the defense and vindication of these rights with our Section team makes me grateful to be where I feel I am supposed to be right now. We invoke the augustness of the federal government to affirmatively protect civil rights and to signal to our national communities that their government seeks to fulfill its duty to ensure the rights of all citizens are protected no matter who their assailants are and no matter how powerful those assailants may be.
Please discuss your efforts to mentor more junior attorneys and any advice you have for them regarding how to be successful in federal practice.
I am a member of multiple affinity bar associations, local and national bar organizations, and I serve on a statewide committee appointed by the Governor. I utilize these entities to connect with particularly younger lawyers and engage with them about their careers. I focus on lawyers with an interest in public service or ones simply seeking deeper satisfaction from their law degrees. I also think it is important to market the role of the U.S. Attorney's Office and share our mission with those less familiar. Similarly, because I have a deep respect for the mission of the Federal Defender's Office and I have close relationships there – including the mother of my two young children! – I also highlight there is a wide range of routes to turning that elusive law school goal of difference-making into something real. I also try to impress upon them that it will then become their duty to mentor the next generation of younger lawyers seeking a pathway to enjoying an impactful and meaningful legal career; they must pay the mentorship forward.
Is there any other information you would like to share?
Perhaps now more than any other time in recent memory, our public institutions are under threat and attack from previously unthought of sources. Accordingly, it is presently imperative that the rule of law must remain king, just as Thomas Paine wrote in 1776. And it takes lawyers who see their professional roles as more than just a job but as a calling to protect this promise of our free republic. Maintaining the rule of law as king means it must not be deposed by partisanship, avarice for wealth or power, or the loss of integrity. Federal lawyers are on the frontlines to protect our king.
Thank you for taking the time to interview me!
---
Related Content