Interview with Magistrate Judge Michael R. Wilner
Michael R. Wilner was appointed as a Magistrate Judge by the United States Court for the Central District of California in 2011. Before his appointment as a Magistrate Judge, Judge Wilner served as an Assistant United States Attorney and a Deputy Chief in the Major Frauds Section at the United States Attorney's Office in Los Angeles. Before joining the U.S. Attorney's Office in 2000, he served as a civil enforcement attorney with the Securities and Exchange Commission in Los Angeles, and was appointed as a Special Assistant U.S. Attorney. Prior to entering federal service, he was a litigation associate at Proskauer Rose LLP in Century City.
Judge Wilner received his undergraduate degree from Dartmouth College, and his law degree from the University of Pennsylvania Law School. While in law school, he served as a summer law clerk for the Honorable Norma L. Shapiro, Senior U.S. District Judge for the Eastern District of Pennsylvania.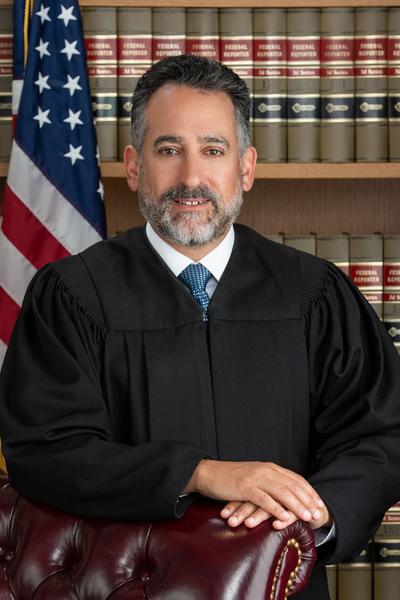 In this interview, Judge Wilner shares what motivated him to pursue the bench, his experience transitioning from advocate to neutral, his views on what makes a successful advocate, and the importance of professionalism and civility in the federal courts. This interview has been edited for brevity and clarity.
Before joining the bench, you had a distinguished career in both public service and private practice, having served as an Assistant United States Attorney and Deputy Chief in the Major Frauds Section of the U.S. Attorney's Office for the Central District of California and a civil enforcement attorney at the Securities and Exchange Commission, as well as in a prominent Los Angeles law firm. What made you decide to become a judge?
My externship with a district judge had a big impact on my decision to become a judge. I externed for District Judge Norma Shapiro in Philadelphia when I was in law school, and it changed my life. I got to see criminal cases, civil cases, good lawyers, great lawyers, and not-so-great ones. I also got to interact with a judge, see how her mind worked, and be in court every day. So after I had been in practice for about 20 years, I started thinking about joining the bench. I enjoyed my time in public service and I'm proud of it, but I was ready to pursue being a judge.
How did you find the transition from advocate to neutral?
I didn't find it to be difficult because I had my eyes open. When you apply to be a judge, you are choosing to be a neutral, choosing to be in the center. Being a judge is often analogized to being an umpire, and I happen to be a referee for youth soccer. I don't win when I'm out on the field, but I have the best seat in the house, and I can play a part in making sure the game is played right. That is kind of what I do as a judge. When the lawyers and clients come to court, it's an important day for them: one side will leave happy and one will not, one side will win and one will not, but I don't win anymore, so that took some getting used to. And once the case is over, I just move on to the next one; things keep moving, and I'm not celebrating a win or mourning a defeat.
Because I had been an AUSA, one of the things I did when I knew I was going to be appointed to the bench was to spend more time with folks on the defense side. I went out to lunch with deputy federal public defenders and CJA attorneys. I wanted to learn what I didn't know as an AUSA. As a prosecutor, I had good, professional relationships with the defense bar and I'm proud of that. But I thought it was important to sit down with defense attorneys and ask them to tell me what I needed to know as a judge. They were very open. They wanted me to know how things go on the criminal side and what happens on their end during initial appearances and bail reviews. I found that to be really helpful, and I think it was helpful for them to see that I was making the effort to be impartial and to get their side of the story. And while I had been a former AUSA, I was committed to viewing things with a neutral eye and holding the government to the same high standards the judges held me to.
What experiences have most influenced your approach as a jurist?
A real benefit of being in the U.S. Attorney's Office is getting to go to federal court regularly. As an AUSA, I appeared before nearly every judge in the court. And sometimes, when my case was done, I would stay for the rest of the judge's calendar. I remember some judges having lengthy calendars and if my case was first or second, I might stay to watch the rest of their matters, even if they were not criminal cases. I would observe employment cases, patent and intellectual property cases, and civil rights cases, and so on. I valued the fact that I could sit in a courtroom and watch a wide variety of federal judges handle a wide variety of cases.
I admired and respected all the judges I appeared before, and I've tried to model my own approach on what I saw those judges do. For example, I handle civil case management conferences in a similar way to how Judge Feess handled them. And I was inspired by the level of preparation that Judge Morrow, Judge Matz, and many other district judges showed on busy days. I also learned about how to be a magistrate judge from the magistrate judges I appeared before and who would later mentor me after I joined the bench, including Judge Hillman, Judge Kenton, Judge Segal, and Judge Walsh. The joy of being in a big district is you have a lot of examples to follow. I'm glad that I took the time to observe how other judges handled their cases.
Are there any life experiences or professional experiences that influenced your decision to pursue a legal career?
One of the reasons I entered the law was because I had an externship in college with the Peace Corps in Central America. I worked for two administrators who had both gone to law school but didn't practice a day of law in their lives. One stayed in public service in the Peace Corps and the other became a newspaper editor. I thought it was very appealing that someone could go to law school and not get categorized in a traditional law job. Of course, I then went on to have a prototypical career: I worked at a large law firm, I was a prosecutor, and then I became a federal judge. Still, working with those folks at the Peace Corps and observing their thought processes and their ability to talk to people was impactful and influenced my decision to pursue both law and public service.
Over the course of your career, you have worked with and observed many lawyers, both as a practitioner and as a judge, in both criminal and civil matters. Do you have any thoughts on what makes a good or successful advocate?
Part of it is the ability to communicate effectively. The origin of the word "attorney" means someone to turn to, or someone who can speak for someone else. Good lawyers know what they're saying and know how to communicate clearly and directly. When a lawyer answers my question directly and hits the headline quickly – in court or in writing – that's effective. When a lawyer doesn't answer the question immediately, but instead says they need to step back and provide confusing or distracting "context" before answering my question, that's not as effective.
It is also important to be reasonable. When lawyers are able to admit or acknowledge something that's not great for their position or case, they come across as reasonable. That goes a long way with me. Reasonableness and professionalism are two words that obviously go hand in hand. As a judge, you expect to see reasonable people on a day-to-day basis, and that was something I was accustomed to having practiced criminal law in the District. Unfortunately, I do see a lot of fights and unreasonable behavior, but successful advocates are prepared, thoughtful, reasonable, and professional.
What other advice do you have for practitioners appearing before you in court?
Not necessarily advice for me specifically, but, as a general matter, I would encourage litigants to come to court more often rather than attending via Zoom hearings. I often offer lawyers the option to come into court or appear by video, but I make clear that I will be on the bench. It is important to be in the courtroom and see your adversaries in person and have the chance to interact with them before and after hearings. I am of course sympathetic when there is a health concern or when it is just a 20-minute status conference and the lawyer is in a different state, but I do think it is important to be in court. I worry about a generation of lawyers not being in court and literally not having the ability to speak on their feet.
Can you speak a little about the importance of civility and professionalism in our courts?
The Central District of California has guidelines on civility and professionalism, and I cite to those guidelines regularly.[1] I take civility and professionalism very seriously. There is nothing wrong with representing your client zealously, diligently, and assertively. But there's a right way to do it and a wrong way to do it. When it's done the wrong way, the court needs to address it. I don't like calling out lawyers for being unprofessional, but it is something the court must address if lawyers are not meeting the court's expectations. The flip side is that when lawyers are professional and try to work things out, I'm absolutely delighted to give them a break. If they indicate that they are working well together but need more time, I'll often give it to them. If they indicate that they want to reschedule the hearing so they can try to work out the issue on their own, I'm amenable to that. Civility and professionalism and conveying a willingness to work with the other side goes a long way with me.
I think COVID has led to isolation, so there has been less interaction between attorneys. Things tend to get better when lawyers are in the courtroom and are seeing one another in person. Sadly, it is a lot easier to be unprofessional over email or on Zoom than in person. When I see a lot of unprofessional behavior, I sometimes tell the parties to stop communicating by email and to pick up the phone, get on a video call, or have a meeting. I think the more we move back to in-person appearances and the more in-person bar events we have, the better.
Interviewer Information: Judge Wilner was interviewed by Eddie A. Jauregui and Allison Westfahl Kong on August 31, 2022. Mr. Jauregui is a partner at Holland & Knight. His practice focuses on internal corporate investigations, corporate compliance and training, government enforcement, white collar criminal defense and complex business disputes. Ms. Westfahl Kong is a federal prosecutor in Los Angeles, California. Any views expressed herein do not reflect the position of Holland & Knight, the U.S. Attorney's Office, or the U.S. Department of Justice.
---
[1] The Guidelines may be found here: https://www.cacd.uscourts.gov/attorneys/admissions/civility-and-professionalism-guidelines
---
Related Content