Swimming through 'Pandemica'
By Matthew Neco, Esq., Member, CLA Health and Wellness Committee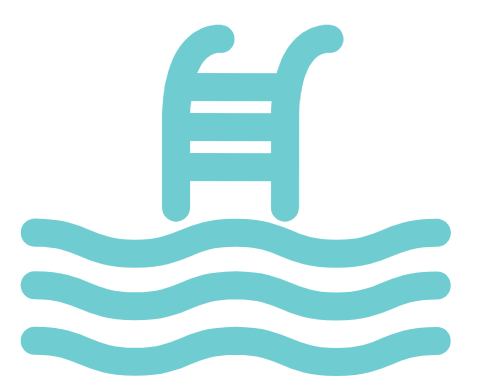 "I want to swim. I must swim. I need to swim. I crave swimming." I thought, and felt to my core, soon after Covid-19 shut down the pools I swim at and stopped me from this every-other-day ritual. And when I started swimming again a couple of months later it is swimming that has helped me, is helping me, will hopefully continue to help me cope with the pandemic and stay healthy – physically, emotionally, mentally, sociably. Or at least not devolve.
Years ago, ages ago, it seems, I became a distance fitness swimmer. Never coached.[1] Nearly never competitive. Except with myself. I'd swim three or four times a week. Unless I could not get to a pool of at least 20 feet long while traveling. Or if I was ill. Or injured.
For me, swimming can be moving, breathing, meditation. Most times. Sometimes in a flow state. Sometimes in a zone. Sometimes seemingly thrashing around, dragging, not gliding, fighting the water, slapping it, fighting my unwilling body, windmilling, laboring, swallowing water like chocolate milk.
Then mystically, like magic, clicking in. Immersed. Streamlining and dolphin kicking off the walls, after my Fosbury-Flop of swimming flip turns.[2] Slicing through the water. Counting laps. Counting strokes. Counting crows. Looking at the clock and timers. Splitting a lane or circle swimming laps, 25 yards or 50-meter lengths.[3] Mind wandering and finding its level, as water seeks its own level. Problem-solving without thinking. Focused thinking too. Working on technique. A few times jumping out of the pool to call a client or someone, or send an email, from the deck. Sending out positive thoughts about family and friends who were ill, troubled, grieving, facing their own issues. Therapy. Mental. Emotional. Physical. Always in pools. Only in pools. Almost.
Suddenly, in mid-March 2020, every pool I could swim in was shut down because of COVID-19. My mountain and road biking were no substitute. Walking long distances was great. But alas, none of these were providing the satisfactions I found in swimming.
As a kid in the northeast, I occasionally went to ocean beaches in the summers and South Florida beaches on spring and winter breaks. And ever since moving to Los Angeles many years ago, except for about one month, I have lived less than a mile from shore. For a while I lived on the beach, opening my front door and walking ten steps to sand and seeing the very large front yard that is the Pacific Ocean. Still . . ..
Afraid of ocean swimming, I couldn't venture into open water to distance swim. The power. The riptides. The swells. The currents. The waves. Stingrays. Sharks. Boats and jet skis that would surely sever my limbs. The inability to see the bottom. The cold. No lane lines, no line on the bottom, no walls with crosses to rest at, no lifeguards towering over ready to make the save in seconds flat if my perfectly healthy heart decided to, well, fail. Not a controlled environment. No control. Lawyers, it seems, generally tend to like control and rules and to stay within the lanes.
Sure, I played in the ocean from an early age. I wasn't afraid to body surf, boogie board, wade, dip, or plunge. Haven't taken up surfing. Yet.
Wait. Once or twice toward the end of summer, I would nervously swim from one lifeguard tower to the next and back and forth a few times, just barely past the wave break, on the calmest of days, the glassiest of water surface, with a friend keeping an eye on me from shore. Oh, and about 10 years ago I signed up for a portion of an open water swim competition organized by a friend. There were different distances, and the prior year I had "supported" my friend by kayaking near him as he swam the longest distance of about 12 miles from pier to pier. I swam the 2.8-mile distance, which was basically a square, two bright buoys bobbing out in the ocean, with lifeguards on boards in the water. One lap was 1.4 miles. Swim the lap, come to shore, go back out for the next lap. That wasn't too frightening. No wetsuit. Yes, a speedo (gasp!), I think. My right hand went numb. But I even finished in first place for that distance for my age group!
Back to the more recent past. About half a year prior to most of America's awakening to the dangers of COVID-19, one Saturday morning, after my outdoor pool 2,000-meter swim, I sat on the deck watching, listening to swimmers. The sounds of the water being kicked and stroked. Kids on a team being coached, some of them becoming Olympians, all of them working hard. Truly amazing. Mesmerizing. The adult Masters in two other lanes. And open lane swimmers, like me, in lanes designated slow, medium, and fast.
One fast swimmer was floating a bright orange and yellow inflated buoy device behind her butt, above her thighs, as she swam. Strapped around her waist. Two other swim buoys were on the deck. She switched buoys and swam on. When she hopped out, I asked what was up, and she said she was testing them for a charity lake swim competition she was organizing. I don't know why but I shared my fear of ocean swims with this stranger. She gifted me one of the buoys and told me I would be more comfortable swimming in the ocean with it. Visibility, and though not a lifesaving flotation device I could hug it and it would keep me afloat if necessary. And don't swim alone!
A couple of weeks later another swimmer who was also a regular there was in a wetsuit in the pool. "What's up with that? The water is a great temperature." "Testing it for ocean swims," he said. Yada yada fears, I told him. "I'll send you a discount code. With the warmth and buoyancy you will start to feel more at ease swimming in the ocean."
The very following Saturday, on the deck after swimming, another fellow I chat with tells me he swims the ocean most days of the week, except Saturdays when he comes to the pool with his wife. "Tower 26, 8 am, meet me," he said. "Maybe. After I get a wetsuit."
Wetsuit delivered October 2019. Inflatable visible swim buoy. Bright swim cap. Still, I couldn't. Wouldn't. Hadn't even tried the wetsuit on. The thought tightened my chest. Shortened my breath.
Then the pandemic shut down my pools. I started jonesing. And the beach was shut down too! What? Like I was planning my big move into the ocean, but still. Sure, there were people surfing, swimming, strolling, running the beach, with the police looking the other way. But lawyers shouldn't be scofflaws. I'd have to abide. Am I right?
The county reopened the beach. This fear must be addressed. It must be conquered. It would not stand, man. And I'd do it alone, my way, because going to the local ocean swim "meet up" spots meant too many people, and driving or biking to get to and from. I'd just walk the 18 minutes from my home, alone or not.
The first few weeks of ocean swimming were scary. Against the advice of many, I went solo. But visible with my swim buoy and cap. And almost warm enough in my wetsuit. Getting past the waves, learning the sets, swells, and currents. Reinforcing my ever-growing r.e.s.p.e.c.t. of the sea. There was one early morning when the waves looked really crazy and a surfer emerging, board under arm, said the water was shifting around and moving in all different directions. I stood there and studied the water for 45 minutes. Turned on my heel and walked home. That day WWE wrestling star Shad Gaspard drowned a few miles to the south. I swam the next day, or the day after that. Respect the ocean.
South or North to start? Against the current, of course, so the swim back would be easier. Would my few belongings stashed under the lifeguard tower ramp get stolen while I was swimming? Were there sharks around? Would I get a cramp? Would I get tumbled getting back to shore? Beware the undertow, the riptide.
Over time I slowly became comfortable distance swimming in the ocean, alone. Dodge the surfers and paddle-boarders. Swim out to the blue buoy about 264 yards from mid-tide in front of the lifeguard tower. Tap it. Catch my breath. Feel which way to go, and go parallel to the shore. About a mile and a half round-trip.
I sometimes see pods of dolphins close by and the endorphin rush I get is amazing. I began to imagine they would protect me from sharks. In my head I joked that sharks would offer me professional courtesy. I thought sharks might sense my fear, smell my fear, make one of my worst fears come true. And so I decided to banish from my mind the thought of sharks while swimming. And I succeeded, most of the time, for the most part.
Two fears conquered! Two fears gone. One a subset of the other. And I enjoy harmless leopard sharks by the shore bumping my shins and calves as I wade in. And seeing Garibaldi and other fish. And the occasional seal surfing the waves.
One Sunday about a year ago I was bobbing around at Baldo the Blue Buoy, having finished my swim, and there were four other swimmers there. "You swim alone? We've seen you. Why don't you swim with us? We'll add you to our group text list." And added I was. I now swim with any combination of these 20 or so folks on the list, most of whom belong to a beach club, a couple of times a week, and I swim alone the other days. I call myself the Club Interloper. They call me Neco, the honorary member. Great group of people. Two of them are lawyers I've worked with in the past.
The mighty ocean has taken two pairs of goggles from me, having been swept off my forehead by waves while emerging. Amateur. Pull the goggles down around your neck. One swim buoy strap clip snapped from the force of the waves. When the waves are big, I now deflate the buoy on the way out to and back from Baldo. One wetsuit zipper broke, and I now own four different working wetsuits from three different companies, of different thicknesses and one without sleeves.
Although pools have reopened, I've come to prefer the ocean. Watch out for the Under Toad, I sometimes think, without fear or dread about ocean swimming, but with respect. And so one thing about this horrible pandemic has turned out for me, thus far, swimmingly.
The foregoing is an excerpt from a longer (!) work in progress. If you are interested in reading the work when it is ready, please email me (matthew.neco@gmail.com) or contact me via the CLA online community. Please share your swim stories and experiences at the CLA online community at https://community.calawyers.org/t/swim-stories/1054.
[1] Maybe I had a lesson or two when I was a small child. I did take a Total Immersion class once. And Clay Evans tried to get me to join his Masters group, rhetorically asking if I thought Michael Phelps wore a watch while swimming, or breathes the way I do. (About 20 years into swimming, for the sake of my neck and symmetry I finally trained myself to breathe from each side. Right side breath, stroke stroke, left. Repeat, over and over again. Except when trying to swim really fast. Competitive swimmers generally breathe from one side every other stroke.)
[2] I taught myself to do flip turns at the wall, dizzy and disoriented at first, slamming my heels and Achilles tendons on the edge of the pool deck way too many painful times. It was and still is an ugly flip turn, with no advantages whatsoever over proper flip turns. And I still misjudge and slam my heels and Achilles on occasion. (Coincidentally, the tendon is named after the ancient Greek mythological figure Achilles because it lies at the only part of his body that was still vulnerable after his mother had dipped him, holding him by the heel, into the River Styx.)
[3] A lap is two lengths, back and forth. It irks me a bit that my fitness tracking swim app counts a length as a lap, but I doubt that Tim Cook cares.
© Matthew A. Neco 2021. All reservable rights reserved.
---