Lessons from Japan – the Power of Connection
November 2023
By Betty Williams
President, CLA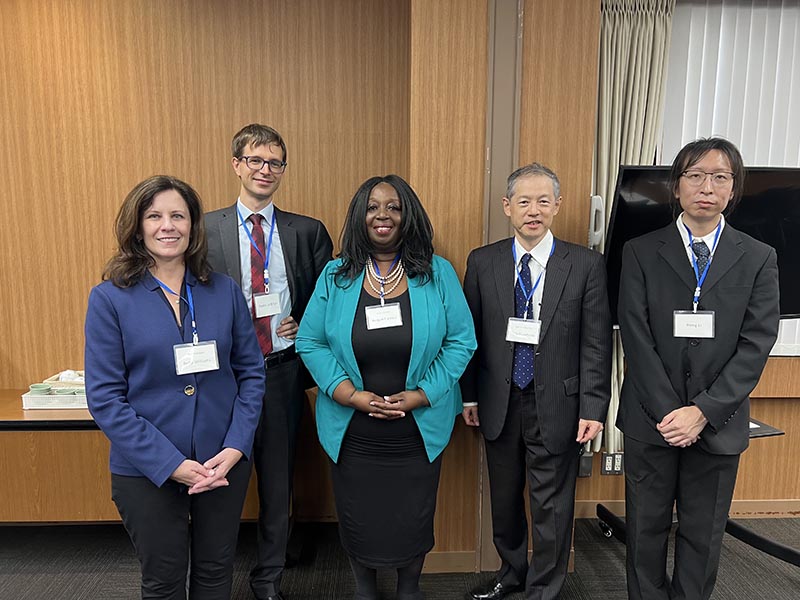 As lawyers, many of us routinely navigate disputes between parties. To do this, we have to know our client's position, certainly, but often it is equally as important to understand the vantage point of our opponent.
This is one reason it is so important to make connections beyond our immediate circle of coworkers and colleagues. When we expand our contacts we may learn new ways to better serve our clients and our communities.
I was reminded of the power of connection when I returned from a recent trip to Japan with the International Law and Immigration Section (ILS) of California Lawyers Association. Scrolling through the hundreds of photos from our whirlwind trip, I came across a picture of five CLA members who are citizens of five different countries. We had spontaneously posed together at an event in Tokyo hosted by the Kanagawa Bar Association.
Here I am with Yohan Le Bihan of Luxembourg; Margaret Francisco, a U.S.-U.K. dual citizen and Chair of ILS; Yuta Muramatsu of Japan, Vice Chair of the Kanagawa Bar Association's International Exchange Committee; and Meng Li a U.S.-Canada dual citizen.
This theme—the power of connection—was evident throughout the Japan trip.
Two of the delegation's remarkable planners, Harumi Hata and Ric Bainter, put together an ambitious agenda. We met with three bar associations with which the section has friendship agreements (the Osaka, Dai-Ichi Tokyo, and Kanagawa bar associations), the Judges of the District Courts in Osaka and Yokohama, the Justice of Japan's Supreme Court in Tokyo, representatives of Japan's Ministry of Justice in Tokyo, and representatives of the District Attorney's Office in Yokohama. I delivered the keynote speeches on international commercial arbitration and mediation at the joint seminars in Osaka and Tokyo and served on a moderated panel on Alternative Dispute Resolution (ADR) at the joint seminar in Tokyo with Harumi Hata and Sid Kanazawa. Sid Kanazawa also spoke with me on the moderated panel on ADR at the joint seminar in Osaka. Elaine Harwell, Chris Ghazarian, and Yoann Le Bihan spoke on data privacy in Japan, the E.U., and the U.S. at the joint seminar in Osaka.
The camaraderie we felt with our colleagues overseas was genuine. The sincerity of our hosts' appreciation was palpable. Over time, ILS has made a name for itself in Japan with programming and visits between our two countries. Ultimately, I returned to Sacramento knowing I made new friends in Japan and CLA.
Closer to home, I had the opportunity to continue making new connections. I attended the inaugural gala of the Disability Inclusivity Bar Association of Sacramento (DIBAS) to celebrate its formation. As our friends at DIBAS accurately reflected:
"We had members of our legal community with disabilities who came out because we made it intentionally accessible. Colleagues who often are not able to attend events for a variety of reasons—stairs without an elevator, not enough open space to maneuver a wheelchair or other mobility aids, websites and information that can be accessed by a reader, areas that allow for some distance or quiet, and many, many other reasons—all of which are in our control if we are intentional in our planning, communicate our expectations to our venues, planning teams, and execution and work closely with our community to make it so."
I realized how essential it is, in business and in life, for all of us to make new connections. Meeting new people allows us to understand perspectives other than our own.
CLA Can Help You Make Connections
As I pledged last month, I aspire to use my leadership position to help you reach your goals. And if you want to make connections, there is no better place to do so than CLA.
Did you know that CLA has 66 international members from 19 different countries? Canada is the most common country, followed by Japan.
CLA makes it easy to connect with others. Thanks to Zoom and similar platforms, we can connect across the state and globally, even from the comfort of our homes. I encourage you to expand your network of connections, even if it feels outside your comfort zone. Take a moment to listen and learn from someone from a different country or even a different practice area than your own. Speaking from my own experience, the rewards can be life-changing.
CLA is made up of 18 sections with an abundance of activities. Many of our sections' practice areas have a common overlap. Visit CLA's website to learn what other sections are doing that might be of interest. I am confident there are relationships in different sections you will enjoy personally and from which your practice will benefit. Indeed, consider joining ILS if you want to be part of the section that has friends all over the world!
---