ESG-in-Law Series Features Experts on Business and Human Rights Law and SEC Enforcement Actions + California Passes Landmark Climate Disclosure Rules
November 2023
By Patrick Miller
ESG-in-Law
California Lawyers Association's Environmental, Social and Governance (ESG) Interest Group released two new episodes of our ESG-in-Law video series. The episodes featured discussions with Kabir Duggal and Howard Fischer.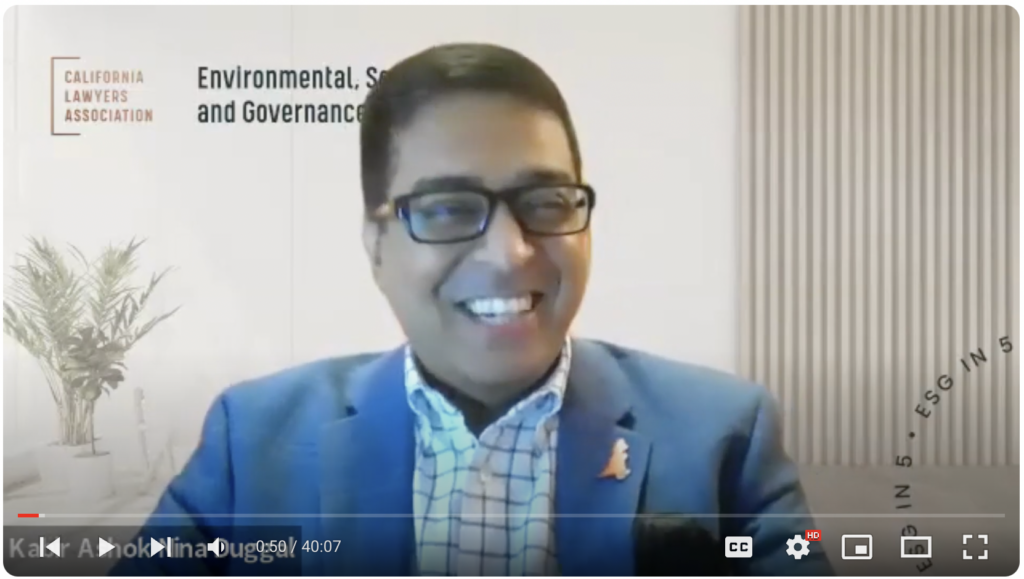 You can find these conversations at the ESG Committee's YouTube playlist link.
Kabir Duggal is an expert on International law and arbitration. He regularly acts as an arbitrator and mediator for international commercial disputes. He is a lecturer at Columbia and Fordham law schools and an attorney at Arnold & Porter.
With Kabir, we discussed the article that was recently published in the Harvard International Law Journal Online on the evolving nature of international business and human rights obligations. We discussed how business and human rights obligations have shifted from being mainly voluntary to increasingly becoming mandatory under various legal regimes. We also discuss how business and human rights issues can arise in the context of international arbitrations.
Howard Fischer is a partner at Moses & Singer LLP and a former Senior Trial Counsel with the Securities & Exchange Commission.
With Howard, we discussed his work at the SEC litigating financial crimes arising from the 2008-09 Financial Crisis and how that informs his current work advising companies on their obligations to investors under the current regulatory framework, as well as the potential new rules which are currently under review at the SEC.
Landmark Climate Legislation
Additionally, Governor Gavin Newsom recently signed into law SB 253 and SB 261. These laws require companies to obtain reliable information so that they can disclose how their operations might contribute to climate change. Importantly, this includes providing Scope 3 information from their supply chain.
SB 253 applies to companies doing business in California with annual revenues over $1 billion. It requires these companies to publicly disclose their emissions of greenhouse gases under Scope 1, 2, and 3.
SB 261 applies to companies doing business in California with annual revenues over $500 million. It requires these companies to publicly disclose information related to financial risks involving climate issues and the steps it has implemented to address such risks.
Patrick Miller is a member of California Lawyers Association's ESG Interest Group. He is the founding attorney at Impact Advocates APC, a Los Angeles-based law firm that focuses on commercial litigation and international arbitration, as well as ESG advisory services such as implementing responsible supply chain frameworks. 
---
Related Content