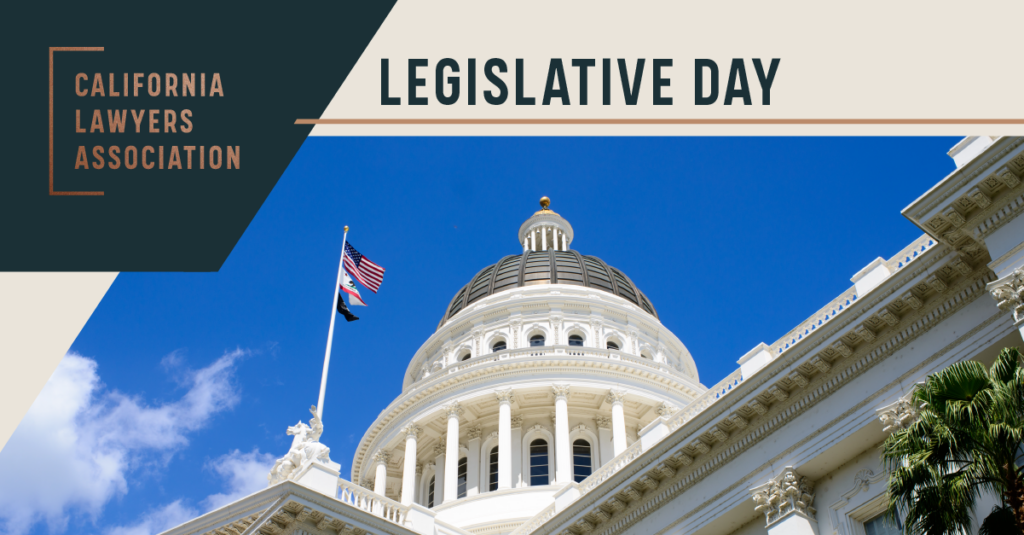 CLA held its Fourth Annual Legislative Day on April 6, 2022. It was a well-attended event with over 120 participants. The event began with the presentation of CLA's Legislator of the Year Award to Senator Thomas J. Umberg. CLA CEO and Executive Director Oyango Snell presented the award and expressed CLA's deep gratitude to Senator Umberg for his tremendous public service and tireless work on legislation that is integral to the daily practice of CLA members and improves the lives of all Californians.
Following the award presentation, we heard from speakers from all three branches of government who discussed legislative priorities and potential changes on the horizon. There was ample opportunity for questions and answers, providing an excellent opportunity to interact directly with key decision-makers. We deeply appreciate the insight provided by all of our speakers and their contributions to the success of Legislative Day: Cory Jasperson, Judicial Council of California, Director of Governmental Affairs; Assemblymember Mark Stone; Assemblymember Rebecca Bauer-Kahan; Stuart Thompson, Chief Deputy Legislative Secretary, Office of Governor Gavin Newsom; and Assemblymember Ash Kalra.
The CLA-wide Legislative Day session was followed by two breakout sessions. One was hosted by the Business Law Section and featured Kevin Gould, Senior Vice President, Director of State Government Relations of the California Bankers Association; Nicole Hisatomi, Deputy Commissioner for Legislation, Department of Financial Protection and Innovation; and Luke Reidenbach, Chief Consultant, Assembly Committee on Banking and Finance. The group had an in-depth discussion about pending legislation of particular interest to members of the Business Law Section. The second was hosted by the Privacy Law Section and had three speakers who provided their unique perspectives on this rapidly developing area of the law: Melissa Immel, Deputy Legislative Secretary and Chief of Legislative Operations, Office of Governor Gavin Newsom; Julia Spiegel, Deputy Legal Affairs Secretary, Office of Governor Gavin Newsom; and Irene Ly, Policy Counsel, Common Sense Media.
This year's Legislative Day was virtual – and was a huge success – but we are already planning a return to in-person Legislative Day in 2023.
---