CLA President Named a Top 100 Lawyer for 2019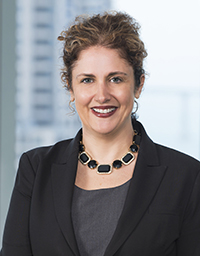 California Lawyers Association President Heather Rosing has been named a Top 100 Lawyer for 2019 by the Daily Journal legal publication. This is the second consecutive year she's been named to the list, which recognizes attorneys who are making an impact in California.
Rosing is also a former trustee of the State Bar of California and a shareholder and CFO of Klinedinst PC.
Rosing is concluding her tenure as the very first president of the California Lawyers Association.
Under her stewardship, CLA has quickly become recognized as the premier bar organization in California, reinvigorating the legal profession and providing programming to its members, while advocating and representing the interests of the legal profession in Sacramento.
In her law practice, Rosing has cultivated a nationwide reputation for her experience and skill in litigating complex malpractice and fraud cases, and in advising in the areas of ethics and risk management.
In recognizing her as a Top 100, the Daily Journal noted how Rosing also represents judicial officers in matters before the Commission on Judicial Performance.
A Certified Specialist in Legal Malpractice, Rosing's legal ethics expertise was on display as an advisor to the State Bar of California's Rules Revisions Commission. The Commission produced a package of new Rules of Professional Conduct that went into effect after California Supreme Court approval nearly one year ago, which was the first overhaul of the Rules in nearly three decades.
Rosing is also actively promoting diversity within the legal profession, having previously served as President of ChangeLawyers (formerly the California Bar Foundation). ChangeLawyers strives to create a more diverse legal profession, as well as a fair justice system that is accessible to all Californians. She has worked to improve access to justice through other organizations, including the San Diego County Bar Association, where she helped jumpstart the Servicemember Civil Relief Act program, as well as the San Diego Volunteer Lawyer Program. In 2016, the Earl B. Gilliam Foundation recognized Ms. Rosing and the firm with the organization's Corporate Commitment to Diversity award. This month, she will be honored by the San Diego Law Library Foundation with their Witkin Award for Excellence in Public Service.
"Heather is a trailblazer who has truly left a positive impact on California's dynamic legal profession," said John Klinedinst, CEO and Founder of Klinedinst PC. "Over the years, she has represented hundreds of lawyers and judicial officers in litigation and ethics matters, and has built a team known for creative, solution-oriented approaches to representation. Without question, her achievements and her advocacy work, advancing the legal profession at the local, state, and national levels, are simply without equal. We are incredibly proud of all that she has accomplished, and congratulate the Daily Journal on making the right choice in selecting Heather."
---