CLA Hosts Incoming ABA President
By Toni Jaramilla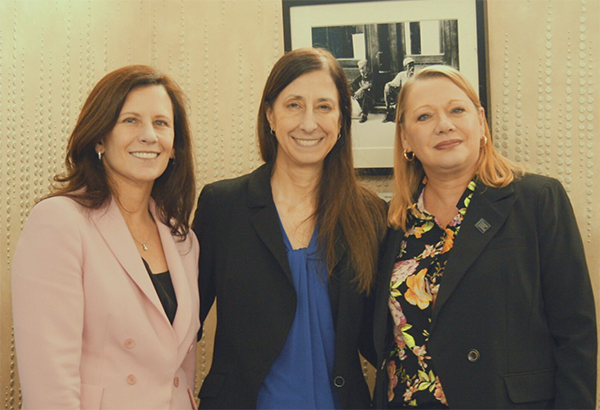 On February 10, 2023, at the City Club in beautiful downtown Los Angeles, California Lawyers Association hosted an exclusive luncheon and reception for Mary Smith, the incoming President of the American Bar Association. Smith is a member of the Cherokee Nation and is the first female Native American president of the ABA.
Oyango Snell, CEO and Executive Director of CLA, Laura Farber, Chair of the California Delegation to the ABA, and Jeremy Evans, President of CLA, each gave warm remarks and introduced Smith to invited guests. I attended as Chair of CLA's Diversity, Equity, and Inclusion Committee. Those in attendance were well known in the industry as diverse leaders from state and multicultural bar organizations, including the National Native American Bar Association, Mexican American Bar Association, Black Women Lawyers Association, and the National Asian Pacific American Bar Association.
The whole event centered around open conversations and Mary's vision for continued engagement.  Mary encouraged our participation and engagement with the ABA, stating that the ABA provides opportunities to lawyers that cannot be found elsewhere. Lawyers have the ability to develop a network of people on a national level, and it hosts conferences in Washington, D.C., on important topics in our practice areas. The ABA "has every possible committee that you can join," according to Mary. If you are considering joining a committee that addresses homelessness, racial justice, environmental issues, diversity, domestic violence, or just about anything, "the ABA most likely has that committee." Mary further remarked that the ABA is not a replacement for the local or statewide bar organizations that CLA members are involved with. Rather, the ABA can support and provide additional educational, networking, and leadership opportunities to enhance our practices and visibility in the legal community. 
Toward the end of the luncheon and before heading to the reception, Mary answered questions from guests who asked about her path to becoming the ABA President. She explained that she had been active in the ABA for years, serving as past secretary, and was the first Native American member of the ABA Commission on Women in the Profession. She previously ran for the position of ABA President but lost. During that time, she was even told that she "did not look like what an ABA president would look like." Smith took that loss in stride and learned from it. In the next election, she successfully beat her opponent.
As reflected in her ABA profile, Mary has served in several leadership roles at the ABA and in state and local bar associations. In the private sector, she served in a senior role at Tyco International Inc., where she managed a $60 million budget. She served as special counsel and estate trust officer at the Office of Special Deputy Receiver and was a partner in the woman-owned firm Schoeman Updike & Kaufman. She was also an attorney at Skadden, Arps, Slate, Meagher & Flom LLP in Washington, D.C., where she specialized in governmental investigations and securities class actions. Smith strongly supports increasing racial and gender diversity in organizations and in the legal profession and will lead the ABA with those goals in mind. We are incredibly lucky to have Mary at the helm of the ABA, the world's largest voluntary association of lawyers, judges, and other legal professionals.
CLA thanks Mary Smith, Jeremy Evans, Laura Farber and our incredible guests for joining our CLA Exclusive event. We will be hosting more events like these in the future as our mission is to connect changemakers with each other. Interested to learn more? Contact CLA today! Also, see more photos from the event.
---
Related Content