Symposium on Solo Success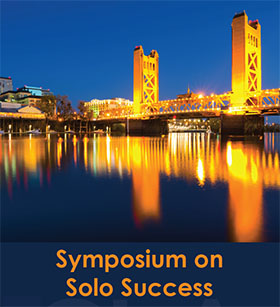 Friday, March 15, 2019
California Lawyers Association
400 Capitol Mall, Suite 650
Sacramento, CA 98514
Earn up to 4 hours of MCLE credit
Attend either in-person in Sacramento, or from your office via an online webcast!
For webcast attendees, purchase all 4 programs for 15% off

Attend In-Person: Register HERE
Attend via Webcast: Register HERE

More Links: Brochure | Registration Form
Our Sponsor
The Solo And Small Firm Section would like to thank its sponsors for their generous contributions:


Law Office of Jennifer Novak
Stackhouse APC
Sponsorships still available. Please contact John Buelter at john.buelter@calawyers.org
Program Schedule

9 a.m. – 9:30 a.m | Registration
9:30 a.m. – 10:30 a.m. | Featured Panel 1: Top Tech Tips for Delivering Superlative Client Service

Discover tools, techniques and trends that every lawyer should know to be proficient in utilizing technology, while delivering exceptional client service. The practice of law has evolved over the years, and the impact of technology has created significant challenges. Our speaker will discuss vital teachings on successfully utilizing technology to professionally respond to client expectations, competitor actions, and regulatory changes.

Speaker: Adriana Linares
10:30 a.m. – 10:50 a.m. | Break
10:50 a.m. – 11:50 a.m. | Featured Panel 2: Opening and Profiting from Your Small Law Firm

Tips and tricks on how to avoid the common pitfalls in opening a small law firm. Opening a law firm can be intimidating as client expectations and competition are changing the marketplace for legal services at a blinding rate. Successfully operating a small firm requires commitment and a positive work ethic. Learn important skills on how to tackle common business hurdles and snares. Be empowered to open a solo or small law firm that is profitable in any economy.

Speaker: Kyle Kveton, Esq.
11:50 a.m. – 12:30 p.m. | Networking Lunch
12:30 p.m. – 1:30 p.m. | Featured Panel 3: Essential Management Skills for a Solo and Small Law Firm

Best practices for the day-to-day management of a successful small law firm. Build a professionally recognized small firm, with a competitive advantage, in any area of law. Understanding law firm management requires an important skill set, which includes time management, billing, and client satisfaction. Learn important tips on managing client demands, heavy caseloads, and competition in any legal practice.

Speakers: Jeremy Evans, Esq. and Ellen Fenichel, Esq.
1:30 p.m. – 1:50 p.m. | Break
1:50 p.m. – 2:50 p.m. | Featured Panel 4: Expanding and Empowering Your Small Law Firm

Learn to successfully expand your legal practice and develop your law firm's brand. Maximize your legal potential through the addition of staff, networking, and marketing. Expanding a small law practice can be a daunting task for those who do not know insider tricks. It is important for business credibility and professional success in your field, to make your legal brand bigger. Learn successful tricks to opening multiple firm locations, without compromising on excellent legal service.

Speakers: Jon Webster, Esq. and Angela Cabral, Esq.
2:50 p.m. – 3 p.m. | Closing Remarks
Essential Information
Registration Fees
$220 Current Solo Section Members
$315 Non-Section Members (includes enrollment in the Solo and Small Firm Section for 2019)
$95 California Young Lawyers Association Members
**Onsite registration is $245 for Section Members and $340 for Non-Section Members
Brochure
A printable brochure is available for your convenience.
How to Register
For webcast attendees, purchase all 4 programs for 15% off

Attend In-Person: Register HERE
Attend via Webcast: Register HERE
Or, for in-person attendees, print the registration form and mail to:
Program Registrations
California Lawyers Association
400 Capitol Mall Way, Suite 650
Sacramento, CA 95814
Can't attend in person? This program will be webcast live. Come back here at a later date for a link to view the webcast.
On-Site Registration
On-site registration will be on a space available basis. Call to confirm space availability.
Pre-Registration Deadline
In order to pre-register, your form and payment to the California Lawyers Association must be received 5 working days prior to the program.
Cancellations/Refunds
Cancellations and requests for refunds must be received in writing no later than Thursday, March 8, 2019 and are subject to a $50 service charge. Refunds will not be available after March 8, 2019.
Special Assistance
For special assistance please call (916) 516-1753.
Questions
For registration information please call (916) 516-1757. For information regarding the program please call (916) 516-1753.
This event may be recorded. By attending this event, you consent to be photographed, filmed, and/or otherwise recorded, and to any use, by the CLA, of your likeness, voice, and name in any and all media including social media. If you do not want your name or photo to be used, please let us know in advance. We cannot, however, honor requests to opt out of the use of your image or voice if you choose to ask a question during one of the event sessions.
---