Announcing New E-News Editor Kyle Yaege!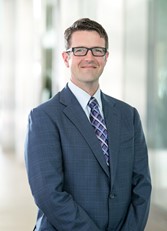 It is my pleasure to announce the new E-News editor, Kyle Yaege. CLA RPLS E-News is being left in truly capable hands.
Kyle is a real estate attorney out of downtown San Diego working with Hickman Robinson Yaege practicing both transactional and litigation related mostly to commercial real estate. He is the current chairperson for the San Diego County Bar Association Real Property Section which has had an exciting lineup of classes and other offerings even during these challenging COVID related times.
I have been handling this duty on and off for the past couple of years. We have a wonderful group who handles the Real Property Journal. The emphasis of the E-News was current event articles and personal interest content whether it was interviews or reviews of events. I like photos and smiles. Believe it or not attorneys can smile! It has truly been a lot of fun.
I want to thank our section Chairs during my stay: Gary Laturno, Christine Gregorak, Tom Lombardi, Neil Kalin, Steve Delateur, Tara Burd and finally Elizabeth Blair. What a great group of leaders! Gary phoned me one day and twisted my arm to do this job. It has been super fun. Gary's an immensely great speaker and a great mentor to many. I still think about his class "How Not To Die!" Christine was vital in helping our group redefine itself from the State Bar days. Tom and Neil were simply the best. Cool cats full of great ideas and incredibly supportive leadership. Both were very successful in engendering our group with concretely great ideas like the Crocker Symposium and What's Up With Us. Steve and Tara were a great mix of fun and business, like a virtual mullet but much more hip. We had some great fun events like the Summer Soiree and a plethora of great intellectual classes. Great job thinking out of the box! Elizabeth shepherded us through COVID. Look how damn strong we are! Under Elizabeth's leadership have more webinars and events than ever and compared to any other section. We may have lost over a year of in person events, but that will rubber band soon. The reins of RPLS ExCom leadership with soon be turned over to the ever steady and fantastic Jonathan Golding. I cannot wait to see what he does.
I want to thank Shawn Dhillon, our new Vice-Chair, for his job doing the E-News too.
The CLA staff has continuously offered great support. Honestly, most of the time I was getting compliments for the E-News, the credit should all have gone to Brian Foley and his crew. Brian really took the E-News to the next level with formatting and presentation. We worked with Brian and Tej Baath for a while to get the E-News redone. I really cannot say enough about how great they did. Joyce Tao, thank you so much for your help and patience with me. I cannot forget Mycah Hetzler who is our RPLS super Administrative Assistant. You do not hear it enough, Mycah, but you do a great job. Beth Pierce, holy moly we were lost without her. Thank you, Beth! Where are the photos of your growing fam? I also want to thank Ona Dosumnu for inspirational leadership. She left CLA for another post, but did a great job.
Well that's it, Mr. Yaege, I hand the gavel over to you.
J.R. Richards
---
Related Content