Interview with Judge Sherilyn Peace Garnett of the Central District of California
Judge Garnett was confirmed as a District Judge for the Central District of California in April 2022. Before becoming a federal district judge, she served as a Superior Court Judge for Los Angeles County since her appointment by Governor Jerry Brown in 2014. Prior to her appointment as a Superior Court Judge, from 2001 to 2014, Judge Garnett served as an Assistant United States Attorney in the Central District of California where she served as Domestic Terrorism Coordinator, Deputy Chief of the General Crimes Section, and Chief of the General Crimes Section. From 2008 to 2010, Judge Garnett also taught Legal Writing and Oral Advocacy at the University of Southern California, Gould School of Law.
Before joining the United States Attorney's Office, Judge Garnett worked as an associate at Arnold & Porter, LLC from 1999 to 2000. From 1998 to 1999, Judge Garnett served as a law clerk to the Honorable Barry Ted Moskowitz on the United State District Court for the Southern District of California. Following law school, from 1995 to 1998, Judge Garnett worked as an associate at Altheimer & Gray, LLP in Chicago, Illinois. Judge Garnett received her Bachelor of Arts degree, with honors, from University of California, Riverside in 1991, and her Juris Doctor degree from Harvard Law School in 1995.
In this interview, Judge Garnett discusses what motivated her to pursue the bench, her experience transitioning from state court to federal court, the experiences that influenced her as a jurist, her views on what makes a successful advocate, and the importance of civility in the courtroom, both to opposing counsel and to court personnel.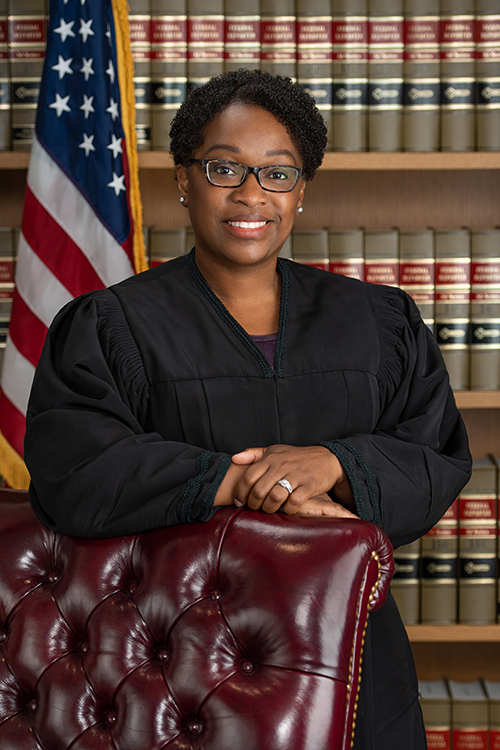 ---
Before joining the federal bench, you had a distinguished career in public service and private practice, having served as a Los Angeles Superior Court Judge, an Assistant United States Attorney at the U.S. Attorney's Office for the Central District of California (where you served as the domestic terrorism coordinator and as a Deputy Chief and Chief of the General Crimes Section), and as a litigation associate at law firms in Chicago and Los Angeles. What made you decide to pursue becoming a judge?  And what made you want to become a federal judge?  
The short answer is that I had reached a point in my career as an AUSA and in life where I felt I was ready to serve the community in a more neutral way and had wonderful mentors who were encouraging me to pursue a judicial role, so I applied. Later, I applied to the federal bench because I believed my background and varied litigation experience, especially handling cases in federal court, would allow me to contribute to the federal bench in a meaningful way. And, again, I had wonderful role models and mentors supporting and encouraging me along the journey.
I did not start my legal career with the intention of becoming either a state or federal judge. It truly was not something I had considered until shortly before I applied for each position. I went to law school thinking I would end up serving as a criminal defense attorney for indigent defendants but there learned about the work performed by other types of legal professionals. And I spent a good portion of my legal career exploring different advocacy roles in the legal field and enjoying them all. However, I was blessed early in my career to have served as a law clerk for Judge Barry Ted Moskowitz, who sits on the District Court in the Southern District of California and is one of my biggest inspirations and supporters for becoming an AUSA and then judge. As his law clerk, I was able to observe and learn from his kind demeanor on the bench, his strong work ethic, and his integrity and impartiality when deciding legal issues. Although those lessons stayed with me, it was his stories about serving as an AUSA that caused me to pursue a career as a federal prosecutor first. As an AUSA, I was fortunate to regularly appear before federal judges who also were wonderful role models. When I reached the point in my career where I was considering becoming a state and then federal judge, I naturally turned to Judge Moskowitz, as well as other judicial trailblazers before whom I had appeared over the years, for their sage advice and insight into the judicial role. It is because of them, as well as so many others who have encouraged me along the way, that I have been blessed to serve as a state and federal judge.
When you first became a judge, how did you find the transition from advocate to neutral? More recently, how have you found the transition from state court to federal court?
I did not find the transition from advocate to neutral to be difficult. Immediately before being appointed, I had been serving in a more administrative role as a section chief in the USAO, instead of appearing as a government advocate in court. As part of my administrative role, I was responsible for training new AUSAs and making sure they were anticipating and giving due consideration to both sides of legal arguments. Serving in that role helped me to transition more smoothly into the neutral role of a state judge.
Transitioning from a state to federal judge presented more of a challenge for several reasons. First, the state bench is divided into numerous niche assignments, which allows for more familiarity and specialization in specific areas of the law. Before being confirmed, I had been sitting in a criminal assignment in state court and was familiar with many of the substantive laws and procedures governing a criminal case. By contrast, being a federal judge for the last nine months has required me to be more of a generalist, but with each motion and trial I enjoy learning more about varied areas of the law. Also, although I was familiar with and anticipated the tremendous workload in the Central District, I did not fully appreciate how much time and effort would go into creating my office from scratch, including interviewing and hiring law clerks and externs, writing a manual and standing orders, selecting procedures and schedules, and setting up internal case management systems. My office continues to be a good work in progress. Finally, when I was applying to the federal court, one of my current colleagues said, "make sure you bring a friend." I laughed, then realized he was serious. The job can be isolating. On the state court, I was on the bench all day every day and enjoyed conversing daily with my "buddy" judge, judicial assistant, court reporter, and bailiff. On the federal court, I primarily work in chambers, except when I am in trial or holding a hearing. If I made no effort, I could go weeks without seeing or talking to another judge. Mostly, I converse with my judicial clerks, who are incredibly hard working, wonderful, witty, and intelligent, but are also half my age and, by virtue of their position, are deferential to me and somewhat understandably filtered. I did, however, join the federal bench at a great time. Over the last few years, quite a few new judges have also joined the bench. It is almost as if I did bring a lot of other friends with me and, hopefully soon, I'll be joined by a few more. I am also getting to know or becoming reacquainted with other district court, magistrate, and bankruptcy judges in the Central District, as well as in other districts, who have universally been warm, kind, and extremely helpful. Overall, though the transition has had its challenges, I am enjoying the experience.
What experiences have most influenced your approach as a jurist?
If I must narrow it down to just a few experiences, first it is my experience clerking for Judge Moskowitz. As stated previously, I experienced his kind demeanor in our daily interactions, his fair and thoughtful approach to cases, and his strong work ethic. I try daily to emulate those same qualities as a judge.
Second, it is my experience during law school when I volunteered during my third year as a defense lawyer for indigent individuals charged with crimes in Roxbury Massachusetts state court. I observed the fear and mistrust my clients felt of the criminal justice system. As a result, I spent an inordinate amount of time trying to convince some clients just to show up for their court appearances because they believed they would not be treated fairly. From that experience, I appreciate just how daunting the legal process can be, especially to a lay person unfamiliar with the legal system. For that reason, I always endeavor to be fair, personable, and respectful in my interactions with others, I take time to explain legal procedures to jurors, self-represented parties, and other lay persons who appear in court, and, in my spare time, I enjoy being a part of community forums where I can help to demystify the legal system and my role in it.
Finally, I remember clearly what it was like as a lawyer to appear, argue, and try cases in court. Having judges who were prepared, engaged, and patient went a long way towards making appearances, arguments, and trials pleasant experiences. I strive each day to be that type of judge.
Over the course of your career, you have worked with and observed many lawyers, both as a practitioner and as a judge, in both criminal and civil matters. Do you have any thoughts on what makes a good or successful advocate?
Yes, I have some thoughts. A good or successful advocate is prepared and knows both the facts of his or her case and the case law that governs the issue. He or she understand what it means to be an officer of the court and is prepared to address bad facts and adverse authority. He or she also understands what a case is worth, does not try to exaggerate or oversell facts, and does not waste time pursuing frivolous issues, arguments, claims, or defenses. Additionally, a good or successful advocate understands the value of continuing education and understands that he or she can be a zealous advocate for the client while still being civil to the opposing counsel.
What other advice do you have for practitioners appearing before you in court?
It is important to really know the facts and case law that governs your case and be prepared for questions because I tend to ask a few. If a matter remains on calendar for oral argument, it is because I have questions that were not necessarily answered by the briefing or applicable caselaw, and counsel's responses to questions during oral argument could play a pivotal role in how an issue is decided. When an attorney is simply reading from the briefs, it is not helpful because I have already read them. Also, counsel should be familiar and abide by the procedures and schedules of the judges for whom they appear so that they are meeting filing and deadline expectations. Most importantly, be civil, patient, and respectful of everyone else in court; speak slowly for court reporters; and be kind to courtroom personnel. Their jobs are hard enough.
Can you speak a little about the importance of civility and professionalism in our courts?
Civility is extremely important. It is very unpleasant as a judge to observe bickering, name-calling, and personal attacks being made in legal briefs and during oral argument. It adds nothing to the legal discourse, is completely unnecessary, and gets in the way of the parties being able to address the real issues in dispute. The Central District has Civility and Professionalism Guidelines on its website. Thankfully, since becoming a federal judge, I have only had to point the guidelines out to counsel one time because of incivility occurring in a case. Still, it was one time too many.
On March 30, 2023, Judge Garnett responded to questions by email that were posed by Eddie Jauregui and Allison Westfahl Kong. Mr. Jauregui is a partner at Holland & Knight in Los Angeles and chair of the Committee on Federal Courts, a standing committee of the CLA's Litigation Section. Ms. Westfahl Kong is a federal prosecutor in Los Angeles and the immediate past chair of the Committee on Federal Courts. Any views expressed herein do not reflect the position of Holland & Knight, the U.S. Attorney's Office, or the U.S. Department of Justice.
---
Related Content