For a PDF version of the ILS News, click here.
International Private (Commercial) And Public Law Development Highlights
This section focuses on developments of note that impact California transnational legal practice. While the developments below were collected by the editors from April 2022 to June 2022, the ILS NEWS welcomes Section members to bring other developments to our attention and invites readers to contribute related short updates.
OTHER INTERNATIONAL ORGANIZATIONS AND INTERNATIONAL AGREEMENTS
INTERNATIONAL CRIMINAL COURT (ICC)
In this edition of the ILS NEWS, we have extended the coverage on developments involving the ICC to commemorate its 20th Anniversary.
RECENT CHANGES IN EB-5 REFORM AND INTEGRITY ACT OF 2022
The EB-5 Reform and Integrity Act, 2022 (RIA), was signed into law by President Biden on March 15, 2022, as part of an omnibus spending package. United States Citizenship and Immigration Services (USCIS) administers the EB-5 Program, whereby investors (and their spouses and unmarried children under 21) are eligible to apply for a Permanent Residency in the US.
From the outset, under the Immigration Act of 1990 (1990 Act), immigrant investors have been required to prove that their investment funds have a legal source. Some investors have sought to evade these requirements through various ruses, including parking funds in a real estate escrow for six months or more, all of which has led the USCIS to require five years of financial records. This has proven to be burdensome to many investors; nevertheless, under the RIA, this has been lengthened to seven years. Moreover, the minimum investment amount for regular investments has been increased from $1,000,000 to $1,050,000, and for targeted employment areas (TEAs) from $500,000 to $800,000, a reduction from levels that were tentatively set in 2019. The differential rate of increase is considered significant: from 5% increase for regular investments, versus 60% for TEAs. If, as is generally assumed, the expected ROI for TEA investments is lower than for regular investments, and the risk higher, this narrowing of the gap could presage an end to the viability of many TEA projects.
Moreover, the investors who previously filed Immigration Petition by Alien Entrepreneur (I-526) or Petition by Investor to Remove Conditions on Permanent Resident Status (I-829) for adjudication, before the current changes in law, will have their eligibility preserved as of the date of their I-526 filing. In other words, they do not lose their status because of the repeal of the previous regional center law. According to USCIS, "An EB-5 regional center is an economic unit, public or private, in the United States that is involved with promoting economic growth." Regional centers sponsor job-creating projects, and pool together the capital investment of multiple investors for these projects. The concept of regional centers, with the pooling of invested funds and opportunity to count indirect job creation, did not appear in the 1990 Act. It has never been permanently incorporated into the EB-5 visa regime, and becomes a political football every time it comes up for renewal, usually on a five year basis. Congress again resisted urging from various quarters to make it permanent, and did add a number of new features, some positive and some burdensome. For starters, the stop-gap "renewal" of 2019 was repealed and replaced. In addition, an RC will be terminated if it does not report a project failure.
Renewal and Expiration – The regional center program has been renewed through September 30, 2027, i.e., for approximately 5½ years. If the minimum investment amounts appear long in the tooth, the five year term is positively anachronistic. Prior to the most recent expiration of the program, many practitioners were advising clients, especially those from China, to expect a waiting period of up to ten years for their green card, i.e., two life terms of the program itself, with no guarantee of renewal.
Pooling Arrangements – In the past, two or more immigrant investors could act together, a process called "pooling," without the need for a formal regional center, and could divide the created jobs among them. No more; any pooling of immigrant investors can only be done through an approved RC. This bewildering change, while a boon to attorneys and other professionals, will add hundreds of thousands of dollars to the cost of pooling. The only upside for the investors will be the ability to count indirectly created jobs.
Job Creation under EB 5 program – The requirement of ten full time "permanent" jobs has been retained, with some modifications:
No more than 90% of the counted jobs may be created indirectly.
For projects that require less than two years, construction jobs only qualify for a maximum of 75% of the jobs determined by valid methodology. (What's 75% of ten people?)
Tenant occupancy can count toward the total required if the employees are new hires and not transferred to the project from elsewhere.
As the approval process lengthened beyond the term of many RC projects, the concept of reusing invested funds began to emerge. (Curiously, scant attention has been directed to possible securities laws implications, including full disclosure and prohibitions on blank check companies.) The RIA has perpetuated this concept, with some modifications:
All required jobs must have been created prior to redeployment.
Upon redeployment, the invested funds may be used outside the geographical confines of the RC.
The original project was implemented without original change, and the original project has repaid the invested capital.
If any of the RC's new commercial enterprises (NCE) violate any redeployment rules, the RC is terminated.
Under this program, TEAs can be one of the following:
single census tracts with unemployment that is at least 150% of the national average
contiguous census tracts that have unemployment rates as above, or
rural areas with a population of fewer than 20,000.
Authority to designate an area as having high unemployment is now vested in the Secretary of Homeland Security (of which the USCIS is a part). This determination was previously made at the state level, using data provided by the Department of Labor. This aggrandizement of DHS authority is peculiar, to say the least.
Finally, the Reserved Visa Categories for EB-5 investor program – The total 10,000 annual EB-5 visas will include the following allocations:
20% – Rural areas, defined as having a population of fewer than 20,000 people.
10% – High unemployment areas, as designated by the Secretary of Homeland Security.
2% – Infrastructure projects.
Any allocated but unused visas will carry over to the following year, but not to a third year.
There are several additional details that a practitioner will encounter when setting up a RC or applying for an EB-5 visa. David Hirson of David Hirson and Partners, and Robert Divine of Baker Donelson have each published their analysis of the RIA, and their summaries are recommended.
[4] Attorney at Law, Wilson Elser Moskowitz Edelman & Dicker LLP
SPECIAL FEATURE: NAVIGATING ARBITRATION FRAMEWORKS ACROSS ASEAN AND CHINA
According to the 5th Edition of "ASEAN Matters for America/America Matters for ASEAN," published by the East-West Center in Washington in 2021, among the Indo-Pacific countries, the US has made the most foreign direct investments in the Association of Southeast Asian Nations (ASEAN). The total amount invested in ASEAN is more than that invested in China, India, Japan, and South Korea combined. Further, ASEAN is the fourth biggest goods export market for the US, while the US is ASEAN's second largest trading partner. With such a high level of economic and trading interactions between the US and ASEAN, lawyers should be equipped with knowledge on the dispute resolution mechanisms in both regions so that they are able to advise their clients at the contract negotiation phase or when a dispute arises.
In Asia, there is an increasing willingness among parties in business transactions to resolve their contractual disputes by arbitration, and the popularity of key arbitration institutions in the region has been soaring. According to the 2021 Queen Mary University of London and White & Case International Arbitration Survey, three Asian arbitral institutions, namely, the Singapore International Arbitration Centre (SIAC), the Hong Kong International Arbitration Centre (HKIAC) and the China International Economic and Trade Arbitration Commission (CIETAC) were respectively ranked as the second, third, and fifth most preferred arbitral institutions in the world. The growth in popularity in arbitration as a means for dispute resolution in ASEAN and China is also supported by the generally pro-arbitration stance taken by the countries in the region.
Rajah & Tann Asia (RTA) [5] realised that there was a gap to be filled when it came to online resources focusing on news and developments on international arbitration in Southeast Asia and the greater Asian region. This led to the launch of Arbitration Asia in 2021, RTA's one-stop resource covering the latest legal and regulatory developments, case alerts, and other happenings relating to international arbitration. Drawing on the considerable experience, expertise and resources in international arbitration within RTA, Arbitration Asia features articles and commentary from across the network of ten member firms in ASEAN, China and regional desks focused on Brunei, Japan, and South Asia. One of the value-added components of Arbitration Asia is the Country Chapters that set out key aspects of the arbitration framework of 10 jurisdictions across RTA's geographical footprint, namely, in Cambodia, Indonesia, Lao PDR, Malaysia, Myanmar, the Philippines, Singapore, Thailand, Vietnam, and China. Each Country Chapter discusses the following topics in the context of each jurisdiction:
the arbitral laws and judicial framework for arbitration;
the extent of adoption of the UNCITRAL Model Law;
the arbitral institutions within the jurisdiction;
the requirements for a binding and enforceable arbitration agreement;
the approach to issues of confidentiality; and
resolving questions of the applicable law and conflicts of laws issues.
A key aim of the website is to keep the content fresh and current. The editorial team of Arbitration Asia is working to add to these chapters, with upcoming topics such as dealing with proceedings commenced in breach of an arbitration agreement, the extent of tribunal powers and jurisdiction, and challenging the appointment of arbitrators.
If you have any queries about the Arbitration Asia website or even beyond its contents, please do not hesitate to get in touch with any lawyers from RTA's International Arbitration Practice, who are always ready to help you, or the Editors-in-Chief, whose contact details are as follows:
Ng Kim Beng
Partner, International Arbitration
Deputy Managing Partner, Rajah & Tann Singapore
T +65 6232 0281
E kim.beng.ng@rajahtann.com
Ben Dominic R. Yap
Partner, International Arbitration
Managing Partner, Gatmaytan Yap Patacsil Gutierrez & Protacio (C&G Law)
T +632 894 0377
E bdryap@cagatlaw.com
[5] Rajah & Tann Asia is one of the largest regional networks that brings together leading law firms and 800 fee earners across Cambodia, China, Indonesia, Lao PDR, Malaysia, Myanmar, Singapore, Thailand, the Philippines, and Vietnam. At the leading edge of law, we are a full-service legal network driven by multiple talents who understand local conditions and international standards, all working together towards one shared goal.
EXECUTIVE COMMITTEE
2022 CLA ANNUAL MEETING
This year, CLA will be hosting its Annual Meeting at the San Diego Hilton Bayfront from September 15, 2022 to September 17, 2022. In the past, we have received visiting delegations from Japan, France, Malaysia, Mexico, and Vietnam and we hope to have a large and diverse group of foreign attorneys attend this year. More to be revealed.
CLA and California Judges Association are hosting a Gala to celebrate the accomplishments of both organizations and donate to their respective Foundations which focuses on DEI projects, access to justice, civics engagement, and scholarship funding. The Gala will take place on Saturday, September 17, 2022 at the Hilton San Diego Bayfront Hotel. This year's Gala features the emcee talents of Andy Buckley (David Wallace from the hit show The Office).
FOREIGN BAR AND EXTERNAL RELATIONS COMMITTEE
Chairs: Joshua Surowitz and Harumi Hata
Any ILS member interested in joining the Foreign Bar and External Relations Committee of ILS should contact us at ils@calawyers.org. The Committee is currently scheduled to meet at 3 p.m. on the fourth Tuesday of each month. The next meeting will be on July 26, 2022.
PROGRAMS COMMITTEE
Chair: Richard Bainter
Anyone interested in organizing a webinar or interested in speaking about a particular topic that would be of interest to ILS members should email us at ils@calawyers.org. The Committee is currently scheduled to meet at 1 p.m. on the second Tuesday of each month.
IMMIGRATION LAW COMMITTEE
Chairs: Joshua Surowitz and Payal Sinha
OUTREACH COMMITTEE
Chairs: Agustin Ceballos and Brian Arbetter
ILS, in collaboration with the Los Angeles County Bar Association (LACBA), is hosting a virtual networking mixer on September 7, 2022 at 5 p.m.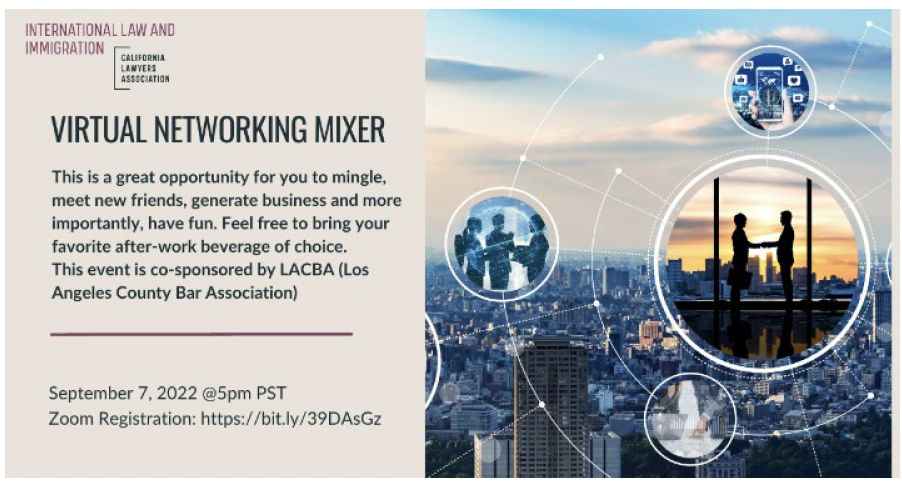 Network, mingle and generate business and friends. Most importantly – have fun. Feel free to bring your favorite after-work beverage (beer, wine, cocktail or anything else) if you are done working. We hope that you will join us. Click here for the registration link.
At the last Virtual Networking Mixer which was on June 1, 2022, at least 20 people attended the event. The host created several breakout rooms which allowed participants to speak with other participants in a smaller group setting. It was a great opportunity to meet so many attorneys and professionals from various background without having to leave your home.
Publications Committee
Chair: Cathy Carlisle
We produce several publications throughout the year for the benefit of our members. These publications are designed to keep members up to date about international legal developments in transnational commercial and public law, immigration matters, and ILS activities.
EVENTS BY OTHER ORGANIZATIONS, INSTITUTIONS AND GROUP
Join legal professionals from across the industry, in person, at the ABA Annual Meeting in Chicago! Connect and network with our diverse legal community, reach your professional goals by attending up to seven CLE Showcase Programs, and celebrate the achievements of the past year. For schedule of events, click here.
12/6/2022 to 12/10/2022 – International Anti-Corruption Conference (IACC) in Washington DC
The theme this year is "Uprooting Corruption, Defending Democratic Values." The conference will bring together decision-makers, activists, journalists, civil society groups and business people from over 100 countries and all walks of life. More information is available here.
UKRAINE 'ONE HEART' DONATION LIST
We must not forget about the ongoing war in Ukraine. We want to highlight the Ukraine 'One Heart' Donation List compiled by Lisa Atkinson[6].
According to Lisa, your donations will go directly to the people on the ground with no middle people, and no weapons are purchased with these funds. The donations go towards purchasing human aid such as baby, child, and orphan support, elder support, wounded support, food, sleeping bags, medicine/medical attention, safe in shelter refuge, safe travel and evacuation, mental health and emotional wellbeing treatment, and to help rebuild the country.
Website & social media updates. Email tax receipts for your tax deduction of donations, and accountability: proof of spending Reports emailed to you.
KSE has done great work, including finding school placements abroad for many Ukrainian University students, as well as foreign education partners to rebuild the Ukraine education system. KSE helps provide the people and citizen soldiers in need with food, transport, farming, reconstruction, and medical and equipment needs. Some of KSE's teachers and students have died in battle as citizen soldiers, so they have a clear idea of what to buy to save lives i.e.: helmets, bullet proof vests, night-vision binoculars, sleeping bags, drones, food, medicine, water filters, portable food rations etc.
You can email Kristina Khambekova, EE Programs Coordinator, at kkhambekova@kse.org.ua
Don Komarechka
Don is a photographer and Canadian (of Ukrainian ancestry). Last December he moved his family from Canada to Bulgaria. Don and other border citizens have voluntarily provided shelter, food & medicine to Ukrainian Refugees, and provided huge support to Citizen Soldiers. He provides updates and progress reports on his Facebook page.
Volunteers have raised money and driven to places where purchases are possible. Buying everything
from power generators, drones, and portable batteries for frontline defenses to food, medical, and surgical supplies. Volunteers then drive these supplies themselves directly to the Izyum neighborhood front-line citizen soldiers.
PayPal donations have slowed, and so Don is using his own money and any money raised from sales of his macro photography & books to keep the financial flow going. If you are interested, you can email Don at don@komarechka.com and send donations via PayPal.
Tvoya Opora (Your Support Foundation) has been operating for eight years. All the funds raised are spent on purchases of medicines, medical products, foodstuffs, hygienic items, and other humanitarian help.Due to the brave work of their volunteers, humanitarian goods are delivered to the hottest urgent spots in Ukraine. Help is needed constantly, as the numbers of injured grows higher and higher. The Foundation is the only Ukrainian member of the World Heart Federation. The Covid 19 project "Unite to Survive" is the largest Ukraine fund for Covid patient treatment and needs.
Zaporuka supports families with children affected by cancer and creates conditions for families to be together during treatment. Currently there are 13 ongoing medical projects including psychological assistance, physical rehabilitation, improvement of hospital conditions, provision of medical equipment, funding diagnosis and treatment abroad, education, and leisure in the hospitals and training for doctors.
SpivDiia is a volunteer P2P platform initiated by the Coordination Headquarters for Humanitarian and Social Affairs of the Office of the President of Ukraine. Using a technology portal that anyone can reach, and quickly apply for support, this service matches the needs of people in Ukraine with the abilities of each volunteer's support skills.
[6] Photographer, writer, and filmmaker
ILS News
Editor-in-Chief: Cathy Carlisle
Managing Editor: Melissa Allain
Please submit articles (150-500 words), ideas, comments, notices, current developments and new publication announcements to us at ils@calawyers.org.
Opinions expressed herein are those of the authors and are not necessarily those of the California Lawyers Association or of the International Law and Immigration Section.
BENEFITS OF JOINING ILS
Fastcase legal research – Free access to a powerful service that puts a comprehensive, nationwide law library at your fingertips (valued at $995/year).
Membership rate to the CLA Annual Meeting, Solo Summit, and other distinguished CLA events.
The California International Law Journal subscription – features in-depth treatment of important practice topics, forms of agreements used in international practice, and other information of interest to cross-border practitioners.
ILS NEWS – designed to keep members up to date about international legal developments in transnational commercial and public law and Section activities.
Monthly Immigration Update – designed to keep members up to date about immigration developments ranging from business based to humanitarian-based immigration issues.
Lexology feeds subscription – source of international legal updates, analysis and insights authored by national and international law firms. If you previously unsubscribed and would like to resubscribe, please update your preferences here.
Get high-quality MCLE content online in the format that works best for you: live webinars, on-demand video, downloadable podcasts, and self-study articles.
6.5 free hours of self-study MCLE Credit and one hour of free MCLE each month in the form of a webinar.
Up-to-date California legislation tracking.
Access toCLA Career Center.
Exclusive discounted offers on house appliances, car rentals and more at CalBar Connect.
SOCIAL MEDIA
Don't forget to follow us on social media – Facebook, LinkedIn and Twitter.
SPONSORS
For more information on how you and/or your firm might support the International Law and Immigration Section and receive acknowledgement, please email us at ils@calawyers.org.
---