Webinar: Ethics for Neutrals: Do I Need an IOLTA Account?
March 20
@
12:00 pm
–
1:00 pm
Special low price! 1 Legal Ethics; 1 Participatory MCLE Credits. Co-presented by the CLA Ethics Committee and the New Lawyers Section. Co-sponsored by the Los Angeles County Bar Association Alternative Dispute Resolution Section

Neil Wertlieb, Inaugural Co-Chair & Founding Member of the CLA's Ethics Committee and General Counsel at Milbank LLP, leads this timely discussion of a challenging area: How do the rules of professional conduct apply to a lawyer who acts as neutral and does not have a lawyer-client relationship? Some areas overlap with obligations that neutrals have in their role as neutrals (whether or not they are lawyers); e.g., all neutrals have obligations of confidentiality. These are the easy ones. What of those that do not exist for non-lawyer neutrals, like trust accounting rules?
Join this ethics discussion to ensure that your practice as a neutral creates no issues for your good standing as a lawyer.
Speaker: Neil J. Wertlieb
---
Non-Member Price
$55.00
Member Price
$25.00
Mediation Week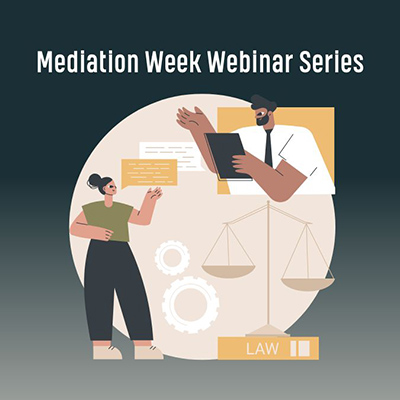 In California, the third week in March is traditionally recognized as Mediation Week. CLA is hosting a series of webinars in observance of Mediation Week to highlight the availability and benefits of mediation programs and to acknowledge the mediators and others who make those programs successful. Check out more webinars in this series:
---
Neil J Wertlieb is the General Counsel at Milbank LLP.
He is also an Inaugural Co-Chair & Founding Member of the Ethics Committee of the California Lawyers Association, and a former Chair of the Ethics Committees of the California State Bar and the Los Angeles County Bar Association.
Neil is a graduate of the program, "Mediating the Litigated Case," at the Straus Institute for Dispute Resolution, Pepperdine University School of Law, and has served as a Mediator, including on behalf of the Los Angeles County Department of Consumer and Business Affairs.
He practiced transactional law for over three decades, most recently as a Partner at Milbank LLP.
Neil has served as an expert witness in over 100 disputes involving business transactions and corporate governance, and in cases involving attorney malpractice and attorney ethics, and has provided expert testimony dozens of times.
He is an Adjunct Professor, teaching at UCLA and UC Berkeley Law Schools, and he's a Senior Advisor at Harvard Law School Executive Education.
Neil is the General Editor of Ballantine & Sterling: California Corporation Laws, a 7-volume treatise on the laws governing corporations and other business entities in California.