Webinar: Mediation Basics for New Lawyers
March 21
@
12:00 pm
–
1:00 pm
Special low price! 1 Hour MCLE. Co-sponsored by the Los Angeles County Bar Association Alternative Dispute Resolution Section

This program will focus on how newer attorneys can successfully represent their clients in mediations that lead to settlement.
Topics Include:
The timing of the mediation.
Drafting informative mediation statements.
Pre-mediation communication with the mediator.
Preparing clients for the mediation.
Use of joint and separate sessions.
Overcoming impasse.
Memorializing settlement agreements.
Post-session follow-up.
Non-Member Price – $35
Member Price – $25
Aaron Gothelf is Vice President of the American Arbitration Association's Commercial Division for the Pacific Region, overseeing California, Oregon, Washington and Alaska. He serves as the National Chair of AAA's Entertainment Dispute Resolution Advisory Council, and the Western U.S. Chair for AAA's Healthcare Dispute Resolution Advisory Council. Prior to joining AAA, Aaron was the Northern California Regional Director for Judicate West, a leading provider of mediation and arbitration services in California. 
 
Aaron currently serves as Educational Programming Officer of the ABA's Dispute Resolution Section. Is Chair of the ABA's Forum on the Entertainment & Sports Industries, Motion Pictures, Television, Cable and Radio Division. Is a member of the ADR Committee of the Litigation Section of the California Lawyers Association and is on the Advisory Board for the USC Gould School of Law Institute on Entertainment Law and Business. He holds a BA and MA from the University of Southern California, a J.D. from the City University of New York School of Law, and a Mediation Certificate from the Bar Association of San Francisco.
MEDIATION WEEK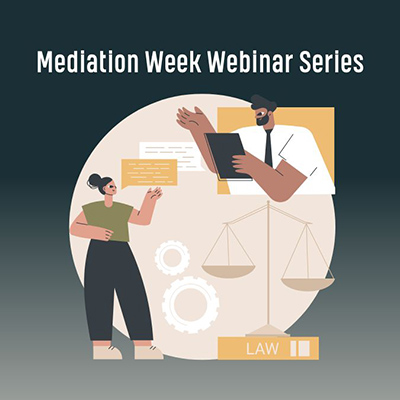 In California, the third week in March is traditionally recognized as Mediation Week. CLA is hosting a series of webinars in observance of Mediation Week to highlight the availability and benefits of mediation programs and to acknowledge the mediators and others who make those programs successful. Check out more webinars in this series: