Webinar: The Art and Science of Listening in the Midst of Conflict: How to Do it and Why it Matters
March 23
@
12:00 pm
–
1:00 pm
1 Participatory MCLE Credits. Co-sponsored by the Los Angeles County Bar Association Alternative Dispute Resolution Section

There is far more to effective listening than meets the ear. In the midst of conflict, we need to help both/all sides to feel heard, understood, and respected. That begins with our own listening of the parties, and includes listening simultaneously on three distinct levels: listening to me, listening to you, and listening to us. When this is done well, we not only obtain a better understanding of the facts of the dispute, but also a better felt sense of who the parties are, the ways in which they have contributed to and co-created the dispute, and the ways in which interests of both/all sides can be met in crafting a solution. All of this is backed up by the latest findings of neuroscience, which will be discussed.
Speakers: Dana Curtis and Stephen H. Sulmeyer
Moderator: Serena K. Lee
---
Non-Member Price
$55.00
Member Price
$25.00
MEDIATION WEEK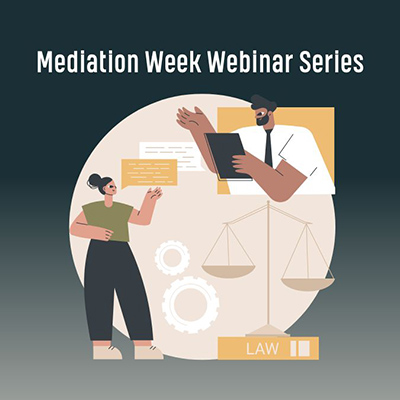 In California, the third week in March is traditionally recognized as Mediation Week. CLA is hosting a series of webinars in observance of Mediation Week to highlight the availability and benefits of mediation programs and to acknowledge the mediators and others who make those programs successful. Check out more webinars in this series:
---
Dana Curtis is a pioneer and leader in the Bay Area alternative dispute resolution (ADR) field. She was among the first attorneys in the country to devote her career exclusively to mediation, beginning her full-time practice in 1991, before most lawyers could distinguish between mediation and other forms of ADR. Since serving for four years as a Circuit Mediator on staff with the U.S. Court of Appeals for the Ninth Circuit, Ms. Curtis has maintained her Sausalito-based practice, Dana Curtis Mediation. The Los Angeles Daily Journal has recognized her as one of the 50 "Best Neutrals" in California.
Ms. Curtis is experienced in a wide range of ADR processes (training, mediation, early neutral evaluation, special master and independent fact-finding), all within numerous legal subject areas. She offers an individualized approach focused on identifying the parties' needs and identifying the challenges presented by each individual case.
Prior to becoming a mediator, Ms. Curtis served as law clerk to Associate Justice Edward A. Panelli of the California Supreme Court and practiced commercial and employment litigation in San Francisco and San Jose. Before becoming a lawyer, Ms. Curtis was a community college and a nationally recognized high school teacher in Idaho.
Stephen H. Sulmeyer, J.D., Ph.D., joined JAMS in 2019 as a full-time neutral after 20 years as a mediator in private practice. With a dual background as a commercial and intellectual property litigator as well as a clinical psychologist, Dr. Sulmeyer specializes in the settlement of disputes involving professional and intimate relationships (such as family law, probate and estate planning, elder law, closely-held and family businesses, workplace/employment, sexual harassment and partnership disputes), disputes involving high levels of conflict and emotion (such as professional liability, personal injury, partnership dissolutions, and family law), as well as commercial and business disputes. As a mediator he brings a high level of sensitivity and empathic skills that are particularly useful in cases involving party vulnerability (such as sexual harassment, discrimination and personal injury matters). His skill at working with the human issues that drive disputes has earned him a reputation for resolving the most challenging high-conflict and high-emotion cases.