Meet Criminal Law Section Executive Committee Member Kevin M. Lally
Welcome New Criminal Law Section Executive Committee Members!
The E-Bulletin will be featuring short biographies of our new ExCom members. This month we are featuring Kevin M. Lally. We are fortunate to have such qualified new ExCom members. If you are interested in joining us on the ExCom, feel free to submit an application.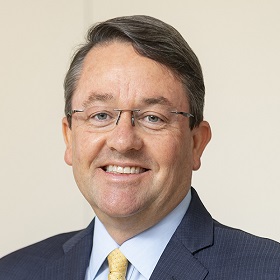 For nearly two decades, Kevin served as an Assistant United States Attorney in the United States Attorney's Office for the Central District of California, most recently as senior litigation counsel in the Major Frauds Section. During his tenure as a federal prosecutor, including five years as Chief of the Organized Crime Drug Enforcement Task Force Section, Kevin led several of the highest-profile and heaviest-litigated cases brought with the district, including five RICO cases that he successfully prosecuted. Kevin tried 15 cases, including four multi-month trials, and secured the conviction of every trial defendant on a broad array of charges that included numerous financial crimes, money laundering, false statements, perjury before the grand jury, trial perjury, and obstruction of justice.  Kevin was named Prosecutor of the Year by the Los Angeles County Bar Association after prevailing in the three-month RICO trial of celebrity private investigator Anthony Pellicano and the accompanying two-month wiretapping trial of Pellicano and attorney Terry Christensen.  Kevin also received a CLAY award from California Lawyer Magazine after prevailing in a separate multi-month RICO case that included charges stemming from the murder of a 23-day old baby.  He has drafted several dozen briefs and argued 18 cases before the 9th U.S. Circuit Court of Appeals, including a sweeping victory in the consolidated Pellicano appeals for which he received from DOJ a Director's Award for Superior Appellate Performance. 
Kevin also supervised the successful prosecution of the nation's first drug-based Hawala money laundering trial, which DOJ recognized as the 2018 Transnational Money Laundering Case of the Year, more than a dozen additional RICO cases, and the indictment and guilty plea in the district's first cryptocurrency money laundering case. Finally, Kevin led the development and operation of a DOJ award-winning and nationally-modeled opioid enforcement program that utilizes advanced data analytics and fraud-based charges to target physicians, pharmacies, and medical clinics engaged in illicit drug diversion.
Since joining McGuireWoods in 2019 as a member of its Government Investigations & White Collar Section, Kevin has represented financial institutions and other businesses in grand jury proceedings throughout the West Coast. He also has conducted multiple internal investigations, obtained a dismissal with prejudice on behalf of a leading telecommunications company in a suit involving the alleged illicit disclosure of protected communications, secured the release of $10,000,000 in seized funds to pay for a client's legal representation, and been named by the National Law Journal as a 2020 Criminal Law Trailblazer.
---