By Michelle Harmon, LCSW, LAP Program Supervisor & CLA Health and Wellness Committee Member
When I was a kid, all I wanted was a dog. I really, really, really wanted a dog. I asked my parents for a dog for every birthday and holiday and they always said no. No matter how much I promised that I would clean up after the dog, or how many times I bribed extended family members to promise to look after it if we ever went on vacation, the answer was always a firm "no."
My dad must have felt bad denying me so often because he eventually gave me a stuffed dog named Muttsy who became my constant companion. I would take Muttsy on walks around the house and pretended she was a real puppy. As I grew older, I stopped playing with her as much but Muttsy still came with me to my college dorm room.
As I grew older and more established in my career the thought of owning a dog seemed like a luxury I didn't have time for. Either my apartment was too small, or I didn't have a yard, or I was taking care of babies that took every last ounce of my energy. But then, 2020 happened. Like many families, we suddenly had long stretches of extra time. I soon realized that the diversion of training a puppy could be great for the entire family.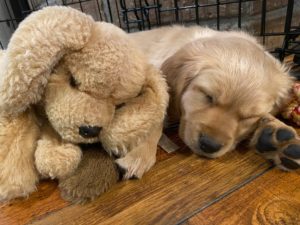 And that is how the "Year of COVID" turned into the "Year of Bingo" – the Golden Retriever, Poodle, Cocker Spaniel mix named after a puppy on the Australian cartoon show Bluey. (As a side note – Bluey is another one of our favorite discoveries during COVID.) Bingo is the best friend I have been waiting for since childhood. Bingo doesn't care if I have the "COVID Blues" some days; she is always there with a paw and a cuddle. Bingo is great at reminding me to be present in the moment. It is very difficult to be "in your head" when a 20-pound ball of puppy energy is demanding that you throw her favorite ball across the yard, repeatedly, for 15 minutes straight. She has encouraged (ok, forced) me to be more active – especially when I just want to sleep for 10 more minutes. She is really insistent about that pre-coffee, pre-toothbrushing morning walk! Not to mention the exercise I get when trying to get back a stolen Barbie or video game controller that she wants to play keep-away with.
Like many folks, I'm not leaving the house much during quarantine, but whenever I come back after a trip to the store or office, she greets me with so much joy I have to smile no matter how stressed I was before. When was the last time any of us have personally experienced anything akin to the unrestrained joy of a puppy seeing you after a long day at work? When she is excited, her entire body vibrates with joy. Bingo has reminded my family that joy is contagious and is best experienced as often and as deeply as possible. And as for entertainment, I never get bored of watching her try to figure out a treat puzzle, chase her tail, or run "zoomies" in loops around the living room and yard.
Finally, Bingo taught me that even though you can't always get what you want, when you want it, sometimes childhood dreams do come true. As it turned out, Bingo looks exactly like that stuffed animal, Muttsy, my dad gave me all those years ago.
---