Interview With Oyango A. Snell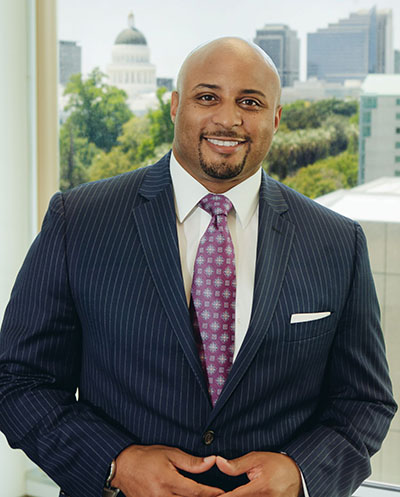 Oyango A. Snell, former in-house counsel for the Western States Petroleum Association, was named CEO and Executive Director of CLA last month following a nationwide search. We interviewed him shortly after he started on Dec. 13. Following are some excerpts from the interview: 
You've only been on the job a short time. What's your impression of CLA so far?
In my brief time, my impression of CLA is that we have a rich history, obviously through decades and decades of content development and work led by the Sections under the State Bar of California, but we have barely scratched the surface as an association. The future is extremely bright for our members, leaders, and professional staff. We have an opportunity to become the best place to work for our dedicated, talented professional team. We have an opportunity to become a premier and the best voluntary bar association of choice for legal professionals, to serve as a resource for our members, and to enhance society through our access to justice initiatives and dedication to diversity, equity, and inclusion throughout the legal profession. So, my impression so far is one of respect and admiration of our rich history, and optimism and hope for CLA's future.
What's your impression of the members you've had a chance to meet?
I am extremely impressed by the passion and commitment of our member leaders. Many of them have demanding careers, families, community service commitments, and yet they make time to volunteer to enhance the legal profession throughout the State of California. Our member leaders demonstrate that they really care about the future of the legal profession – not just their jobs or practice. That is an example of servant leadership, by which I am particularly impressed.
CLA has been working on a strategic plan. How will this guide your first six months to a year on the job?
Significantly! The strategic plan will serve as CLA's north star and will guide our work for the foreseeable future as we continue to grow as an association. However, we must remain nimble to address unforeseen circumstances that could not have been forecasted during the planning stages of the strategic plan. One thing that is important to note is that the strategic plan implementation by CLA will continue to rely upon the magnificent work, content, and strong leadership that the Sections have provided for years.
During the interview process, did you discuss specific goals for CLA?
Absolutely! I was full of ideas during the interview stage. I even created a 90-day plan and presented it to the Board of Representatives to show how serious I was as a candidate. You see, I have been a member of CLA since I arrived in California in 2017. So, from a member perspective belonging to three or four sections, I was full of opinions and ideas. But as I settle in as the CEO and Executive Director, I am working with our professional leadership team to determine what is practical in the short, medium, and long term. However, I will share one idea I think is extremely important and that I hold a great deal of passion for. I would like CLA to develop a curriculum and host a leadership academy that bridges our diversity, equity, and inclusion efforts with cultivating leadership opportunities for new lawyers throughout CLA and the profession. I genuinely believe that our work must be focused on those that come after us—the next generation of leaders. Thus, one of my core tenets in the role of CEO and Executive Director will always focus on the future of the legal profession and how we are preparing the next generation of leaders for success.
How do you see your role as CEO & executive director?
Threefold. First, as a servant-leader, I see my role as CEO and Executive Director as one of service to our members, to our leaders, and to our professional staff. Second, as a macro visionary and strategist, I see my role as an architect and facilitator of transformational organizational change. And lastly, as an unapologetic advocate for women and people of color, I see my role as an ally that works with all our members and leaders, no matter their backgrounds, to break down systemic barriers to achieving the equity that is required in our legal profession to realize a just society.
How did you end up pursuing a career in association management?
It was not by design. After graduating from law school at The Ohio State University, I began practicing law for an Ohio-based law firm that had a strong government and association affairs practice. With my firm mentor, I handled matters for multiple national and state association clients from the financial services, insurance, and construction industries. I helped other partners coordinate and create statewide trade associations and became one of the lead counsels for the Association of Ohio Life Insurers and Ohio Association of Health Plans. I developed a passion for association work. The members were awesome to work with, and I was met with much legislative and regulatory success as a government affairs professional. My early years as a lawyer introduced me to associations as a career choice, but it was, and always has been, the members and the work that moved me.
Where are you from?
My roots stem from Chicago, Illinois where I was born and raised. The south side of Chicago was tough. It gave me grit and a few scars. But I came of age in Ohio, after graduating from a historically Black College, Central State University, where I played football and was very involved in student government. After being rejected from several law schools of choice, I earned an internship with the Ohio House of Representatives—and Columbus, Ohio, became my home for 13 years. I was very entrenched in the social services community in Columbus, but eventually earned my spot and went on to law school, and began practicing with a law firm and later as a solo practitioner, and government attorney. Most of my professional career, however, was spent as a legislative and regulatory lobbyist and I had a short stint in politics before moving to Washington, D.C., to experience government affairs and lobbying in the nation's capital. And now, here I am in California! So, that gives you a little insight into how I got here today.
What brought you to California?
I was living in Washington, D.C., and my wife and I were in the process of remodeling a couple of properties and eight months pregnant with my second son when I received a LinkedIn message from a recruiter at Major, Lindsey & Africa. I was asked to consider the first in-house general counsel role for a regional energy trade association based in Sacramento. After several conversations, I was extremely interested in the position. And as the saying goes, the rest is history! The idea of warm weather in California, the opportunity to take on the challenge of learning more about the energy industry, and relocating closer to my in-laws were all key factors in my decision. I was not aware at the time of rolling blackouts, wildfires, and gentle earthquakes. But that is another story. Prior to joining the energy industry, I had never served as general counsel for a client in my legal career. But I was motivated by the opportunity to build a legal operation within an association from the ground up.
What are you most looking forward to?
Achieving greatness! Associations help change the world. And associations are comprised of people. And CLA, no different than any other association, is a people business. To that end, I am really looking forward to mixing it up a bit and learning from our dynamic, talented professionals, members, and leaders as we go through the process of writing our story as an association. The history as to how we got here is written, but the journey as to where we are going, and what we are to become, rests with the ability for us to come together as one industry association and dominate! Now that is the exciting part for me, and I hope that our members, professional staff and leaders are equally as excited to begin the work of achieving greatness, together.
Can you tell us something about yourself that people might be surprised to hear?
I have a lot of shoes. I mean, I have a lot of shoes. I am not a sneakerhead—as in a collector. But I really enjoy shopping for shoes. I enjoy an awesome wingtip, derby, and an oxford. But I also love a colorful, unique-constructed sneaker. Another factoid that people might be surprised to hear about me is that I build furniture—tables, bed frames, benches, rustic doors, etc. I love it! I really enjoy building things and working with my hands. It is blissful and somewhat liberating!
---