By Jim Hill, CLA Board Chair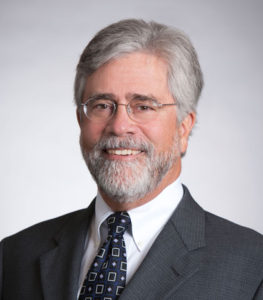 What a difference a year makes! At this time last year, the 16 Sections of the State Bar of California were hard at work planning for the future – soon to be separated from the State Bar of California after decades of administrative support and oversight.
Last December, leaders of the Sections and the California Young Lawyers Association (CYLA) met in Los Angeles to draft our formative bylaws and begin adopting core policies and procedures to help guide the new California Lawyers Association (CLA) into its new realm, as THE bar association for all California lawyers.
Scores of Section volunteers, many experts in their respective fields of practice, performed this foundational work. But importantly, we had the support of dedicated State Bar employees, many of whom continued to serve key roles in this first year of our existence. An interim contract with the State Bar ensured that the work of the Sections and the CYLA would not suffer interruption as the CLA got off the ground. Key staff leaders who helped us this year in our launch included Pam Wilson as our interim (and first) executive director, as well as Tricia Horan, our first associate executive director, and Saul Bercovitch, our director of governmental affairs. Many of our longtime staff stayed on, and a few are continuing forward with us into the future under our CLA mantle, including Brian Foley, Kristina Robledo and John Buelter.
Wilson will take on a new role in the coming year heading up our online MCLE program resources and catalog and special projects, which maintains for the CLA Pam's specialized knowledge and expertise gained after heading up the State Bar's Section Education and Meeting Services division. Both Horan and Bercovitch have taken on permanent full-time roles with the CLA. We couldn't have launched the CLA without them, and we are so happy that they are continuing in support of the CLA.
Starting Jan. 2, 2019, all will be working with our new Executive Director, Ona Dosunmu, formerly with the Brookings Institute in Washington, D.C. Dosunmu is getting a head start by meeting key stakeholders in the legislature, judiciary and the State Bar. Dosunmu's first order of business is to move in early January 2019 to our new headquarters space on Capitol Mall in Sacramento. Currently under construction, it will soon house our growing support staff and meeting space that will be available for our CLA and Section members.
I am proud to report that our foundational CLA bylaws and policies – most of which were created from blank slates to fit the special purpose and needs of the CLA – are helping us function as planned. Most importantly, each of our Sections and the CYLA has adopted its own sets of governing bylaws. You can be assured that as members of the CLA and the Sections of your choice, you will continue to enjoy all of the programs, publications, legislative commentary and opportunities for networking and interfacing with leading practitioners across the state, that were available before.
I am even more proud that we have emerged into so much more now than just a loose confederation of Sections, which many regarded us when part of the State Bar. Now, each of our Sections, including the CYLA, are even more visible and are recognized throughout California, across the nation and beyond our borders as the voices of California lawyers in their areas of expertise and special interests.
This sea change was most clearly seen at the first CLA Annual Meeting Sept. 14-15, 2018, in San Diego. We met as a true, independent statewide bar association. Addresses by American Bar Association President Bob Carlson, California Chief Justice Tani G. Cantil-Sakauye and recently retired California Supreme Court Justice Kathryn Mickle Werdegar welcomed us into our new role. Chief Justice Cantil-Sakauye performed a moving swearing-in ceremony for the CLA Board of Representative members, CLA officers and executive board of the California Judges Association.
The excitement and enthusiasm for the CLA was palpable and is being carried forward now in the planning for our second CLA Annual Meeting, set for Monterey, on Oct. 11-13, 2019. This venue's larger meeting facilities will accommodate so much more in the way of expanded educational programs, which attract so many of you. As important, we will be able to offer greatly expanded networking to allow you to join with other California lawyers and members of the judiciary to communicate and collaborate in areas of need and interest to the broad and diverse California legal community.
The core work of the CLA continues to be done by hundreds of California volunteer lawyers, taking time away from our families and places of work, giving back to the profession we all embraced when we were first admitted to practice in California. We are so impressed by the terrific work produced by our hundreds of Section volunteers producing meaningful education programs; timely and scholarly legal publications; insightful legislative analysis, commentary and legislative proposals; and opportunities to interact with other lawyers across the state.
The best measure of our success is that we have maintained our membership numbers, some 100,000, since we emerged as an independent voluntary 501(c)(6) nonprofit membership association, which immediately freed up our members to communicate and create work product without restrictions that existed when we were part of a state public agency.
OPPORTUNITIES FOR NEWLY MINTED ATTORNEYS
One of the most exciting changes is an emerging work in progress – the reinvigoration and restructuring of the California Young Lawyers Association. The CYLA provides one of the largest blocks of members to the CLA, some 50,000 strong, defined demographically as lawyers admitted to practice in California fewer than eight years.
The CLA's commitment to the CYLA and its young and emerging lawyers is evident in our new structure. Bylaws adopted by the CYLA and the CLA in June 2018 ensure synergy between the groups. Each of the 16 Sections now provides a young lawyer liaison to serve on the CYLA's executive committee, joining the CYLA's current officers and at-large members. This brings directly to the CYLA's board the special interests of and opportunities to work with the appointing Section's own executive committee and provides to each appointing Section the perspective of the CYLA and young lawyers. The young lawyer appointees will have expanded opportunities for involvement in Section publications, programs and legislative activities, as well as mentorship opportunities to ensure the training and nurturing of new members and new leaders for the Sections and the CLA as a whole.
Throughout the coming year, the CYLA and its Section liaisons will work with the CLA and its Sections to produce relevant programs directed at emerging lawyers, particularly in areas to develop practice skills, to offer "Lessons Learned/Tips We Wish We Had Known," and to present specialty programs emerging lawyers face, like how to deal with burdensome law school debt and how to start solo and small firm practices. Two key CLA leaders, CLA Vice President Emilio Varanini and CLA Director of Bar Relations, Collaborations and Special Projects Ellen Miller-Sharp will be working with CYLA's leadership team on strategic implementation, communication and other issues. In short, the entire CLA leadership is committed to fulfilling the CYLA Chair Martin Behm's promise, "Put briefly, CYLA celebrates, invigorates, connects and supports all new California lawyers."
We have accomplished more than many thought we could in our short first year of existence as the first statewide voluntary bar association for all California lawyers. We have so much more to do in the coming year. You will be hearing more, including our asks for your encouragement and support as we expand our brand and our outreach to include more California lawyers. While we are already the largest statewide voluntary bar association in the nation, with more than 100,000 members, our potential is so much greater, with approximately 250,000 California lawyers admitted to practice here. The more who join the CLA by joining one of our Sections, the more we are able to do for California and its diverse population. That is our commitment. Join us in all we do
---