The California Lawyers Association Workers' Compensation Section Confers Judge of the Year Honors on the Honorable Christopher Miller of the Oakland District Office
On This Special Occasion-An Enews Feature Interview with Judge Christopher Miller by Judge Therese DaSilva of the Oakland District Office
This year, the Worker's Compensation Section has conferred the Judge of the Year Award on Judge Christopher Miller.  The criteria for judicial nominations includes knowledge of the law, temperament, courtesy, timeliness of decisions, judicial clarity of decisions, and contribution to the practice of workers' compensation.  Judge Miller holds court at DWC Oakland where he was sworn in as a judge in 2004.  He has served on the State Bar Workers' Compensation Executive Committee and has been as a featured speaker for many continuing legal education conferences for applicant and defense attorneys alike, as well as DWC Judges' Training.  During the nomination process, Judge Miller was described as "a true legal scholar and an even-handed judge" who "always strives to reach a fair result and is incredibly conscientious."  Nominations came from both sides of the bar. 
Judge Miller recently reflected on two of his most popular decisions, Dahl and Kite.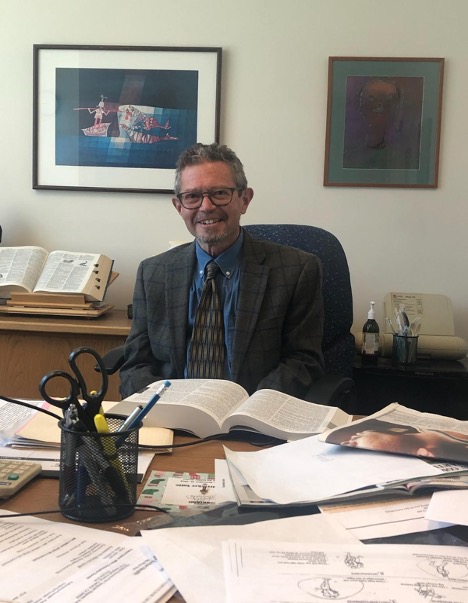 Question: Whenever an injured worker is unable to return to their job, rebuttal of the scheduled permanent disability ratings under the AMA Guides is inevitably an issue. You were the trial judge in the 2015 case Contra Costa County v. WCAB (Dahl) [citation] which is a seminal case on rebuttal of the schedule by use of a vocational expert. Your original opinion was correct according to the Court of Appeal.
Yes, but I was still reversed twice. I issued my first decision right after the last decision in Ogilvie [citation]. I felt that that decision cut out the underpinnings of all rebuttal cases and so without any guidance, I found that Ms. Dahl failed to rebut the schedule. Then the Appeals Board sent it back to me, and I heard testimony again from the vocational experts and followed the Appeals Board's lead and got reversed again.
Another common method to rebut the permanent disability rating schedule is by calculating the injured worker's disability by simple addition rather than using the Combined Values Chart pursuant to Athens Administrators v. WCAB (Kite) [citation]. Kite firmly entrenched the word "synergistic" as workers' compensation lexicon.
The part of the Kite decision for which it is often cited was easy: The doctor gave it to me. The other part was interesting too, though. I recall defendant wanted a 15% bump down because the employee had returned to work. But he returned to work on his own volition with no advice letters and no return to work offer. There's a list of assurances in those papers and the employee got nothing of that. He took it upon himself to go back to a very physical job. So, in the end, the employee ended with a bump up.
When the parties at trial see the facts differently, do you discuss this before proceeding on the record?
Some days, parties walk into the hearing room and one is looking east towards mountains and the other west towards the sea and they see no facts in common. And a judge is allowed broad discretion to share what they think about the facts. You can do a fair amount of that and I do. I telegraph quite a bit. A recent case outlined some of this discretion, and it is well-settled that initial opinions of a judge on the facts do not constitute evidence of bias or prejudice. Where the judge is to interpret evidence, weigh credibility and make findings, a statement beforehand, even if it is erroneous, does not show bias or prejudice. Once the case is submitted, if the facts change, my opinion will change. I will tell the parties, this is what I see, this is what this doctor says, so what do you have to the contrary? Or else I will say that I know some case law to the contrary. Often, if the judge suggests a course of action, the parties will go off and do it. Actually, the most rewarding part of my job is helping people to see each other's points of view and resolve their differences.
Do you have any words of advice for attorneys at trial?
I appreciate honesty and candor. I do not appreciate dishonesty and hiding the ball. An attorney gains serious points with any judge by being honest, or by admitting your client is recalcitrant or there are other deficiencies in your case. Judges file this stuff away. If a certain person says something, I know not to believe it. In one judge's mind, once you establish your reputation as an honest, straight shooter this goes a really long way. To paraphrase somebody, it may take a lifetime to establish your good reputation, but it takes only a moment to ruin it.
What is there for an attorney to do at trial? Prepare in advance. If you fail to prepare, I will make you take up trial time to do it. And, remember legal reading and writing the way they teach it in law school, using case law with proper citations. The lawyer's job includes distinguishing contrary authorities; don't ignore the law. Remember what they taught you in law school. And, don't forget to proofread.
It isn't necessarily the number of years in practice, but the quality of those years. With some work, you can establish yourself as a quality practitioner.
---