The Exam and You – Estate Planning Through Administration and Litigation
Earn 6.5 Hours of MCLE; includes Legal Specialization in Estate Planning, Trust and Probate Law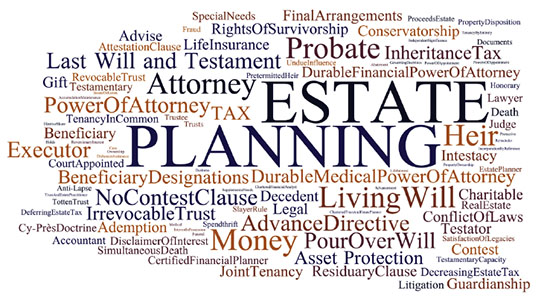 Friday, August 23, 2019
DoubleTree by Hilton San Diego – Mission Valley
7450 Hazard Center Drive
San Diego, CA 92108
Schedule | Speakers | Essential Info | Brochure | Registration Info
Schedule
8:00 a.m. – 4:15 p.m | Registration and Continental Breakfast

Registration open all day
8:30 a.m. – 10:00 a.m. | Session I: Introduction to the Specialization Exam, Its Format, Subjects Covered and Professional Responsibility

Session I will review the format of the Exam and its grading. The presenters will discuss study tips, and approaches to answering questions. The presenters will provide an introduction to the subject areas. Session I will also cover the first area, professional responsibility.
10 a.m. – 10:15 a.m. | Break
10:15 a.m. – 11:30 a.m. | Session II: Tax Planning Matters

Session II will cover tax planning matters, tax procedures and tax returns. Tax planning through the use of QPRTs, GRATs, IDGTs, and generation-skipping trusts will be covered.
11:30 a.m. – 12:15 p.m. | Lunch

Note: This will be a networking lunch and does not include a presentation.
12:15 p.m. – 2:15 p.m. | Session III: Estate Planning, Incapacity, and Trust Administration

Session III will cover estate and incapacity planning, and administration procedures. The speakers will cover wills, trusts, powers of attorney, conservatorships, Medi-Cal planning, the duties owed by a trustee, special needs trusts, and elder abuse. Emphasis will be placed on trust administration procedures.
2:15 p.m. – 2:30 p.m. | Break
2:30 p.m. – 3:15 p.m. | Session IV: Selected Administration Procedures and Accountings

Session IV will cover additional administration procedures. The speakers will cover custodial accounts, guardianships, health care directives, and accountings.
3:15 p.m. – 4:15 p.m. | Session V: Probate and Non-Probate Transfers

Session V will cover transfers by administration or otherwise. The speakers will cover spousal set-asides, formal probates, will/trust contests, creditor's claims, and various other trust & estate related litigation topics.
Speakers
This one day comprehensive exam preparation program will feature presentations by two highly qualified experts in the field of Trusts and Estates law:
Vivian Lee Thoreen is the executive partner of Holland & Knight's Los Angeles office and chairs the firm's national Private Wealth Services Dispute Resolution Team. She is a litigator and experienced trial attorney whose practice—both in Superior Court and in the California Courts of Appeal—focuses on complex trust, estate, conservatorship and guardianship matters. She represents individuals, families, charities and financial institutions in cases including will and trust disputes, contested conservatorships and guardianships, breach of fiduciary duty matters, and elder abuse matters. Ms. Thoreen's experience includes some of the most sensitive and high-profile cases in her field. Whether the matters can be resolved by mediation or require trial, Ms. Thoreen's clients benefit from her deep personal commitment and nuanced grasp of law and often byzantine facts.
An active member of the community, Ms. Thoreen is a Fellow of the American College of Trust and Estate Counsel and a member of the Los Angeles County Bar Association Trusts and Estates Section executive committee. She recently completed a six-year term on the California Lawyers Association (formerly the State Bar of California) Trusts & Estates Section executive committee and previously served on the board of governors of the Korean American Bar Association and the board of directors of the Los Angeles County Bar Foundation. She also is an active member of the National Asian Pacific American Bar Association. Ms. Thoreen also provides pro bono services through Bet Tzedek, Public Counsel and the Alliance for Children's Rights.
Patrick A. Kohlmann is the managing partner at Temmerman, Cilley, & Kohlmann, located in San Jose and Danville. He specializes in the areas of estate and business planning, trust and decedent's estate administration, probate, conservatorships, and related trust and estate litigation.
Patrick advises individuals and families in all aspects of wealth transfer planning, including tax-advantaged transfers of assets, multigenerational planning, the taxation of trusts and estates, and business succession counseling.
Patrick is passionate about the law. He was Chair of the Executive Committee of the Trusts and Estates Section (TEXCOM) of the State Bar of California (now CLA) from 2015-2016, and continues to serve on the CLA Executive Committee. He is also a member of the Judicial Council's Probate and Mental Health Advisory Committee, a Fellow of the American College of Trust and Estates Counsel, and has consistently been named a Northern California "Super Lawyer." Patrick is a CPA, and practiced public accounting before becoming an attorney. He is recognized by his peers as a Best Attorney in America (Best Lawyers®).
Essential Info
How to Register
Or mail the registration form to: Program Registrations, California Lawyers Association, 400 Capitol Mall, Suite 650, Sacramento, CA 95814
Or email Program Registrations at ProgramRegistrations@CALawyers.org. In order to email your registration, credit card information is MANDATORY. (Photocopies of checks will NOT be accepted.)
On-site registration will be on a space available basis. Call to confirm space availability.
Registration Fees
$295 – Members of the Trusts and Estates Section
$390 – Non-Section Members (includes enrollment in the Trusts and Estates Section for 2019)
Cancellations/Refund Policy
Cancellations and requests for refunds must be received in writing no later than August 16, 2019. These are subject to a $50 service charge. Refunds will not be available after this date.
Questions
For registration information call 916-516-1757. Telephone registrations will not be accepted. For program content and/or Section information call 916-516-1755.
Special Assistance
For special assistance, please call 916-516-1755.
Program Materials
Registrants will receive a USB storage device with an electronic version of all program materials the day of the conference. Before the Conference, Registrants will receive a link with information on how to review and download the program materials. Wi-Fi will not be made available inside the conference rooms. It may be helpful to review a program's reference material before the class. This website is not available to the public, and access is given only to Conference registrants. Late-breaking supplemental materials not available before the Conference will be added at a later date. No printed materials will be provided at the conference.
The California Lawyers Association is an approved State Bar of California MCLE provider.
This event may be recorded. By attending this event, you consent to be photographed, filmed, and/or otherwise recorded, and to any use, by the CLA, of your likeness, voice, and name in any and all media including social media. If you do not want your name or photo to be used, please let us know in advance. We cannot, however, honor requests to opt out of the use of your image or voice if you choose to ask a question during one of the event sessions.
---
Related Content