Message from the Section Chair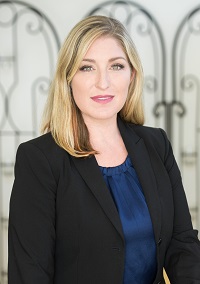 Renée N.G. Stackhouse, Chair
San Diego, CA
Renee@StackhouseAPC.com
SSF Friends,
#SoloLife
For those who asked, the comic we debuted last month features lead character Amadis Moreno, and their support team Johnny Liu and Leondra Barton. As you might be able to tell by my choice of pronouns, Amadis is a non-binary Latinx lawyer and the diversity that they and their team bring to the legal practice "give me life" (slang for anything that gets you excited or pumped per Urban Dictionary). This month, we get a glimpse of Amadis practices setting boundaries.
Setting boundaries is important for SSF practitioners. I often struggle with saying "no" and the result can sometimes be exhausting, even if it is rewarding. Women, especially, are taught to say "yes" so that we can be nurturers all while trying to maintain or achieve our career goals. If you're like me, you may want to check out Boundaries by Dr. Henry Cloud and Dr. John Townsend ("The most basic boundary-setting word is no. It lets others know that you exist apart from them and that you are in control of you.") or Rising Strong by Brene Brown ("Compassionate people ask for what they need. They say no when they need to, and when they say yes, they mean it.")
I recently came across a poem by McKayla Robbin which I felt summed it up beautifully:
no
is a necessary magic

no
draws a circle around you
with chalk
and says
i have given enough

-boundaries
I hope the next time you are asked to give beyond your capability, and you find yourself struggling with saying "no" that you will think of this and be kind to yourself. Need a stronger reminder? Print out the comic and put it on your desk, mirror, or pin board and look to Amadis' example.
#SSFSupports SSF is proud to hold our SoCal Symposium on Solo Success, our new signature program featuring panels dedicated to the four cornerstones of SSF practice; opening, managing, growing & technology. Unfortunately, we won't be able to live stream the program this time, but for those who can't make it to San Diego on September 20, we will record it and the entire program will be available on our online catalogue. This program will feature The Essential Nuts and Bolts of Starting a Successful Practice, Technology that Takes You and Your Firm into the Future, Managing a Profitable Practice in the New Millenia, and Real Strategies for Growing a Sustainable Law Firm. You can get more details here.
Our Section also has several Executive Committee members speakers at October's Annual Meeting, including Nancy Goldstein, Robert Klein and Jeremy Evans speaking on The Many Hats Lawyers Wear: Owning a Solo or Small Firm Practice and myself with David Majchrzak on Far From the Shallow: Management Tips for Solo & Smalls. Register now, hotel rooms are already filling up!
#SSFShines
California Supreme Court Associate Justice Carol Corrigan recently spoke at the CLA Solo and Small Firm Summit. The video of her speech just became available and it is too good not to share, so make sure to watch the Justice's words to SSF practitioners.
#SSFSpeaksOut
The State Bar of California deadline to provide public comment on Access Through Innovation of Legal Services (ATILS) Proposed Regulatory Reform Options closes on September 23.  If you have not heard about this proposal you need to. The concepts include allowing A.I. and non-lawyers to, essentially, practice law to meet the needs of the public. You can read more here. We encourage our members to learn about the proposals and use your voices to share your comments.
#IAmSSF #YouAreSSF #WeAreSSF
As we head into the end of third quarter for the year, and the last full month of our CLA organizational year, stay strong. As a dear friend of mine often says, "What we do is hard." But don't forget that you're not alone. You've got an entire group of colleagues across the state who get you, who can help you, who are here to support you. Reach out if you need us.
Don't forget to follow us on social media: Facebook, Twitter, LinkedIn.
Your Chair,
Renee N. G. Stackhouse 

---