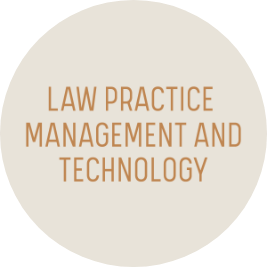 The mission of the Law Practice Management & Technology Section is to serve as a resource for our members – furthering their knowledge in the areas of law office administration, financial management, legal ethics, time management, marketing a law practice, office systems and procedures and law office technology.
We accomplish this through our members-only benefits such as our "The Bottom Line" on exemplary products.
For information regarding your user member and password to access the Members Only Area of this website, see your recent issue of The Bottom Line or contact LPMT Staff.
Areas Where We Can Assist
Business Coaching
Employee Retention
Internet Legal Research
Marketing Your Practice on the Internet
In-person MCLE Training
Online MCLE Training
Legal Ethics
Marketing Your Practice Offline
Legal Hardware Solutions
Legal Software Solutions
Intellectual Property
Patents
Practice Development
Professional Development
Resources for Paralegals
Resources for Legal Secretaries
Trademark
Time Management