Real Property Retreat Features Workouts and Wine Tasting
May 2023
By Ashley Peterson and Elizabeth Blair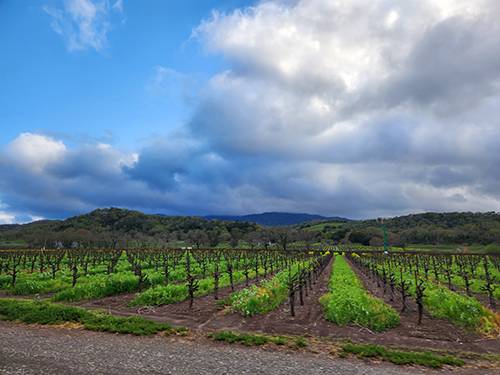 CLA's Real Property Law Section held its annual Real Property Law Retreat in Sonoma, California, the weekend of March 24-26, 2023. For the first time, this retreat was co-hosted with the Women in Commercial Leasing Law Symposium. 
Upon arrival at the beautiful Fairmont Sonoma Mission Inn property, attendees were greeted with a welcome glass of champagne. Gift bags for all attendees included delicious chocolates and rosemary-infused olive oil. The retreat kicked off with a lively panel discussion on "Strategies for Thriving as Women Lawyers in a Post-Pandemic World," followed by a welcome reception. Saturday morning, attendees had the option of either doing a high-intensity interval workout with fitness trainer Angel Chelik or a Yoga class. We both personally attended the HIIT class, which was accessible to all levels and abilities, and we had so much fun working out and starting the day off strong. Seminars then started around 8:30 a.m. with our breakfast keynote speaker Michelle Galloway, who discussed how stress can impact attorneys in both positive and negative ways and how to thrive rather than survive when enduring stress.
One of the highlights of the weekend was retired Orange County Superior Court Judge Tam Nomoto Schumann's lunchtime seminar on how important it is for lawyers to tell their stories and share personal experiences. She reminded us that no one is exempt from adversity by telling us stories of her own personal struggles she had to overcome. She also surprised the audience by playing songs on the keyboard and letting us know she was in a band that played classical music. Music is the passion that helped her find strength and courage.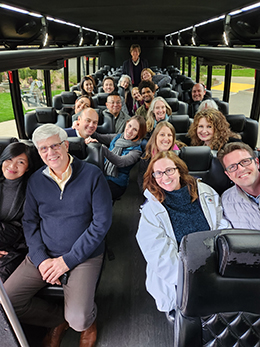 The rest of the afternoon was filled with additional educational seminars on real property, ethics, and commercial leasing topics, so it was difficult to pick and choose which seminars to attend. Fortunately, all attendees will get the privilege of being able to watch all the recorded seminars for free in the Real Property Law online library, so they won't miss any of the great content that was provided. For those who weren't able to attend, all seminars will be available in the library to download for purchase in the next few months.
Attendees were able to end the day basking in the sunshine on the outdoor patio while partaking in wine tasting from multiple different local wineries in the area. Real Property Law Executive Committee members Kyle Yaege and Gillian van Muyden serenaded us with their music during this cocktail hour. Dinner followed wine tasting, and everyone was seated at large round tables where they could network and connect with their fellow attendees. A live band played during dinner to liven up the atmosphere. Many attendees hung out for hours after dinner in the lobby bar because they didn't want the night to end. On Sunday, since there weren't any seminars planned, many went to the hotel spa to soak in the mineral pools, while others hit the road to go wine tasting at the nearby wineries.
After interviewing many attendees at the event and post-event, we were thrilled to learn how much everyone enjoyed their weekend. From the moment they arrived, they said their shoulders dropped, and the stress of the work week was left behind. Everyone expressed how much they appreciated how friendly and inclusive everyone was, and the positive and supportive environment created at this retreat.
We would like to give a shout-out to all our amazing sponsors and speakers. This event would not have been possible without you. Given how successful this 2023 retreat was, and how rewarding this event was for our members, we are in the process of planning for the next retreat. Stay tuned for upcoming save-the-date information on the 2024 Real Property Law Retreat.
Ashley Peterson and Elizabeth Blair co-chaired the retreat planning committee for California Lawyers Association's Real Property Law Section.
---