The New Normal: Mastering Modern Day Client Communication
May 17, 2019 @ 12:30 pm
-
5:30 pm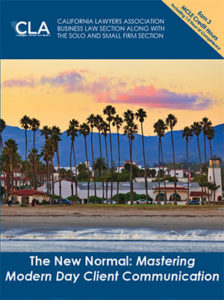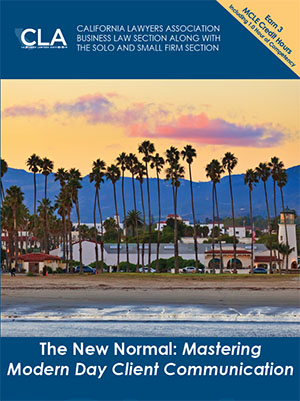 Presented by the Solo and Small Firm Section and the Business Law Section
Friday, May 17, 2019
The Colleges of Law—Santa Barbara Campus
20 E. Victoria Street
Santa Barbara, CA 90017
Earn 3 MCLE Credit Hours; Including 1.0 Hour of Competency.
Attend either in-person in Santa Barbara, or from your office via an online webcast.
>> Online Registration (In-Person) 
>> Webcast Registration (Discount included!)
Brochure | Registration Form | Schedule | Essential Info
---
The Solo and Small Firm Section and the BLS will present a series of panels focused on mastering modern day client communication.
The first panel, featuring Purnima Viswanathan Bajpai and Naomi Dewey, is titled "Will That Smiley Face Cost You a Case?: The Business of Law, Emojis, and Text Communication."  In today's modern practice of law, lawyers have been increasingly required to use various forms of electronic communication to serve clients, as the advent of electronic communication has significantly impacted the practice of law.  The panel will discuss client management in a modern age of electronic communication including communicating through Emojis, text messaging, the risks of electronic communication, and how to professionally navigate electronic platforms while complying with legal ethical standards.
Jared Gordon will host a discussion on "Website Compliance and Accessibility (ADA): How to Improve Your Law Firm's Website for the Modern Client."  Mr. Gordon will explain how all law offices, regardless of size, are "public accommodations" under the American Disability Act ("ADA") and discuss best practices for law firms to meet modern standards of website compliance, to provide "full and equal access" and ADA accessibility to all clients.  The discussion will include informative tips on how to update your law firm's website to improve accessibility for clients, how to avoid a potential lawsuit for website accessibility and informaiton that you need to know now to ensure your legal practice is competitive and complaint.
Finally, practicing law and managing a law firm presents unique challenges, including heavy caseloads and constant communication.  Alicia Journey will provide useful tips on client and stress management in a panel called "Unplug and Debug the Stress of Client Communications: The Health and Wellness of effectively managing how to Avoid Client Overload and Increase Productivity."  Ms. Journey will explore wellness techniques to enable you to become a more competent and effective lawyer without comprising on providing an exceptional service to your clientele.