#CLAWellnessChallenge: Wellbeing Workshop
January 23
@
12:00 pm
–
1:00 pm
A free non-CLE program presented by the CLA Health and Wellness Committee. Please join us for the live event as it will not be recorded!
Attorneys are experiencing unprecedented overwhelm, over-deployment and continuous uncertainty. A nurse practitioner well-being expert will present a program with science-backed tools to address how to pursue your own wellbeing by designing a life that is set up for success. This will be highly interactive and will start promptly at noon.
The workshop will include:
• Use design principles to become the CEO of your whole life
• How resilience requires resources based on bedrock behaviors
• How work-life balance can be re-framed
Dr. Eileen O'Grady is a certified Nurse Practitioner and Wellness Coach. She is Founder of The School of Wellness, dedicated to infusing the science of wellbeing into people and organizations. She uses an evidence-based approach with individuals and groups to promote high-level wellness. O'Grady is an expert on intentional change, emphasizing the importance of extreme self-care and how to identify and remedy a life that is off kilter. She has a coaching practice in which she works with clients across the globe virtually, she helps organizations build cultures of wellness, most notably at UCSF through the L UCSF Leadership Institute. She authors a popular blog, Wellness Pearls, she hosts wellness weeks in Costa Rica and is the author and editor of two textbooks used in nearly every graduate nursing school in the world. Her most recent book, Choosing Wellness: Unconventional Wisdom for the Overwhelmed, the Discouraged, the Addicted, the Fearful or the Stuck, is her most personal. O'Grady lives in McLean Virginia with her husband of 28 years. www.eileenogrady.net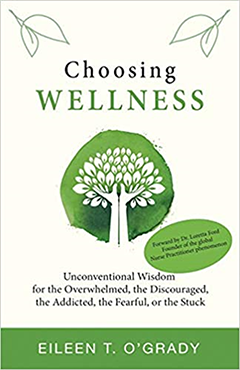 Choosing Wellness is a series of essays on how the author, Eileen T. O'Grady PhD, NP, PCC, scratched and clawed her way to wellness. It is full of unconventional wisdom to encourage others to develop their own wellbeing intelligence- a powerful reminder that we all have choices and it's the little micro choices we make every day as well big decisions that move our life in a different direction. We all have agency and so many of us leave it on the table. O'Grady insists that we claim agency and live a life that does not need escaping from. Choosing Wellness is available at all book sellers.