September 2023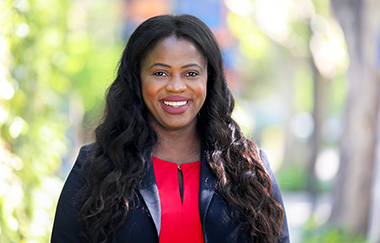 By Lovia Ofori-Ampofo
"Do the Right Thing," a Spike Lee movie released over 30 years ago, was deemed controversial because it depicts racial and social disparities in the United States. The film illustrated what can happen when those in power do not adequately address these disparities: it can lead to acts of extreme violence by those who feel powerless.
The movie is an apt analogy to what occurred in the United States after the brutal murder of George Floyd in 2020. Floyd's death impacted multiple spheres of society, and the legal community sought to provide an immediate response and a call to action. Diversity, Equity, Inclusion, and Belonging (DEIB) was revamped to ensure that historically excluded groups in higher education, the workforce, and positions of power would have a seat at the table.
In 2020, I embarked on my professional journey as a first-year law student via Zoom due to the COVID-19 pandemic. McGeorge School of Law released a statement committing to become an "anti-racist" law school. I was excited to see how my law school would work towards being "anti-racist."
While attempting to understand Parol Evidence in Contracts and focus on my grades, I watched as people who looked like me were murdered on national television. I could not tune out what was happening in the country, yet some of my fellow students were seemingly unaffected by what was occurring. I felt alone, isolated, and upset that the only people who seemed to care looked like me.
I realized that this feeling of isolation and loneliness was not unique to McGeorge. While law schools have perfected the formula of teaching the black letter law, their responses to real-world issues are far from perfect. Students are typically exposed to social justice issues only if they enroll in specific clinics or courses. I spoke to the DEIB Deans, Larry Levine and Tracy Simmons[1], concerning my desire to make effective change at McGeorge. Dean Michael Vitiello became a listening ear. Deans Levine and Simmons suggested that I become their first DEIB fellow and help them make the changes many students of color at the law school and I desired to see. As McGeorge described itself as working to become an "anti-racist" law school and the Deans committed to DEIB, I knew I could contribute to the DEIB efforts at McGeorge.
As a second-year law student, I saw myself standing in my power and being a voice for the voiceless. As a DEIB fellow, I researched how conditional scholarships adversely affect people of color and first-generation students. I saw that a disproportionate number of students of color and first-generation students often are enticed with large, conditional scholarships to choose that law school only to lose their conditional scholarships during the second year of law school. As a result, students of color leave their law schools with more debt than their counterparts. The debt impacts equity and long-term disparities that further the racial wealth gap.
I wrote an article for Dean Michael Hunter Schwartz's blog, "Law Schools Incorporate More DEI Work Into Their Curricula." In the article, I spoke of the importance of professors needing to incorporate DEIB into their current curricula. Professors must avoid retraumatizing historically marginalized communities while attempting to educate the student body. With the article and my extensive research, Deans Levine and Simmons led the law school to approve new DEIB-centered courses.
I continued to find additional ways to help the underrepresented communities at McGeorge. I became the Treasurer of the Student Bar Association (SBA), Treasurer of the Black Law Student Association (BLSA), and Treasurer of the Unity Caucus (UC). While part of SBA, Director of Academic & Student Services Selena Farnesi, then-SBA president, and I reinvigorated the Student Emergency Fund for students with unexpected financial needs to receive financial assistance. We also reenergized the Food Pantry. The Food Pantry provides up to $200 gift cards per semester to law students who can't afford groceries. As the Treasurer of BLSA, I helped acquire funds for future BLSA events, which will educate the campus on issues faced by Black communities. As the Treasurer of UC, I helped facilitate conversations between the administration and the student body on issues that adversely impacted underrepresented students. I also helped improve the communication system for students to anonymously report DEIB misconduct of professors and staff members without fearing retaliation.[2] These leadership positions allowed me to increase DEIB efforts at McGeorge for people of color. It also ensured accountability from faculty and staff concerning DEIB.
Before starting my third year of law school, I worked as a summer associate at Jackson Lewis in Sacramento, where I contributed to an article focusing on mental health in the manufacturing industry. As a third-year law student, I continued focusing on advancing DEIB at McGeorge. I had the privilege of mentoring the Black first-year law students. This included reading essays, helping with outlines, and being a listening ear. At the end of my law school journey, I was honored to be awarded the Faith Davies All-University Leadership Award in DEIB. The award seeks to recognize University of Pacific students, student organizations, and faculty who have contributed to the University's efforts to further DEIB initiatives.
As Spike Lee's movie suggested, I went through my journey at McGeorge attempting to do the right thing. Unfortunately, there is still work to do in terms of DEIB in the legal profession. The State Bar of California reported that its licensees are less diverse than California's population.
Doing the right thing in terms of DEIB does not require grand gestures. Individuals in power in law schools and the legal community who are truly committed to doing the right thing can ensure that students of color and first-generation students are heard. For example, law schools can provide access to resources that will ensure students of color matriculate, pass the bar exam, and graduate with less debt. Law students should demand that law schools give them a seat at the table. Additionally, attorneys can donate directly to affinity organizations at their respective law schools or to nonprofit law organizations dedicated to DEIB initiatives or work.
Nonprofits such as California Lawyers Association (CLA) enhance DEIB by amplifying the voices of people of color in the legal profession. For the legal profession to progress and become a safe space for everyone, law students, law schools, and attorneys must simply do the right thing.
[1] Dean Simmons is currently the Associate Dean of Admissions and Student Affairs at Howard University School of Law.
[2] UC co-President Abigail Williams and UC secretary Robin Bariel were also instrumental in the negotiations with the administration.
---