By Ona Alston Dosunmu
August 2019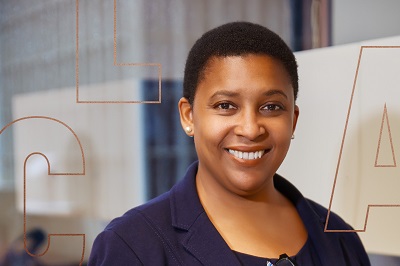 A while back—after our June Board meeting but before our July Board call, I giddily announced to two volunteer leaders that our June Board meeting was "the best ever." One of them wryly pointed out that it was only my second in-person meeting. While that's true, it was a pretty great meeting. (And I'm not just saying that because the Board surprised me by chipping in to buy me a beautiful birthday gift.) Our President Heather Rosing hosted us at her San Diego office. She and her wonderful husband, Scott, went above and beyond to make sure we were comfortable and well-fed. (Yay, cupcakes!) We had beautiful light and an awesome view of the ocean all around. Board Chair Jim Hill hosted us for cocktails and dinner at the San Diego Yacht Club—a truly spectacular setting.

One of the observations I made on the second day of the meeting, and an observation that's still top of mind, is gratitude to our volunteer leaders and senior team—not just on the Board but in our Sections and Committees—for CLA's collective emphasis on diversity. We can have spirited and passionate debates about certain issues but there seems to be a common thread knitting together the community: we need to do better regarding diversity—both in our organization and in the profession. This common thread manifests itself in a variety of ways, both formal and informal.

Formal efforts include our appointments policy that encourages diversity in all of our formal bodies. Our Diversity, Equity and Inclusion Committee is working on creating model policies to encourage diversity on CLE panels and diversity among authors in our publications. Many of our Sections are tackling diversity in their practice areas; for example, the Environmental Law Section gives diversity scholarships to support attendance at its world-renowned Yosemite Conference by diverse law students and lawyers. Some of our Sections have vice chairs for diversity specifically tasked with outreach to diversity bar associations.

Informally, I've been heartened to be part of many conversations where I don't have to be the one to ask the diversity question because others have done so first. Allyship feels genuine and sincere in our community; and as an African American attorney who has spent her entire professional life trying to move the needle on these issues, it's truly refreshing to be part of an organization where diversity isn't an afterthought and where I don't have to lead the charge alone.

---
Related Content